Billions MVP Fanbook
by Gingersnap | Fan Fun with Damian Lewis | March 20, 2019
Half-zipped fleece vests, Michter's whiskey, transcendent coffee jargon, Dollar Bill antics, Wags' words of wisdom, Chuck seniorisms, hedge fund shenanigans and a multitude of fuck words can only mean one thing – BILLIONS IS BACK BABY!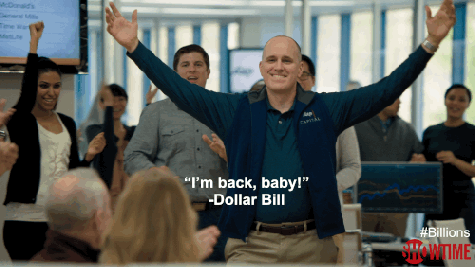 This season we will review each episode and award our Most Valuable Players (MVPs) for the utmost brazen, uber shameless, ultra scheming, unmatched badasses to date – from sports references, music, and tasty food to pop culture remarks, shocking twists and ultimate paybacks. This will serve as our prize 'Billions MVP Fanbook' commemorating all those in honor of such achievement.
Here are our Billions awards for Season 4, Episode 1, "Chucky Rhoades's Greatest Game."
Gingersnap
Unbeatable Bromance – Axe and Wags. Don't kidnap Bobby's buddy!
Nostalgic Mention – Sandicot
Best Line – Chuck Senior to his 'sonny boy' – "I would slap your face and tell ya to act like a man if I didn't think it'd turn ya on."
Best Pop Culture Reference – Wags referring to Boogie Nights when he says, "It doesn't mater if it's as swole as Dirk Diggler on his first night with Roller Girl. This is one of those rare cases where size actually doesn't matter."
Supercalifragilisticexpialidocious Award – Mx. Taylor Mason in a cocktail dress and long wig. I did not know this beauty was Taylor until Wags told me, forcing me to rewind. RuPaul, ya'll!
Most Laugh Out Loud Scene – Axe and Bonnie:
Axe: "I want you two in synch like incestuous ice dancers."

Bonnie: "My thong's already riding up my crack; I don't need you up there too, Axe.

Axe: "Oh that's exactly where I am!"
Overall Episode MVP – Chuck Rhoades. From dancing a jig to Al Green to working the wheeling and dealing landscape of New York. He traded favors and moved like a honey bee from one meeting place to another, robbing Peter to pay Paul (plus all The Beatles) trying to secure his nectar, all the while to the backdrop of Fun Lovin' Criminal's King of New Yorkand determined as hell to unload that Park-Anywhere permit. And smitten he was to finally find a recipient! His storyline had all the feels and pace of Ocean's 13 and season two's Golden Frog Time, both written by Billions co-creators and show runners Brian Koppelman and David Levien. Coinky dink? I think not! This truly was Chucky's greatest game.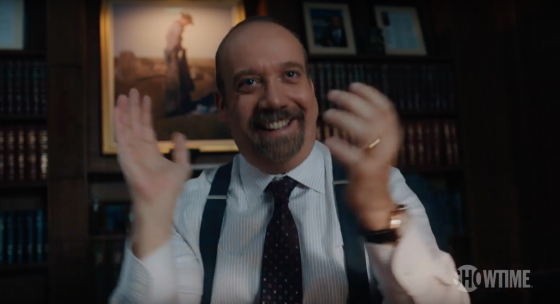 And somebody we all know feels the same about our MVP choice, claiming it is one of his top three Billions' moments:
Lady Trader
Best Song –  Yeah, I'm gonna brag about it, because, hey, why the hell not! I correctly predicted "Ace of Spades" would be the Motörhead song used when Axe wore his metal t-shirt. I fangirl out when these metal moments happen. I'm happy it does, but can I be sad it was the first episode? I want more metal!!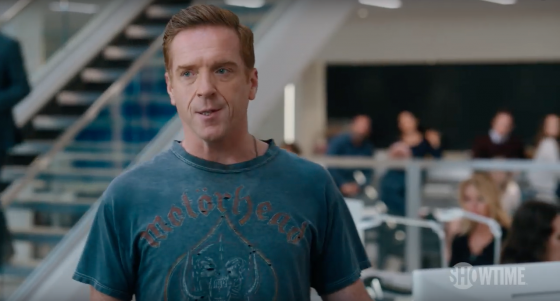 Worst Song – What ever the hell that song playing in the club Wags was partying at. Sorry, just gross.
Best Wall Street Reference – In the first time that I can remember, Billions talked about real companies the firm was making plays on: Teva(ticker: TEVA), America Movil (ticker: AMXA), and Rio Tinto (ticker: RIO). Billions has used made up companies in the past, and I'm loving being able to recognize real firms. Makes me really understand the various plays the fund is making.
Read the rest of the original article at Fun Fun with Damian Lewis