The 'Billions' star on schooldays with David Cameron, playing conflicted characters — and rumours of 007
by Janan Ganesh | Financial Times | April 5, 2019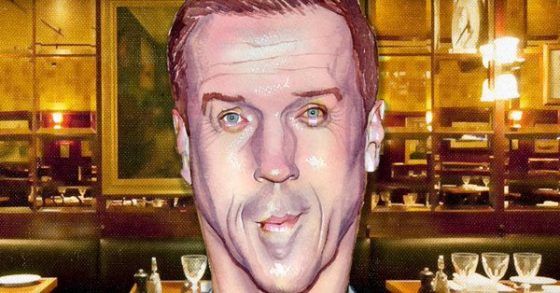 "What am I?" demands Damian Lewis, in the Yonkers vowels of Bobby Axelrod, the hedge fund manager he plays in Billions. "Chopped liver?" We have not fallen out. It is the presence of the item on the menu that sets up his riff on the Americanism.
The actor you also know as a Renaissance king (Wolf Hall) and an al-Qaeda convert (Homeland) is seated under a wall-mounted ram's head in Fischer's, a portal into antiquated Mitteleuropa on London's Marylebone High Street, where it all but heckles the modernities around it. From a room that suggests an Orient Express dining carriage, Lewis looks out on to a Diptyque, an Aesop and a Bang & Olufsen as I ask him why British actors do so well in America. "It's luck, it's innate, it's a bit of hard work," he guesses. "It's nothing to do with being classically trained."
He admires Christian Bale ("There's something quite extreme innately in him") and vies with Tom Hiddleston and Idris Elba in the bookies' guesswork as to the next James Bond. Politely, he smiles through my thesis that Brits grow up hearing more accents than almost any other nation, honing an ear for them that amounts to a thespian advantage. If he is not quite sold, he is at least open to the idea of performance as a national trait. "Is there a clown in the British character that there isn't in America? I think there is. There's a clown in us somewhere."
Because he is circumspect in blue and grey cottons and has the kind of hair that changes with the light, it takes a Brazilian woman and an Israeli family a while to peg this brown-haired diner as the redhead star, and even longer to brave a selfie request. He accedes graciously, if with an air that says: Well, this is my life now. No one who has spotted him around town over the years could doubt his keenness on civilian normality, even as his fame militates against it.
With tired eyes — I have flown in from Washington — I check if the admirers flinch at his voice. Much of his audience believes he is American (the Israeli father does), what with his having played one after another with sinister plausibility since Band of Brothers at the turn of the millennium. The truth is more local than that. He was born on the other side of Regent's Park, attended Eton and still lives in the verdant slopes of north London with his actor wife Helen McCrory and their two children.
"When you go away somewhere," he says, resuming our conversation after selfie-duty, "you spend a lot of time assimilating. That in itself is an involving exercise."
He does not appear to have assimilated to California as a source of Chardonnay. Instead, we start in Burgundy's northern outpost, asking the Roman waitress for two glasses of Chablis to go with our starters, which have the kind of names you expect from the German pavilion at Epcot. It is the Black Forest ham for him and the Bismarck herring for me. As a main, I go for the venison goulash. Lewis, Heathrow-bound, and perhaps reluctant to be weighed down with stodge for several airborne hours, chooses the sea bass.
He is a garrulous exception to the rule that screen actors are uninteresting — all rote patter and media-coached risk-aversion. He is also observant and magpie-alert, pausing to note the crudity of my voice-recording app and the curious vessel from which the wine is poured in this establishment.
Only when I ask him about his fortunate start in life does he weigh his words with tactical care. The private-school provenance of many British actors has been an awkward subject in recent years. It inverts the trend of the 1960s, when, in a vivid expression of postwar social mobility, Michael Caine, Terence Stamp and Albert Finney rose from ordinary backgrounds to define the nation's cinema. I wonder if Lewis, who has set up his own production company, Rookery, hopes to give less privileged actors more opportunities.
"I do feel responsibility," he says, after a while. "I feel sometimes as an actor I don't have enough responsibility. And I want to put myself in a position where I have more of it. That might sound a bit of a head-boy thing to say but, given that you asked about school, I'll use a school analogy. I remember [David] Cameron talking about noblesse oblige, and that can sound condescending, but I know what he meant. If you have had this privilege, and you feel equipped to give opportunity to others, then I feel you probably should. But me starting up a production company, I'd be lying to you if I said this is me putting back. There's far too much of me exploring me in an utterly self-absorbed way."
He says all this in a voice that testifies to the near-death of the Pathé News accent among privately educated Brits under a certain age (he is 48). "Power" is "power", not "par". The only clue to his background is the self-deprecation — so often a sign of status in England — and a kind of unforced perkiness. The country's grandest schools turn out the most neurotic and least neurotic people I have ever met, and Lewis (like Cameron, now that he mentions it) is in the second group.
Which brings us to the central mystery of his career. It is not: how does an Englishman play such convincing Americans? Rather: how does an emotionally secure man play such tormented characters? With all the usual caveats about deceptive appearances, he has, in person, none of the Brando-ish intensity you expect from someone who emulates harrowed soldiers and reptilian financiers for months at a time.
"Oh, I see it's like that," he says, as his starter arrives in fine pink slices. "I was expecting a big chunk of ham. I was expecting something more . . . Austrian." The herring, a sleek filet of a thing, is just the right amount of briny and wakes me up with its tang.
To judge by his childhood memories, it might have been the acting that formed his sunny temper. "When I think of all the drama I was involved in," he says, of his school days. "And how bonding that is. People laughing at one another in a safe environment. We put on a Gilbert and Sullivan operetta every summer. We did a play entirely in French. We did The Bacchae in classical Greek. I'm struggling to get drama reinstated into my son's school in London. Everyone's so bloody worried about the 11-plus [exams] that everything falls by the wayside."
His parents supported his rejection of university for the Guildhall drama school, which, you have to say, has not turned out to be economic suicide. "The dream is alive and in front of you, and you're burning and bubbling with ideas," he remembers. Though not quite a rebel — that would imply angst — acting answered to his independence of mind. "There's always a degree of autonomy in acting because it's you and your performance," he says. "That speaks to something in me that doesn't like being told what to do, which is probably a blessing and a failing."
The Chablis was too austere and mineral for his taste: the kind of thing Axelrod might sip between an insider trade and a 4am ice bath. "Have you got something a bit more buttery and oaky?" he asks the waitress, against the trends of the day. "It's a very unfashionable request." I want to suggest a jaunt down to Meursault or the northern Rhône but the wine blagger's fear of erring in polite company stays my tongue.
While the waitress confers with the sommelier, I ask Lewis about his 2012 dinner with Barack Obama. He gifted the then president some Homeland DVDs inscribed with the message, "From one Muslim to another", which, even by British standards, is formidable banter. "Meeting him was sensational," he says. "He's an easy president for a European to like. I saw him again at the correspondents' dinner and said 'I hope you're watching Billions.' And he said 'I am, but there's just one problem. Hedge fund managers aren't that cool.' " I fear the reader reaction.
The waitress, attentive despite her laudable continental obliviousness to celebrity, returns with an offering. "Mâcon," says Lewis, scanning the label. "OK, that's from the south [of Burgundy], that will be good." I have a claret with my goulash, but only because the decor — all wood panels and taxidermy — seems to demand it. Like its nostalgic sisters, the Wolseley and the Delaunay, Fischer's stops short of being a novelty act. But not far short.
Aware that I have just arrived from the power centre of the world, he is curious about the doings of Donald Trump and abreast of the congressional numbers. "We're going through something very, very similar," he judges of Britain and America, the geographic poles of his life. "But there's something more easily identifiable and blunter about Trump. Something which you feel you can remove. And," he goes on, knowing something of his subject, "it's better telly. Whereas Brexit is complicated and boring. It's bureaucratic politics."
I ask him which side of the Atlantic — an ocean he will cross today — feels more troubled. I might have used a word other than "troubled". "
The indignation scale is set to 11 in most countries," he replies. "But you can still say things here without being accused of being racist or reductive or unreconstructed or bigoted or prejudiced or a dinosaur or whatever. Unless you are those things, in which case you are fair game. I've worked in America for many years and there's a hysteria just below the surface."
His politics, I surmise, are of the uncatered-for variety: he is one of the quietly ravenous sensibles who watch as left and right gorge. What dismays him, he says, "is just the tenor of the conversation of the last two years. The mud-slinging, the lowered moral bar. The gutter which everyone has sloshed around in. [Trump] is a man of questionable character surrounded by people of questionable character and so the conversation has been of questionable character.
"But I'm inclined to be a bit kinder to politicians," he stipulates. "Because I'm not offering. It would be equally mediocre if I did, or the next man, or the next man."
When, between chewy morsels of the venison, I ask Lewis who is the best actor in the household, he manages to be uxorious and non-committal at the same time. "My wife, which you can't say about every actor, is intellectually and spiritually an artist. If there's any competitiveness, it's that it matters to Helen that she is funnier than me. Which she is."
She roves across film, stage and television, whereas Lewis has been most associated with the last. Are we really living through a golden age of the stuff? Modern TV series can be over-reliant on plot. As for character, there are recurring tropes, one of which is the outwardly brutal male with a sensitive interior. Axelrod, the plutocrat with the heart of gold, back for the fourth series of Billions, is a case in point. The dissidents of the Netflix age include Quentin Tarantino, who directs Lewis in the upcoming film, Once Upon A Time In Hollywood.
"Quentin is second to no one in his knowledge of cinema and TV history," says Lewis, as though revving up for a rebuke. It never quite comes. "What's happened in the last 15 years, arguably with Band of Brothers in the vanguard, sitting alongside The Sopranos, was that suddenly there was a seriousness to the ambition. The content became quite grown up in what it was prepared to examine. I don't say the water-cooler conversation has become any more intense, because people watching Wanted Dead or Alive back in the day were talking about it the next day. If there was a golden age of TV, it was the Fifties, when it was new. It was like going to the moon."
TV imposes a punishing schedule on actors. Surely he wants nothing to do with drama in his own time? "I've been to the theatre twice in the last two weeks," he corrects me. "I like the off-West End theatres, to see what's going on." He met his wife in Islington's Almeida. "But the thing I find most restful is art galleries. I can still myself and gather myself during an hour there. It was my birthday recently and I told my kids, I don't want a party, but I want you to come with me to the Bill Viola/Michelangelo exhibition at the Royal Academy, and you can't moan."
As our plates are cleared, the talk of extramural interests reminds me that Lewis, who is London right down to his navy peacoat, follows Liverpool Football Club, who are hunting down their first league title for almost 30 years.
"Is that because," I say, trying not to label him a glory-hunter, "when you were growing up they were . . . "
"Go on, say it. Say it!"
"I'm not calling you the G-word."
"You've hit it on the head. My dad had been a gunner in the army, and supported the Gunners (Arsenal) as a result of that, not for any other reason. I was left to my own devices. In 1977/78, Liverpool were unassailable. Back-to-back European titles. They had all the cool players. It was probably just that, if I am honest."
I tell him that I, while never a gunner, am a Gunner.
"I'm sure you are. You sound like one. You look like one." Thank you, I think. His son, after some experimental visits to Arsenal ("He heard every word in the urban slang dictionary"), chose Liverpool in the end. "And it might still be the single most profound expression of love that he supported his dad's team," he says, with just enough irony.
Read the rest of the original article at The Financial Times