Side Mission
by Sarene Leeds | Vulture | April 21, 2019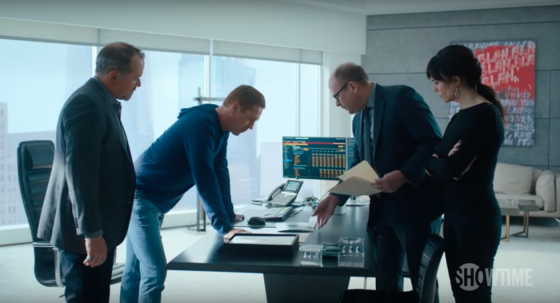 Well played, Billions. I bow down to your expert manipulation tactics and admit to being completely suckered into that red herring of a friendship between Taylor and Wendy.
Tonight's episode has reopened the discussion of whether Wendy is the most nefarious character on the show, and as of this moment, all signs point to yes. She possesses weapons that are far more destructive than Axe's arsenal of money-draining methods or Chuck's talent for trading favors. As a psychiatrist, Wendy knows how to earn Taylor's trust by getting into their head and using all of their weak spots to her advantage.
Does Wendy connect with Taylor because she really does need someone to talk to in light of Chuck's betrayal? It's possible, and I'm not ruling it out entirely, because that kind of realism would make it easier for Taylor to open up to her. But having someone to vent to about Chuck is just a bonus toward Wendy's actual objective, which is getting the goods on Taylor's new project with their father.
This "side mission" is such a cloak-and-dagger operation that even Axe is oblivious to its true purpose; he knows through his fixer, Hall (Terry Kinney), that Wendy and Taylor are having ice-cream and architectural-history meetups, but wisely reserves judgment until Wendy drops her bombshell at the end of the episode.
While I reluctantly circled this subplot the way Wendy and Taylor do each other during their initial rendezvous, once all the pieces came together, I found myself placing Operation Taylor Mason Friendship Goals in the Billions Subterfuge Top Five. Wendy knows that the best way to win people over is to let them come to you without pressure but with a welcome invitation. All she asks of Taylor at their first meeting is that they listen, while slyly making it known that she'd be amenable to hearing whatever Taylor has to say as well. By their second get-together at the Franklin D. Roosevelt Four Freedoms Park, Taylor is making not so veiled remarks about a child wanting to bring their father's genius to the forefront.
As opposed to having Hall and his minions destroy Douglas's invention, Wendy says, "Taylor needs to be the one to crush it. That will be the most devastating blow," punctuating her strategy with a long swig of Michter's. She knows that kind of betrayal between a father and child is something neither Taylor nor Douglas will ever be able to get over.
What Wendy doesn't know is how on the mark she is with this idea. "Maximum Recreational Depth" validated my reasons for being only "cautiously optimistic" toward Taylor and Douglas's partnership a couple of weeks back, because there was a big part of Douglas's story that had been missing up until now. Taylor astutely had a background check performed on their father, only to learn that Douglas wasn't screwed over by his former employer but instead fired for numerous company violations.
Given how Douglas is proving to be a difficult and demanding partner, it looks like his erstwhile bosses were justified in their decision. He insists that Taylor solely fund each stage of his work, and piles on the guilt when they dare to consider alternate options. Eventually, he begrudgingly agrees to an outside investor — as well as the hard truth that he's no longer the smartest person in the room whenever Taylor is around — but between his pigheaded attitude and duplicitous employment history, I have a bad feeling Taylor is walking right into the trap Wendy is setting for them.
I'm somehow holding a soft spot for Wendy, though, because beneath her Evil Queen exterior, she is still suffering from her hot mess of a marriage. Chuck remains banished from the master bedroom, but the bigger issue here is that husband and wife are headed down two explicitly different sexual paths. We know from earlier in the season that Wendy's interest in BDSM had begun to wane. However, as we also know, Chuck "can't live without" it. But without Wendy as his domme, he's been going to some pretty dark places, like putting a safety pin through his nipple and hiring a professional dominatrix who leaves him with a scarred chest and a black eye.
Things aren't much better for Chuck in his professional life, either, as his episode-long grand plan to outwit Jock Jeffcoat and Bryan Connerty via his quid pro quo relationship with Judge Adam DeGiulio (Rob Morrow) blew up in his face — though he doesn't know it yet. What Chuck failed to remember is Bryan worked under him for years, studying all of his crooked maneuvers at close hand. (He's also picked up more than a few of Chuck's pompous bad habits, highlighted by Kate Sacker's well-timed eyerolls.) So as soon as Bryan and Jock start bickering with each other, the U.S. Attorney realizes that's what Chuck wanted all along. The two then regroup by vowing to work together to unseat their common enemy.
Bryan approaches Judge Leonard Funt (Harris Yulin), whom you may recall isn't a fan of Chuck Rhoades Jr.: Last season, Chuck called in an old favor to have the hard-line Funt removed (and, shocker, replaced with DeGiulio) from the Ice Juice case. Once Bryan presents Funt with video evidence of Chuck and DeGiulio colluding at Economy Candy, the judge signs off on his request for a wiretap on the New York State Attorney General, citing public corruption.
It's never enough to have only one judge in your pocket, Chucky.
Read the rest of the original article at Vulture