Only the Fittest Survive
by Dana Feldman | Forbes | April 22, 2019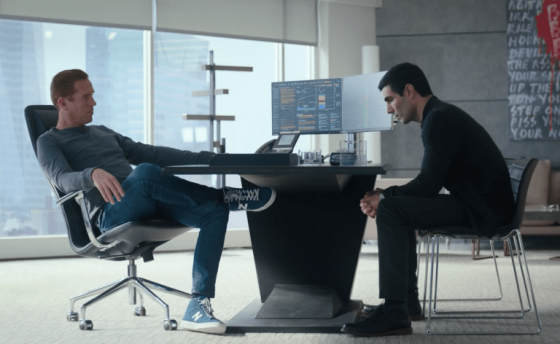 We're at the halfway point in the fourth season of Showtime's hit series Billions. In this survival-of-the-fittest landscape, only the truly ruthless will make it out alive, or in this case, with their billions intact. Fortunately for some, the pain is not only worth it, it's also something they rather enjoy.
Chuck Thrives On The Pain:
In the latest episode, "Maximum Recreational Depth," Chuck's (Paul Giamatti) requirement for BDSM is escalating. His need for punishment and physical pain just can't be denied or ignored. This is exemplified by the safety pin he put through his nipple. Unfortunately for him, Wendy (Maggie Siff), is no longer willing to participate in satiating his appetites. He has a solution. Doesn't he always?
Telling Wendy, as she examines the effects of his latest beating, that he cannot live without this, he asks her permission to see a dominatrix (pro domme). She begrudgingly agrees but insists they come to the house to avoid any scandals.
Afterwards, as she looks at the damage, a black eye that makeup can't hide, in addition to a myriad of cuts and bruises, she panics, fearing people will think she did this to him. Chuck already has a coverup story; he'll tell people he's taking Jiu Jitsu. Connerty (Toby Leonard Moore) certainly doesn't buy it when they see one another in court.
Chuck and Wendy's penchant for the lifestyle has been a major through line since the pilot and has since taken center stage. What isn't lost on fans is how this behavior also translates to Chuck's life outside the bedroom. He thrives on getting knocked down and picking himself back up in his career, as well. This is what drives him.
Chuck Thinks He's Found A Way To Destroy Jock:
Though Chuck has regained a powerful position, he still has the U.S. Attorney General down his throat. Jock Jeffcoat (Clancy Brown), he comes to learn from his staffers, has made a few interesting pit stops in the Cayman Islands.
All they can prove is Jock made a fuel stop but never got off the jet, and no one ever joined him onboard, so the Jock angle is a dead end (for now). What Chuck and his team do get is a hit on treasury secretary Todd Krakow (Danny Strong). Chuck's instincts tell him he needs to go there, which he does and meets with crooked banker Abginton, played by Geoffrey Owens.
Side Note: Do you remember when Owens, known for his work on the 1980s hit The Cosby Show, was shamed last year for working at a Trader Joe's in New Jersey? A patron posted his photo online in an effort to embarrass him. What Owens did in response was truly classy: He said that no job was better than another and that every job was worthwhile. His response went viral and the biggest names in Hollywood were hiring him.
Chuck brings Abginton back to New York to go in front of a grand jury, as he's convinced him to tell what he knows about Krakow. Just as they arrive, Connerty and Sacker (Condola Rashad) nab him. Next time they see each other is in the loquacious Judge Adam DeJulio's (Rob Morrow) court.
DeJulio had already squashed Connerty's request for a wiretap on Chuck Rhoades Sr. (Jeffrey DeMunn) and Chuck. Connerty knows Rhoades Sr. bribed an official to get permits for his land deal but he's lacking solid evidence.
DeJulio quickly met with Chuck to warn him. These two have been trading favors for a long time now. Chuck rewards him with a "juicy healthcare case" that's politically charged, one that'll be cited by the Supreme Court and underlined by law students for years.
Back to the Krakow case, DeJulio rules in Connerty's favor, just the way Chuck planned it. He plotted with DeJulio to dump the case in Connerty's lap with the goal of undermining Connerty and Jeffcoat's relationship.
Connerty figures out Chuck's play and what was meant to divide and conquer both Connerty and Jeffcoat, actually makes the two co-conspirators in an even greater scheme. The tables are turned and Connerty goes to another judge to get a wiretap on Chuck for public corruption. This time, he gets his request signed when he shows footage of Chuck and DeJulio secretly meeting.
Taylor Left Axe With A Mess: 
During Taylor's (Asia Kate Dillon) brief reign at Axe Cap, they papered a deal with Victor Mateo (Louis Cancelmi) and his firm. Taylor inserted a term that made Victor's actions legally attributed to Axe (Damian Lewis). Victor is now being looked at by the SEC and Axe is a co-owner of the firm in question and responsible for Victor's actions.
Axe asks Chuck to bury the case but there's a catch. Chuck tells Axe he cannot help him as doing so would only draw scrutiny from the very people he's aiming to avoid. Rather than burying the case, it'll mark it with an X.
Axe continues spending time with Rebecca Cantu (Nina Arianda) but almost blows it with her when he isn't able to open up about what's on his mind business-wise, a moment she compares to scuba divers when they get to their "maximum recreational depth." She says Axe is wondering if he wants to go deeper with her in this relationship. She points out that for Axe, talking business is more intimate than sex and she questions if he can get there with her.
He's realizing what's holding him back: Lara (Malin Akerman). To move the relationship forward with Rebecca, Axe needs closure with her, which he gets by allowing her and the boys to move to California.
Wags In Drag:
Wags (David Costabile) isn't one to get fooled but his near obsession with fitting in with the most elite of Wall Street temporarily blinds him to the fact that he, too, is susceptible to being blindsided. He cannot believe his luck when an invitation is hand-delivered to him from the most respected fraternity in this coveted world. He excitedly tells Axe they're "opening their books" and he's on the list.
The event in question requires him to arrive in full drag, which he takes very seriously, choosing the perfect dress and heels for the occasion. Upon arriving, he immediately discovers it was a ruse setup by an old enemy. Humiliated, he promises revenge and fans cannot wait to see how exactly it is delivered.
Will It Be Wendy That Destroys Taylor? 
Read the rest of the original article at Forbes