It's All Work And No Play On 'New Year's Day'
by Dana Feldman | Forbes | May 27, 2019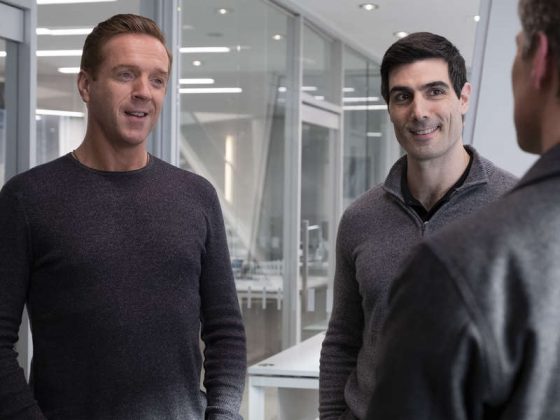 In the world of Billions, it may be "New Year's Day" but vacations are cut short and everyone is back at work. As they say, there's no rest for the wicked. Especially when there are intricate plots, secretive cases and dubious defenses to be dealt with.
Wendy (Maggie Siff) is preparing to face off with the medical board in a faux interrogation with Axe (Damian Lewis) and the gang. In order to save her license, she must convince the board that her work with those at Axe Cap isn't part of her medical practice. Her sessions, she must convey, are performance coaching sessions and Taylor was not a patient, but rather a client. In this scenario, doctor-patient confidentiality isn't an issue.
Wendy Is Backed Into A Corner:
As Wendy preps for her inquiry with the medical board at Axe Cap, Taylor (Asia Kate Dillon) is also having a meeting of the minds at Mason Capital. In an effort to slay Wendy, Taylor is warned that going up against her former performance coach isn't risk free. Things can be said and written down about them. Confidential information, once it's out there, is well, no longer private. Though hellbent on stripping Wendy's license, this could also potentially be a problem for them.
Wendy is in a serious bind: If Taylor was a patient, whatever was discussed is protected, but if Taylor was a client, Wendy is free and clear. To save herself, Wendy must be able to prove Taylor was a client, which also means all other Axe Cappers were also clients and therefore, not protected. This means Wendy could be subpoenaed and forced to testify against Axe if any of the information she's heard over the years were to ever get out. Realizing this, she tells Axe his best bet would be to fire her. He will not even consider this option. The only way Wendy can win is if Taylor doesn't show up for the hearing.  
As Chuck (Paul Giamatti) advises Wendy to take a deal, Axe is determined to help her win at all costs. Wendy is more interested in Axe's way of handling things than her husband's. She won't publicly admit guilt, give up or give Taylor what they want. "I'm offering you a solution, you'll only accept a miracle," Chuck replies in his defense. Let's not forget that Chuck did, in fact, have a way to get Wendy and Senior (Jeffrey DeMunn) out of their respective messes and he chose vengeance over doing so.
Axe Gets In And Out Of A Bind:
In the midst of all this, Axe gets a very unwanted delivery. When a Picasso painting is delivered on New Year's Day to the office, Axe is aware of the huge tax nightmare to follow. When he's then told 17 more paintings are on the way, he calculates the total cost to be $75 million in sales and usage taxes. 
He needs a workaround. He finds the answer: A Freeport; a storage facility at a private airport where valuables purchased overseas can be stored and deemed perpetually in transit so customs duties and sales tax can be avoided.
As it so happens, Danny Margolis (Daniel Cosgrove) bought into one and for a fee, he can house Axe's paintings on a permanent tax-free basis. Axe really does have friends in some pretty high (and interesting ) places. Danny even suggests storing replicas so Axe can hang the originals.
Taylor Is In A Powerful Position:
In their mock hearing with the Mason Capital gang, Taylor practices convincing the board that Wendy was, in fact, their doctor and everything discussed was expected to be in the strictest of confidence. They've also been quite busy gaining the upper hand in Rebecca (Nina Arianda) and Axe's new company, Saler's.
Taylor bought up a chunk of an appliance manufacturer that just so happens to be a major supplier of Saler's. This could potentially end up costing them hundreds of millions of dollars.
Dollar Bill (Kelly AuCoin) explains that sales of the appliances from this company account for 63% of Saler's revenue, which could gut Axe and Rebecca and crush their business. They need a new appliance supplier asap.
Things are also looking up personally for Taylor. However, when it comes to office romances, as much as anyone tries to keep them a secret, it's usually not a well-kept one. As for Taylor and Lauren (Jade Eshete) thinking their relationship is a secret, Sara (Samantha Mathis) is onto them and lets Taylor know after Mafee (Dan Soder) asks if it's ok for him to ask Lauren out by company rules. Poor Mafee doesn't stand a chance. He needs to break his pattern of falling for unavailable women in the workplace.
Wags Gets In Touch With His Sensitive Side:
While on holiday in South Beach, Wags (David Costabile) met a young woman and thought she was special. She had an old soul, he tells Wendy. He took her back to his hotel room and she proceeded to rob him of the watch his father left him. He's left heartbroken for two reasons: He liked her and the watch was of great sentimental value to him.
He was too embarrassed and sad to call the police and the whole experience put a real dent in his faith in humanity. Wendy has the solution and makes a call. When her gift to Wags arrives, a professional cuddler, it's exactly what he needs. He releases what appears to be a lifetime of tears on her shoulder and the entire office overhears.
Connerty Finds His Inner Kamikaze:
Also, hard at work, are Connerty (Toby Leonard Moore) and Sacker (Condola Rashad). The first day of the new year is the perfect time to step up surveillance. In addition to Chuck and Senior's phones, Connerty needs the judge to sign off on additional wiretaps. Though the judge denies surveillance of Chuck's office, he does give them access to their residences with a strict stipulation: They cannot bug their bedrooms, just home offices and common living spaces. Oh, and if a lawyer is present, the recording stops, attorney-client privilege and all. Anything non-case-related is off limits. And, they can only pass on what they're allowed to hear, or as the judge says, their case is on the road to nowhere.
After running into every possible obstacle, Connerty finds a solution in a session with Dr. Gus (Marc Kudisch). The doctor teaches him a life-changing lesson. "Nothing makes you feel the purest version of yourself more than going Kamikaze." He wants him to make an all-out attack on success and Connerty is ready to do just that.
Connerty seeks out his older brother, who is drunk at a bar and getting into a fight. His brother, we come to learn, is an expert in breaking into safes. After Chuck and Senior lock up important documents that Connerty needs for his case, he asks his brother to help him. Connerty, it seems, is done playing by the rules.
Axe And Wendy's Bond Is Solidified:
Some bonds simply cannot be broken. When Axe comes back from his vacation to help Wendy prepare her defense for the medical board, she's beyond thankful. This level of support is more than she's getting from her own husband. Axe tells her he needs her to win that hearing because he needs her more than anyone else at Axe Cap.
He tells her exactly when he knew she'd be his partner in all this. It was the one time in his life he couldn't fight for himself and she fought for him. It was right after 9/11 when he said he'd take care of all the survivors and the families of those who didn't.
Read the rest of the original article at Forbes
[/hide]
He had to find a way to pay for every funeral, put every kid through school and also pay out all the bonuses for the following three years. It was an impossible task and every business advisor told him to shut down his company.
Wendy recalls the time and remembers that he'd been awake for three weeks straight. Though the time period was such a blur, a few moments stuck out to Axe. At one of the funerals, something happened that he remembers to this day.
At the time, Wendy was on loan to Axe Cap from a sports psyche place she was working at. She was helping Axe through it all and at one of the funerals he was confronted by a group of families who told him he wasn't getting them all paid fast enough. They attacked his integrity and called him a thief when all he was doing was arguing and scheming just to keep the firm going so that he could give them their money.
Under normal circumstances, he would've fought back but in that particular moment, it had all just become too much. Wendy remembers and she understood then as she does now how the grief and the survivor's guilt and the impossibility of the task had become too much for him to tackle alone.
He remembers just taking it all in when Wendy stepped in between them and Axe and defended him. Now she remembers the entire situation clearly. He recounts every single word she said in that moment to defend him. She made it clear that Axe was their only hope of getting enough money to pay for the rest of their lives. She made them see what he was trying to do for each and every one of them.
The real moment she proved herself loyal to him was after the funeral as they went to the car. She said, "Bobby, you better f**king deliver for those people, or I won't just make you quit, I'll kill you myself."  
It was right then and there that he knew she was his partner in this whole thing for life because she was loyal to him in the face of the world but in private, she held him to account and was loyal to the bigger cause.
Now, he's here for her and tells her to say whatever it is that she needs to in that hearing to win and he'll back her to the ends of the Earth. If that doesn't work, he says she'll have to go to Taylor, talk to them and ask for their forgiveness.
Wendy Confronts Taylor:
Wendy takes Axe's advice and pays Taylor a visit. "I am truly sorry…some kind of desire for revenge, or competitiveness, or bloodlust got hold of me and let me go too far. No, I let myself go too far," she says.
She then tells Taylor that this is where vengeance leads. "It's ugly, it's sickening, and I don't recommend it to my worst enemy." Taylor questions Wendy's apology and says she has to actually ask them not to show up as a personal favor. Wendy breaks and does what she has to do to save herself.
Taylor sees that Wendy is torn up inside and says this hearing is Wendy's way of reclaiming herself, that she knows right from wrong. "I am not setting you up for defeat. I am giving you a chance to save yourself," Taylor tells her. Taylor agrees not to attend the hearing. "If you think you should keep your license so you can continue to treat people, tell them why and I won't be there to tell them any different."
After saving her career, Wendy tries to save her marriage. She asks Chuck to recall the exact moment he knew he needed to marry her. To her dismay, he doesn't remember. This is just another nail in the coffin of their marriage. Can Chuck redeem himself? Axe certainly did.
[/hide]