The Moment
by Sarene Leeds | Vulture | May 26, 2019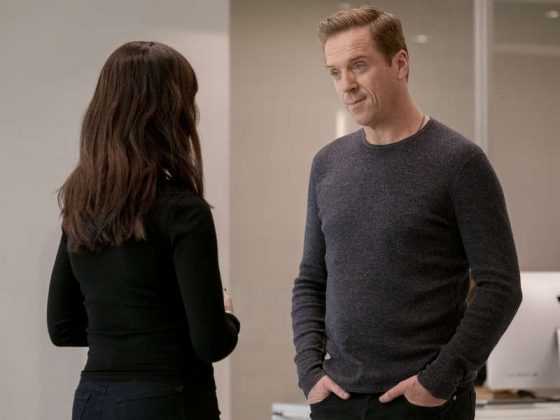 At first listen, the use of U2's classic 1983 track "New Year's Day" to open this episode seems like a cross between laziness and eagerness to once again show off Billions' music budget. But the energetic bassline and corresponding piano riff actually provide the right amount of blood-pumping energy to kick things off. Because all is not quiet on New Year's Day in the Billions world — not when there are medical board hearings to prep for and international banking laws to circumvent.
Wendy's review is looming, so a mock panel is staged at the Axe Capital offices, with a crackerjack legal team consisting of Chuck, Axe's personal counsel Orrin Bach (Glenn Fleshler), Ira, and — groan — Spyros presiding. But it's presented as a fait accompli, even after Axe surprises Wendy by interrupting his Fiji vacation to be by her side: All four attorneys, including Chuck, think Wendy is guilty.
The mock panel scenes are fantastic, because I agree with the all-male lawyers that Wendy has done wrong, and that her career is based on a dangerous concoction of psychiatry and performance coaching. However, I take issue with their condemnation of her difficult behavior. It's another infuriating reminder that we live in a world where it's okay for Brett Kavanaugh to throw a tantrum in front of the Senate, but heaven forbid a woman gets frustrated in a legal proceeding.
Adding to Wendy's resentment is the fact that her medical-license troubles are messing with her husband's to-do list. Instead of supporting his wife, Chuck would rather see her take a deal so he can focus on far more pressing concerns, like his father's latest real-estate financing snag.
A few episodes ago, favors were exchanged with Secretary of the Treasury Todd Krakow (Danny Strong) to get Senior the loan he needed. Now the bank in question is "persona non grata." But what are laws to powerful men like Krakow, Chuck, and Senior? They make an arrangement where Krakow will let the loan go through (as long as he gets a cut of Senior's project, naturally). Papers are signed and put into Senior's safe, all in the presence of Ira — serving as counsel to the Rhoades men.
But here's where this story gets Billions-level juicy: Connerty got Judge Funt to allow the bugging of Chuck's and Senior's homes, albeit with a laundry list of conditions, including turning off the recording at crucial moments in order to protect attorney-client privilege. Thanks to a rustle of documents and Senior's announcement that he put them in a safe, Connerty now knows that father and son are involved in "conspiracy, fraud, a quid pro quo deal, international banking violations, money laundering" — and he is positively giddy over this discovery.
Except he has no evidence proving their crimes, because the discussions between Chuck, Senior, and Ira have been redacted.
Ignoring stern warnings and Attorney-Client Privilege 101 lessons from Sacker, Connerty continues his descent into darkness by ramping up his anger-fueled Dr. Gus sessions. He also seeks out his estranged older brother Jackie (Michael Raymond-James), an expert safecracker.
This last development is just depressing, because I get that Connerty wants to be an untouchable rule-breaker like Chuck. But if he goes after those documents, he won't have anyone in his corner. Not even Sacker.
That's why allies are much more important than loved ones on Billions:Wendy is in a similar predicament, with her own husband refusing to back her. Enter Axe, the only person promising Wendy she isn't alone in her fight, which makes their bond all the more compelling in this episode. You don't need sexual tension to know that Lara had every reason to be jealous while she was still married — and that Rebecca may want to start paying closer attention to the Wendy/Axe relationship.
First off, when Axe surprises Wendy in the office (instead of Skyping in from Fiji)? She. Friggin'. Beams. Then there's the heart-to-heart scene where Axe describes to Wendy, in precise detail, "the moment" he knew she was his "partner in this for life." Wendy placated a mob scene at a post-9/11 funeral, when families of his fallen colleagues demanded that Axe give them the money he pledged for things like their children's schooling. But it was what she did afterward that stayed with Axe: "You were loyal to me in the face of the world, but in private, you held me accountable." In other words, she threatened to kill him if he didn't deliver on his promises.
This pep talk is exactly what Wendy needs. Just because she's in the wrong doesn't mean she doesn't deserve someone who can give her the strength to move forward, whether it's defending herself or performing an act of contrition. Though it's super-twisted when Axe says Wendy's best play is to seek Taylor's forgiveness, because it's his fault she's in this pickle in the first place. Why should Wendy be punished for Axe's relentless vengeance? Whatever, it's Billions. We can't answer those questions now.
Read the rest of the original article at Vulture