Emmy: For Your Consideration
JaniaJania I  Fan Fun with Damian Lewis I June 4, 2019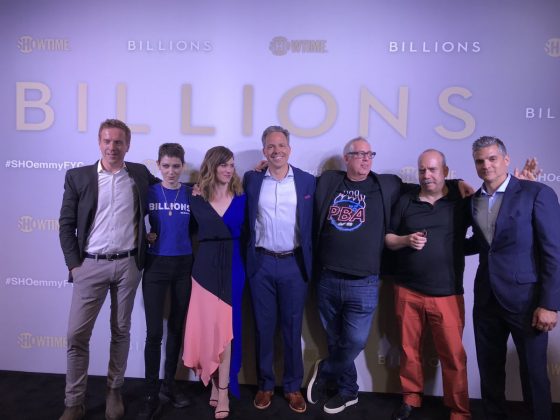 Last night, Billions took center stage for Showtime's Emmy consideration panel. "For Your Consideration" is a campaign rally where the goal is to get the story of a show, its actors and showrunners, into the minds and hearts of folks making Emmy nominations. In the crowd of shows, you gotta make yours stand out and cast members Paul Giamatti, Damian Lewis, Maggie Siff, and Asia Kate Dillon along with showrunners David Levien and Brian Koppelman did just that in a vibrant conversation with Jake Tapper where they were asked questions about their show and characters.
You can hear the conversation at least for the next few hours on the show's Instagram. (If you're like me and need your child to show you how to work instagram stories, some tips to save you the embarrassment: Works only on mobile, click the avatar. The desktop version has some cute stills and gifs from the event but not the live video.) No worries if you don't get it, that's what we're for! Here, I'll transcribe some of the conversation.
Tapper starts with Paul and Damian:
We've heard that you need to psych yourself up a bit because you play off of each other so much. Paul, what is it about Damian that works for you?
Paul:
Look at him. My God, look at him.
Paul notes that their scenes are energizing, so they're already kind of up. This season was different because they were pals. It was nice, he says.
Damian:
There's a vocal warm-up he does. [trumpet sound]
Paul:
Yes, I punctuate my acting with flatulence. Helps me know where I am in the scene. "Bobby, I'm coming after you." [trumpet] I mark my scene with the flatulence.
Koppelman:
We found your Emmy acceptance speech!
Damian:
And I know when the scene is going to start. When I hear Paul coming down a corridor [trumpet]
Always a great tried and true ice breaker: fart jokes.
Tapper:
Maggie, never thought I'd see Wendy cry.
Maggie:
Wendy's so in control all the time, in control of her environment and everyone around her, manipulating and pulling the strings. When Chuck reveals their most intimate secrets in public, it begins to unravel her. Precipitates bad decisions. Emotional decisions.

Revenge and retaliation drive her in ways that she had been neutral to before. Betrayal of a patient, betrayal of her oath as a doctor, betrayal of her highest self. Her job is to hold people up to this standard of how do you become your highest self. She's a paragon of that and she's realized she's crossed this line that she can't come back from.
Tapper:
Asia, was the relationship with your father the defining relationship for this season?
Asia:
Working with Kevin Pollack was incredible. We learned in S2 the father's story of having an idea stolen and that Taylor has built a lot of themself around that story. Then what happens in S3, the betrayal with Axe. They're forced to reckon with all of that.
They talk a bit about Jeffrey DeMunn, who plays Chuck Senior. Paul was a big fan of his from stage. They reveal that he's a lifetime theater actor, a bit of a "bohemian", taking the train to work after felling trees in his yard.
Koppelman:
He plays a character nothing like himself. As opposed to Damian, who, you know, is just…
Damian:
…trotting out the same old thing, series after series.
Tapper (turning to Damian):
In the mind of Bobby, do you think you are a good guy, a hero?
Damian:
Two things an actor must know. You must love your character unequivocally without judgment and know every action you take is the right action for you. But you must also know the story you are telling. There's a nexus where those two things cross and meet. That is the most interesting for you as an actor.

This is a story of shysters being shysters, to a person. We even see Wendy has one of the great falls this season. So everyone has been corrupted in this world. It's a world of gray, of compromise and obfuscation. So Axe is capable of all these things. Is he a borderline criminal? Yes. Is he capable of great loyalty and friendship? Yes. Is he liked? No. He's feared. And that's an interesting character to play.

There's a moment this season when he arrives as a surprise. Maggie threw me such a delightful and genuine smile when she sees Axe on the balcony. I was left reflecting that no one has smiled at me like that in four years. That speaks a lot to who Bobby Axelrod is.
Tapper (turning to Paul):
Read the rest of the article on Fan Fun with Damian Lewis
Chuck Rhoades definitely thinks he's a hero.
Paul:
I don't know about that. He's a complicated guy. He's aware of when he's doing something wrong. Filled with a self-awareness and self-loathing that makes him slightly different than the rest, even though he is a borderline sociopath. But one who is aware and at times not fond of himself. Whereas this guy (pointing to Damian) I don't know if he's ever not fond of himself.
Damian:
The bit of the story we're not allowed to talk about is, in the season finale, for the first time you see a real moral ethical pressure on Axe as a result of an action he's just taken. When Oscar Wilde says..

[Something inaudible from Kopp or Levien]

I want to quote Oscar Wilde!

But, yeah, it's a little revealing. You'll just have to trust that I do know this Oscar Wilde quote. But I'm not going to say it. But it's true Billions all the way thru. He said you kill the thing you love. True of all four seasons of Billions, even more true this season.
For the curious, he's referring to Wilde's The Ballad of Reading Gaol:
For each man kills the thing he loves,
Yet each man does not die.
A sentiment surely true for Bobby in all seasons of the show, so not really a spoiler. 🙂
Levien:
Someone like Chuck Rhoades is going to take power, get elected to offices, will do things outside the law to get that power, because they have a surety that when they get it, they're going to do the right thing for the greater good. Along the way, it gets hard to remember what that plan was, but there's a deep belief that they'll get back to it.

For someone like Axe, who's risen to this wealth, stature, and power, the  laws of men don't apply. They're just made by functionaries, there's no moral or divine right or power behind them. These guys get to call their own shots. They've risen above.
Damian:
Testament to you guys: what makes us watch these characters on TV? Where we love people who are clearly immoral and unethical shits. If the passion is great enough, we love them for that passion. For the striving for that goal.
Interesting that this is a question Damian has asked before, and, as a Brit, is uniquely positioned to keep asking. The answer lies within what Jefferson famously wrote: Americans are given the unalienable right to the pursuit of happiness. Motivational speaker Denis Waitley clarified "It is not in the pursuit of happiness that we find fulfillment, it is in the happiness of pursuit." So it's not reaching the American dream, but the dream perpetually deferred, which makes America who she is.
Koppelman:
Best thing we've done is cast the show. The humanity and the thought that you bring to it is the gift of a long running show with actors of this calibre. I think we love Bobby Axelrod, Damian, because you fucking play it.
Damian:
Didn't want to say that, but… Th-thanks Brian. [fake tears]
Tapper:
The show has lots of obscure references sending us all to our laptops, iPhones, Google. Any favorites?
Damian:
I'll go first because I'm British. Mine was Judge DeGiulio sitting around watching a European soccer game. Thought it was so unlikely in the story of Billions to have anyone watching a soccer match. But I loved that. What was it [some team name]?
David:
He's italian so he likes Milan.
Damian:
[team name] is in Germany so that's close.
Paul:
I love the sports ones because I don't know anything about sports. There was a reference to some bowling pro the first season. I was like really? Chuck Rhoades follows the pro bowling circuit? In the middle of an interrogation scene, "it's like Ricky Sanders in…" What are you talking about? That was my favorite. Can't remember who the guy was.
Koppelman:
It was Earl Anthony. Ricky Sanders is football.
Asia:
They've done a handful of Big Lebowski references, which is a film I love. Working with Kevin Pollack, who did A Few Good Men, a film I saw many many times as a young person. So getting to quote it and having him quote it back to me was awesome.
Maggie:
I quoted Heat this year.
Levien:
That was my favorite too.
Maggie:
…which was a film I hated. So macho, so over the top.
Koppelman:
Michael Mann!
Maggie:
I know! With Wendy, this is her doing her homework. Because she knows the vocabulary of these guys is a very particular thing, so she's schooled herself in certain films, like the Big Lebowski and Heat, going down the list, so she knows what they're talking about.
This is the first we've heard the copious pop cultural references on the show explained as such. True enough, every family, be it biological or work family, has a certain language among themselves. The conceit is that these people know each other so well that they know each other's personal cultural references and can come up with them on the fly. Just as Sorkin with The West Wing had the walk and talk, Matthew Weiner with Mad Men had the slick stylings of 50- early 60's Manhattan, and David Chase had New Jersey mafia, Levien and Koppelman have a treasure trove of arcane references that will define their show for posterity.
David:
We assume the characters know whatever we know plus what we can google and have it at the tip of their fingers, and they've all studied the other people in their lives so they have the right reference. Like Taylor always knows the wrestling references that Mafee is going to make. Because they do the work of being conversant.
Tapper:
Do you have a favorite, Brian?
Koppelman:
When Rob Morrow referenced the left side of the menu from Diner. Two people tweeted us that it was just for them. Makes you feel good about it.
Maggie:
Those references are an imbedded experience of who Brian and Dave are. How their personalities lean into the show. Because they are exquisitely curious, filled with arcana and information. Knowledge of all stripes, they bring it back to these scripts which is nice because it makes us all sound smarter.
David:
Cute way of saying inane.
Tapper (to all):
Comic moments turn on a dime to emotional and dramatic moments. Do you find it a challenge?
Paul:
I find it a joy. The humor is a wonderful part of it. That this character gets to be funny. Axe, on the other hand, is not the funniest guy in the world I have to say.
Damian:
No he's not…he's not. Axe is just busy being Axey. Vengeful, dominant, a scrapper, embodiment of the American dream, alley cat who used street smarts and got rich.

I get the sense that here in the U.S., it doesn't matter how you got rich. Just the fact that you got rich makes you The Man.
Koppelman:
Wonder what makes you say that.
Damian:
I say it politely as a guest in your country.
Tapper (to Damian):
You talk more positively of Axe than anyone. Because, to me, Axe is a horrible person.
Damian:
I'll give you an example of what I mean. Walking down the streets in NY, here's what I hear :"Yo Axe, you the man! You The Man!" In London, I get sweet old ladies with: "You play Bobby Axelrod? You're such an asshole."
Koppelman:
Jake, you meet these people in real life. Power brokers, people who put their own interests above the public good. Bobby Axelrod is a folk hero to a lot of people in America. They not only love Bobby Axelrod, they want to be Bobby Axelrod.

We're all in line on what we're interested in exploring, part of what David Nevins was interested in exploring when we first started this, was this "why" that Damian asks. Why in our country have we decided that characteristics like verbal acuity, charisma, wealth, why do these things stand in for qualities of character? They clearly do.

So when you say, I think Axe is a bad guy, well, these people (pointing to Showtime executives) have research on it. People love Bobby Axelrod. We can wonder why that is, [something about the White House] But it's true, our country celebrates this. And that's a fascinating question to explore.
Tapper (agreeing):
As a viewer, I tune in to see will Axe do the right thing. You do root for him to do the right thing.
Damian (turning to Paul):
Well, let me ask you something. The mythical framework of this: initially it was sheriff and cowboy. Can we agree to that?
Paul:
…or bandit.
Damian:
Is it true that the lawman retains the moral high ground given whatever happens or has he fallen as far as Axe? Does Axe remain the bad guy who must be brought to book, or are they equally now fallen? I don't know.
Paul:
I'm held to a higher standard that I rarely meet. We rarely meet the high standard we want to hold these guys to. No one likes these guys. The hall monitors who say (whining) "Stop doing that, stop stealing people's milk money." He's a moralizing jerk.
Aside: A few years ago, there was a bumper sticker, likely a fundraiser for schools (which, to interject a story within the story: in some parts of the U.S. education is not fully funded and primary schools must rely on strong parent teacher associations and fundraise for supplies), the bumper sticker read "My kid is an honor student at such-and-such a school". Because this was perceived as too much of a boast or something, a rival bumper sticker cropped up "My kid beat up your honor student." So, yes, this country likes to celebrate the bully, and make the honor student the jerk.
Koppelman:
We put tremendous faith in people in those positions. They start on the side of right, have the right reasons, then suddenly something becomes personal and you can justify all kinds of behavior. Chuck may do dastardly things, but somewhere he's made a deal with himself that he's going to right this and that's what keeps him from being a sociopath.
Paul:
It's a phenomenon that goes along with why we elevate these guys (pointing to Damian). We know guys like Chuck are going to screw up, we're cynical about these guys. As we should be. They don't meet the standard they set up for themselves.
The conversation ended with Tapper asking Asia to talk a bit about the groundbreaking role of Taylor. Asia responded with appreciation that the non-binary character was not inserted as some embodiment of some bigger liberal message, but is organic and whole in their own right.
Asia:
It's a silver lining that people have learned something they didn't know before.
There you have it: Billions, the exploration of what it means to be an ethical human being, questions of idealism clouding judgement, of greed destroying love. If that's not Emmy worthy material, what is?
You can watch the panel in its entirety below and visit our gallery for pictures.