From Our Kind of Traitor to Spy Wars
by Matthew Bell | Royal Television Society | September 12, 2019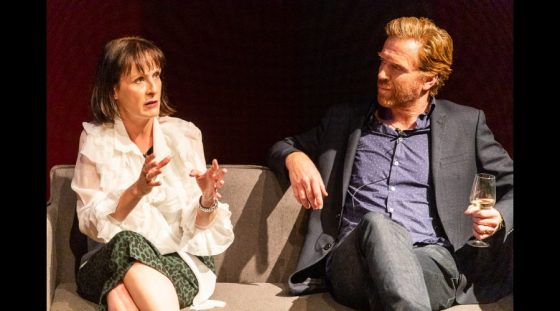 Having played a fictional spy in the John le Carré adaptation Our Kind of Traitor and a turncoat in long-running US thriller Homeland, Damian Lewis has turned presenter for History's new espionage series.
The actor was initially reluctant when his brother, Gareth ­­– one of the executive producers of Damian Lewis: Spy Wars – asked him to present. "I hadn't done factual [before] and I don't consider myself a presenter.
"But I enjoy the [spy] genre and I thought it was an opportunity to look behind these popular stories and see if we could unearth something a bit more intimate about the people themselves, and the ramifications on global politics of very personal decisions taken by individuals."
Lewis was talking after a screening of an episode of Damian Lewis: Spy Wars at the British Museum in mid-September.
The eight-part series – made by London factual indie Alaska TV and Lewis's new company Rookery Productions – was filmed in London, Moscow and Israel and reveals the true stories behind some of the biggest spy operations of the past four decades.
It uses dramatic reconstruction, archive footage and expert witnesses – including former CIA chief and US Secretary of Defense Robert Gates – to tell its stories of treachery. Episodes include the one previewed at the joint RTS and A+E Networks UK event, which tells the story of the spy swap between Russia and the US in 2010 that involved Sergei Skripal, the victim of the Salisbury Novichok attack last year.
"Spy craft is incredibly lo-fi," said Lewis. "There are exotic words like 'dead drop' and 'brush pass' but it literally means you waking into a supermarket with the same Sainsbury's carrier bag as me and us leaving with each other's bags – you've seen it in a thousand thriller movies."
The series takes the viewer beyond simple spy craft to the psychology of spying, asking: What makes a spy?
The caricature of a British spy – think Kim Philby – is that of an ex-public school boy. Lewis famously went to Eton, so, asked a member of the audience, are the expensively schooled drawn to spying?
"If you're sent away from home at the age of eight and are asked to cope emotionally with a new situation, there is a natural and instinctive compartmentalizing of emotional life. I think that is very helpful to a covert life in espionage," replied the actor.
But, he argued, leading a secret life can lead to a spy's downfall: "After a sociopathic, compartmentalization of one's life, often they feel the need to speak. I think it's their ego in the end that gets the better of them. It's increasingly loose talk that actually undoes them in the end.
"Of course, there's a need for discretion and the ability to be covert as a spy, otherwise you'd be a crap spy – you'd be James Bond."
To view photos from the event, please visit our Gallery here
Read the rest of the original article at Royal Television Society
Similar excerpt from Daily Mail:
"I couldn't be James Bond because I would be a good spy so it would be a no go. There's a need for discretion and an ability to be covert as a spy, otherwise you'll be a crap spy like Bond. What's brilliant about Bond is his recovery is better than everyone else's and that's where the two hours of the movie happens – it's him getting himself out of the massive mistake he made earlier on."