Billions MVP Awards for Season 5, Episode 6, "The Nordic Model"
by Gingersnap | Fan Fun with Damian Lewis | June 10, 2020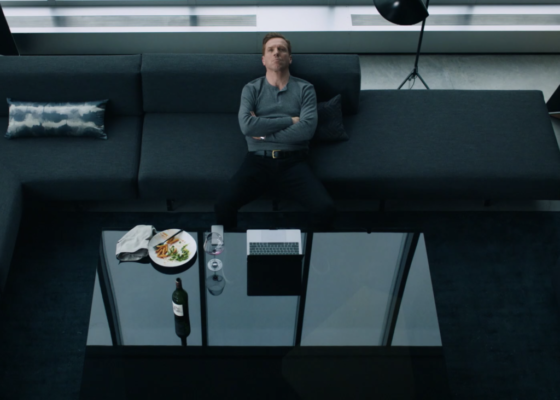 We continue to award our Most Valuable Players for Billions season five in a compilation post called the 'Billions MVP Fanbook,' which commemorates all those in honor of achievement for the utmost brazen, uber shameless, ultra scheming, unmatched bad asses to date – from sports references, music and tasty food to pop culture remarks, shocking twists and ultimate paybacks. In case you missed it, here are the MVPs for episode one, episode two, episode three, episode four, and episode five.
Let us continue with that tradition as we award our Most Valuable Players (MVPs) this week. Here are the Billions MVP awards for Season 5, Episode 6, "The Nordic Model."
Gingersnap
Lots of 'feelers' from this episode, from Ocean's 11 with the whole art switcharoo fakery, to Homeland and Sideways. Let's begin.
The Homeland Reversal Award – Axe for watching Wendy on video and live cam from his computer that was set up on his living room coffee table while sitting on his couch all night and into the early morning hours – it was like a flashback of Carrie watching Brody from her couch in the same exact way!!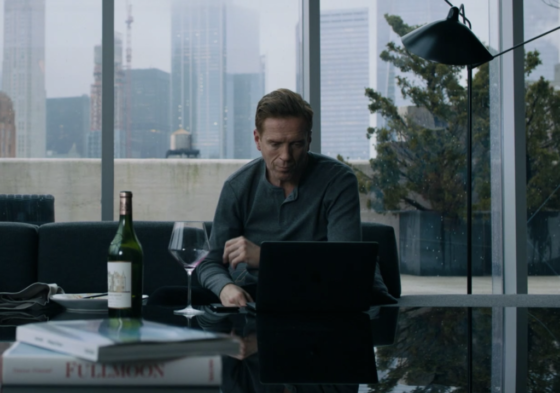 Perfect Song Choice – Perfect song choice for the final scene and overall theme of this episode goes to When I Paint My Masterpiece, written by Bob Dylan and performed by The Band. "She promised she'd be there with me when I paint my masterpiece." How apropos.
Supreme Spyros – This newly minted Mensan was screaming in delight like a pre-teen girl when she makes the cheer squad after he received his acceptance letter and membership pin. And look at the big brains on Dudley! We all know the true Mensa member of the group is really Mafee.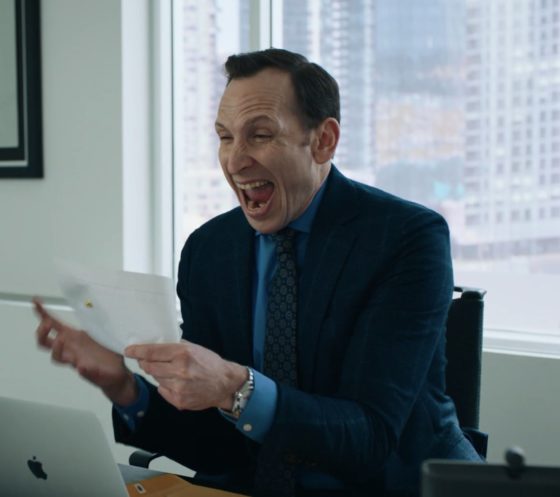 Oh, how about that question on Spyros' Mensa Admissions Test, Which of the following is NOT like the others: a) Pulley b) Axe c) Screw d) Lever? b, Axe! Love that little Easter egg.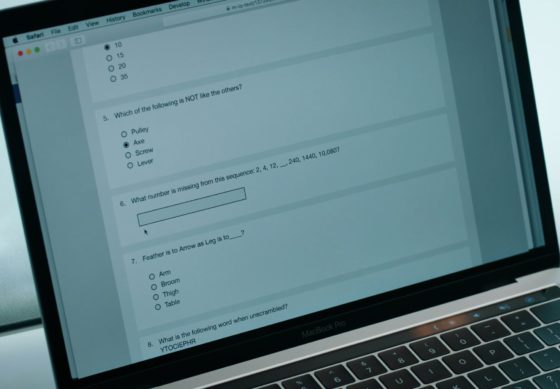 Premiere Pablo Picasso Award – Todd Krakow when he said, "For the original glamour shot, sure. But none of that Cubist bullshit. I don't want my left eyeball next to my nut sack."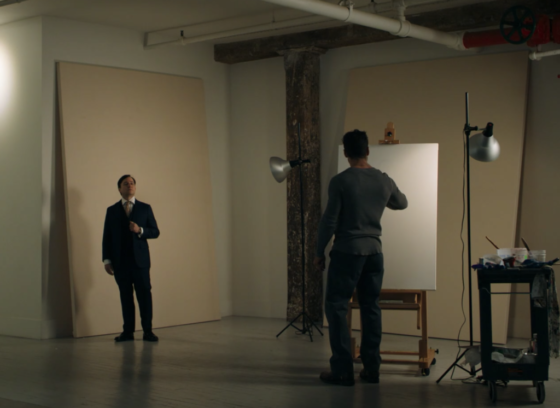 Ultra Retort by a Sovereign – Axe, when he regarded himself as King. Chuck spots Axe's bottle of Château Haut-Brion and says, "I've always wanted to taste this vintage. It's King of wines, wine of Kings…" To which Axe retorts, "Why it's my house red!"  I'll drink up some Château Axelrod any day.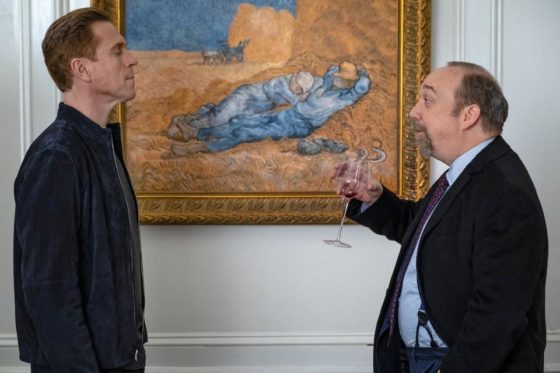 Most Unexpected Cameo – Miles the oenophile from the movie Sideways, played by Chuck Rhoades. Miles is still doing his best to teach a bit about the art of appreciating great wine.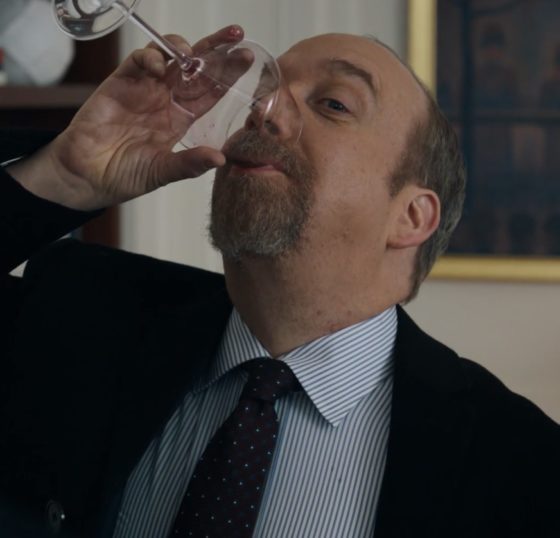 Best Line – Todd Krakow about Axe's bank charter, "Axe, if it were up to me you'd have ATMs in every ass crack."
Creepiest Scotch Tape Violator – Sypros. That finger. That rubbing finger. I felt sorry for the tape.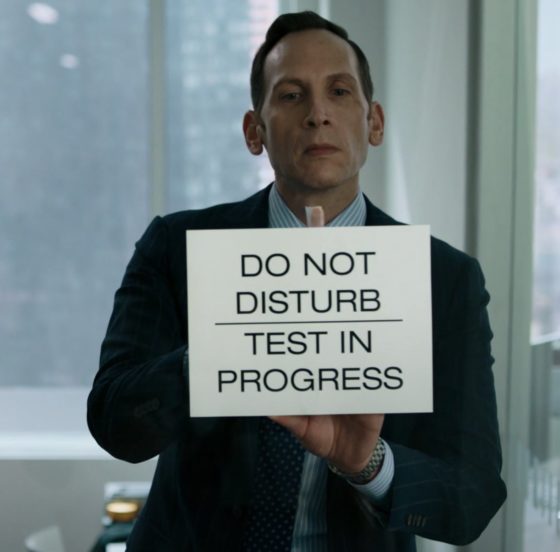 Damianista
Prominent Invader of Personal Space – Bobby Axelrod
And not once but twice.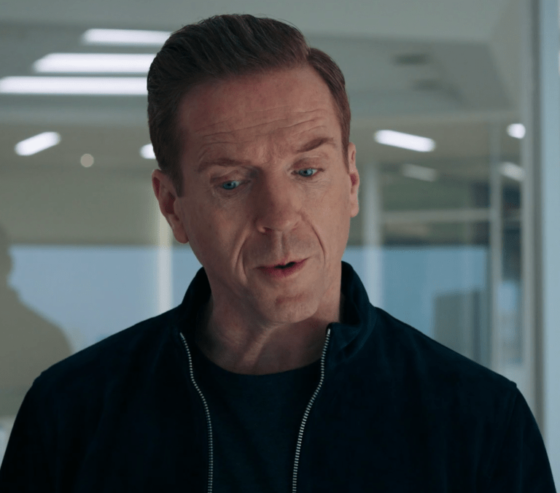 Axe first violates Wendy's privacy by pulling out the drawing Tanner made of her that morning and immediately gets sarcastic:
"You posed for this? Or was it from memory?"
It is certainly none of his business and having seen him making a clumsy move on Wendy back in Episode 4 Opportunity Zone I clearly see his jealousy in his sarcasm.
And it gets worse as jealousy turns into obsession.  Axe has probably told Hall that he needed access to the building cameras to check how much time Tanner spends in the studio. But he is actually using his access to check how much time Wendy is spending at Tanner's. This is SICK.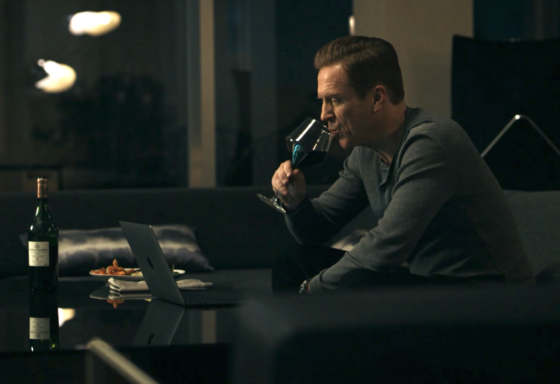 Read the rest of the original article at our sister site Fan Fun with Damian Lewis