Roger Bennett Talks His New Podcast Band Of Brothers on HBO Max
by Rashad Grove | Forbes | September 16, 2021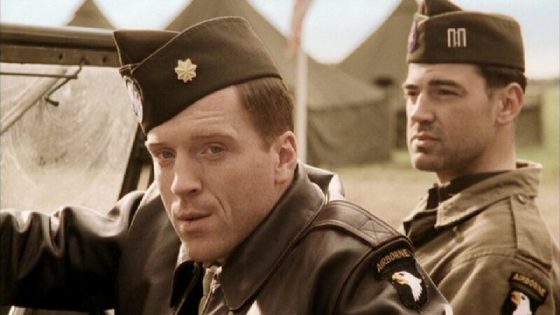 20 years ago, HBO debuted Band of Brothers which would become one of the most acclaimed miniseries in television history. Created by Steven Spielberg and Tom Hanks, the Emmy and Golden Globe winning series "honors an America which saved the world with selflessness, courage and everyday heroism" during World War II.
To celebrate the 20th anniversary of the series, HBO Max premiered a 12-part podcast hosted by noted journalist Roger Bennett which explores themes of the series with highly-researched interviews with cast members who give insight about the series that have never been heard before.
I caught up with Roger and we spoke about the cultural impact of the show, why chronicling the stories of World War II veterans is an important task, and connecting with members of the cast.
Grove: I recently read that they were 300,000 Vets from the World War II that were alive last year but the number has dwindled to somewhere around 100,000. I thought was an incredible statistic.
Bennett: Yes it is. The number has dwindled to such an extent and that the youngest ones are in their mid-90's. We picture them from war movies, in their youth, in their prime but the reality is those who saved the world from destruction, if they are still with us, they're in their late 90's and beyond. From the Easy company from the Band of Brothers, there's only one gentleman who still alive and he's 99. His name is Edward Shames.
Grove: Band of Brothers is such an iconic series and it's one the best depictions of the realities war ever created on the small- screen. When you first saw it, what resonated with you?
Bennett: I've always been fascinated by Band of Brothers as a phenomenon that becomes both more popular year after year and more important. That statistic you mentioned is the one that makes you realize that most of these remarkable human beings are no longer alive to tell their stories themselves. So Band of Brothers is a critical piece of storytelling because to me, it's unfathomable to imagine what would happen if these stories in that authentic telling, which is what makes Band of Brothers so special, fades from the national consciousness.
My grandfather served in the British Army and I was very close with him. I always tried as a nine-year-old kid to get him to talk about his war experiences and he never would. The one thing he'd say is, "Thank God for the Americans entering the war and saving us." We use to go a lot to war movies at the local cinema. We'd watch the Guns Of Navarone, The Dirty Dozen, The Great Escape, you know, all the classics. They're all kind of heroic with a John Wayne-esque kind of swagger. I would always ask my grandpa if that was what war was like. He would always say, "That's what Hollywood war looks like." That's the brilliance of Band of Brothers. It demythologizes the "John Wayneification" of war movies. It shows the horror. It shows these conditions of deep physical duress and the mental damage of those who survived and what they are left to grapple with. To me, that's Steven Spielberg and Tom Hanks' brilliance.
Also, the incredible commitment to honor the stories of the Easy Company who went the whole length of the war from D-Day all the way to liberating Hitler's Eagle's Nest. The way the show was put together, Rashad, was a deep commitment to truth and to honoring the memory to the detail. The actors essentially went into basic training themselves. They stopped calling themselves by their own names for 10 months and only answered to the names of the characters they were playing. They took on the hierarchy of the officers, they took on the personas, and they committed themselves totally.
I've watched it again with my youngest son in March in Manhattan as COVID crackled across the city. I wanted to introduce my 10-year old to the series amid the chaos and panic of our present-day reality. I wanted him to witness American empathy, courage, everyday heroism, and global leadership which I've always been all struck with.
Grove: Tell me why you believe that a podcast is best medium to highlight such a significant series?
Bennett: I am one of the thousands who watches this show every year. I know from my own podcast, Men In Blazers, a huge segment of our audience, both young and old, find it historically fascinating to watch every year around Veteran's Day. They relive the whole series and every time I watch it watch every year, I noticed new details, new lines, and new depths of meaning. The series lives on HBO Max and people can access it whenever they want and the joy of a podcast is that you get a deep emotional connectivity as a listener. So there's no better way than a podcast to enable those who've never watched the show before to access that deeper meaning. For those who watch it every year, to watch along with the stars and the creators starting with Tom Hanks, then in episode one, with Ron Livingston is a great experience.
Grove: Without giving everything away, what insight did you gain from the reflections of the cast after 20 years?
Bennett: They can't believe 20 years have gone so fast in the blink of an eye. They've said it feels like yesterday that they were committing their lives together to bring the story of everyday heroism to the stage. When I interviewed Damian Lewis, he said, actors take jobs so they can survive. You move from one to the other. But there's something deeply profound about this series because a deep bond was created by those who built it. So many of these men were able to develop relationships of deep meaning with the real Easy Company, the real heroes, while they were still living. By Band of Brothers telling this story, the actually encouraged so many of Easy Company to start to sharing their stories, many for the first time to their family. It changed their own own sense of what they did.
Read the rest of the original article at Forbes here