Billions MVP Awards for Season 5, Episode 10, "Liberty"
by Gingersnap | Fan Fun with Damian Lewis | September 22, 2021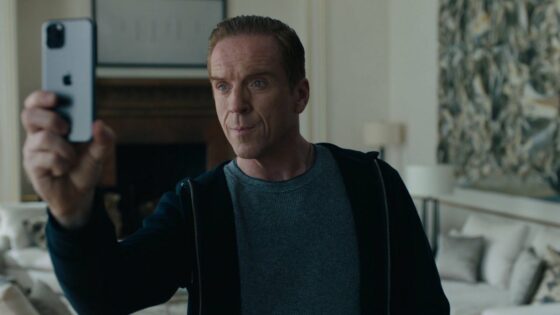 We continue to award our Most Valuable Players for Billions season five in our series compilation, the 'Billions MVP Fanbook,' which commemorates all those in honor of achievement for the utmost brazen, uber shameless, ultra scheming, unmatched bad asses to date – from sports references, music and tasty food to pop culture remarks, shocking twists and ultimate paybacks. In case you missed it, here are the MVPs for season five episodes one, two, three, four, five, six, seven, eight and nine.
Let us resume that tradition as we award our Most Valuable Players (MVPs) for the most recent episode. Here are the Billions MVP awards for Season 5, Episode 10, "Liberty."
Gingersnap
The Gingersnap Metal Band Reference Award – Dudley Mafee (and co-creator Brian Koppleman). It has taken five and half seasons, but Gingersnap finally got her heavy metal band reference, Iron Maiden. Not in the sense of Axe wearing the metal band's insignia t-shirt or their track played in the episode, but in dialogue at least.  I talked about this Iron Maiden wish in my 'Top Billions Songs: Gingersnap's Playlist' here.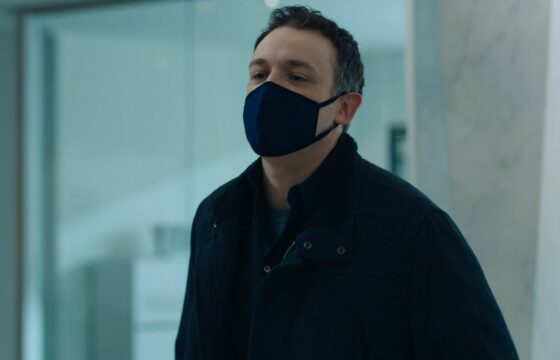 Dollar Bill says to Victor, "Yea, except it's not just the legs. Iron Maiden."
Mafee chimes in, "Number of the Beast!" Absolutely what this whole thing feels like, whole pandemic. Devil's work."
Dollar Bill clarifies, "No. The torture implement. Like the boot, but full body.
Mafee thinks Dollar Bill is referring to the band Iron Maiden, but really he's referring to the spike-covered iron-made torture device, like this one. But I'll take it! Beggars can't be choosers.
Perfect Pompous Portmanteau-er – Bobby Axelrod. Even Axe can turn a pandemic into something of self-importance. He's just referred to the CoVid-19 vaccination shot as himself from his own ship-name generator: "So those of you with your masks off, we've v-AXE-d (vaxxed) ya."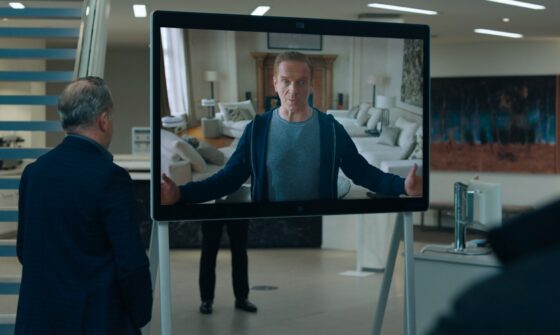 Most Snarky Retort – Prince.  While at Chuck's sit down soiree titled "The Jeffersonian Dinner," guests dined on "heritage birds" with the same genetic makeup of turkeys that roamed the Shenandoah Valley in Long Tom's Day. Prince's response to that menu introduction had me in stitches when he mocked Chuck, "I'm surprised you're not in a powdered wig and tricorn." LOL This is referencing Paul Giamatti's (Chuck) character he played in John Adams.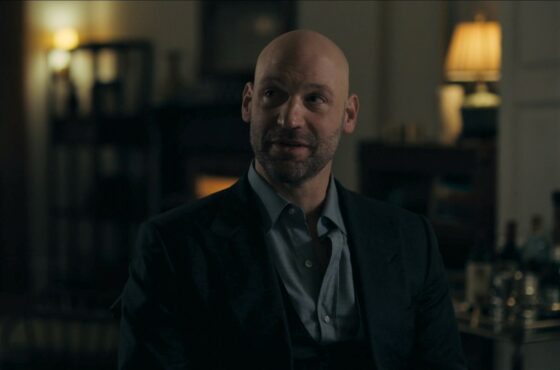 Best Game Show Reference – Ira. Match Game is my favorite game show ever! I still watch re-runs from the 70's series to this day. I even talk about Match Game here. The newer, evening version with Alec Baldwin also makes my DVR staple. Charles Nelson-Reilly is my fave ascot-wearing celebrity panelist and I often think he and I would have been fast friends back in the day.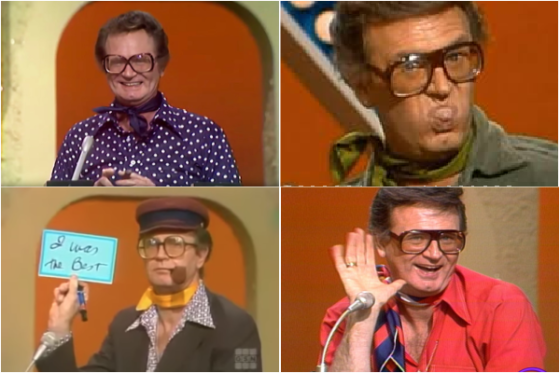 Top Chef – Tom Colicchio! Kudos to Wags for bringing in this Top Chef to wine and dine his date at Axe Capital. Tom serves them up an old Gramercy Tavern dish of his. Tom is one of the culinary world's most celebrated restaurateurs with an Emmy and James Beard Award-winning television series and cookbook. I have been following him on Twitter for quite some time. He is a social justice advocate – lobbying to Congress – in an effort to protect and expand food programs for hunger in the United States. He is also the founding member of the Independent Restaurant Coalition, a partnership designed to save independent restaurants, bars and the 11 million people they employ who have been affected by CoVid-19. So suffice to say I tweeted at Tom after watching this episode because let's face it, it's two of my favorites combined, Tom and Billions, and he "liked" the tweet 🙂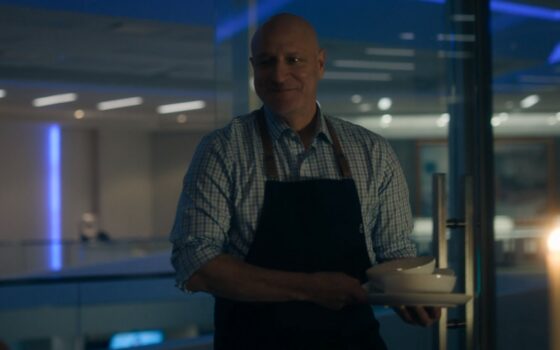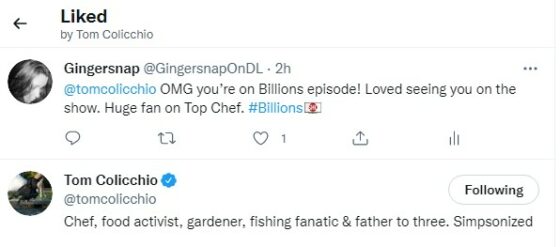 Overall MVP of the Episode – Doc Swerdlow the Medical Man. Giving me vibes of a dope-peddling candy-man, he is the best recurring character and has the funniest dialogue from three of the best scenes.
First, he announces to the dinner party about Charles Senior,
"Yeah, I keep his meds straight, his rod straighter and his nose clean."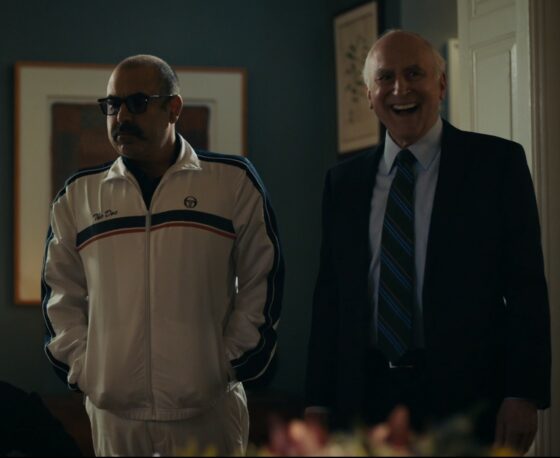 Then tells Chuck Jr. he's "Helen fucking Keller" when it comes to silence.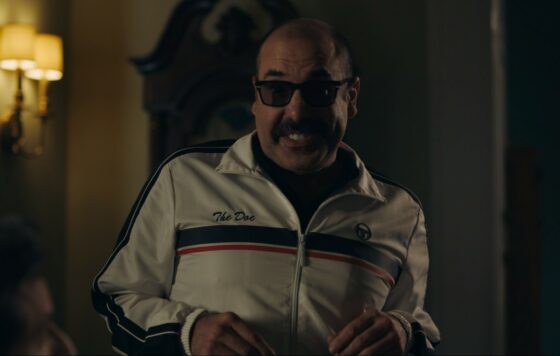 Finally, he informs the room of his drug expertise as only a candy-man would know,
"Say what you will about moral decay…but you don't know true freedom until you've gotten behind some government-derived, pharmaceutical-grade jump juice. Amphetamines, baby. You know what I mean? Of course you don't. Wink, wink. I'm not talking about some sweaty meth cookers wearing rebreathers and hitting up every CVS inside the county line for Sudafed and Drano. No, no, no, no, no. I'm talking primo caca turned out by chemist-vintners. And I for one, can't wait to see the ground that these high-end grasshoppers break out once it's legal."
Axe is spot-on in denying a hearing test from this "doctor." LOL
Food for thought: Is Dr. Swerdlow a play on Dr. Feelgood of Motley Crüe? With his packages of candy cane? He's so…..80's. He seems like a character A&R music label reps would have on speed dial back in the day. Might be a stretch, but I don't think it's a coincidence this character is possibly based on an 80's band song and album title since co-creator Brian Koppleman once was an A&R man 😉
Supreme Outfit – Doc Swerdlow. This monogrammed track suit…what a nod to the 1970's and 1980's. I can't. Dying. Dead.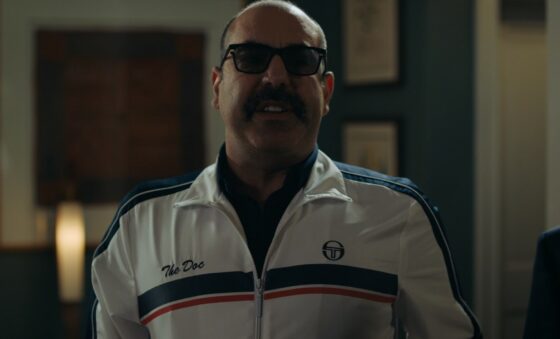 Stellar OMG Moment, Take 2 – Axe has a thing for Wendy, and tells her so over the phone. The Writer's Room needs to stop fucking with my head, AGAIN. The co-creators DESPISED any time the internet trolls shipped Wendy and Axe in the early days. What the hell? This goes against everything Brian Koppelman ever said about these two characters. My guess is, it won't happen for one reason or another, like, yanno, Wendy inadvertently taking Axe and his bank down with Chuck's lump sum ruse in combination with Axe's ego by trying to corner the cannabis market before Prince does. But the writer's sure are dick-teasing us with this romance before everything comes to an end. No pun intended.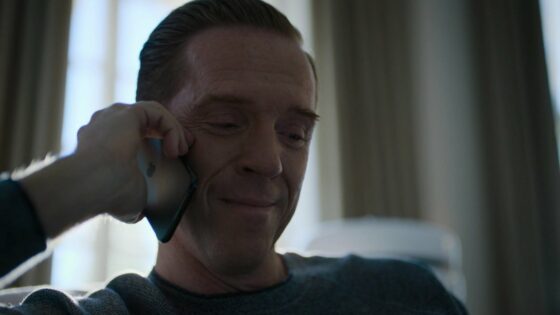 Honorable Mention – Ira because of The Honeymooners reference. But can't give it a full-on award because of the controversary DV subject matter and subsequent catchphrase it relates to. Ira tells Chuck, "You keep at this, you're gonna pull an embolism or send your blood pressure into Alice Kramden territory, to the moon."
Damianista
Substantial Suitor – Wags
This is how a substantial suitor looks like!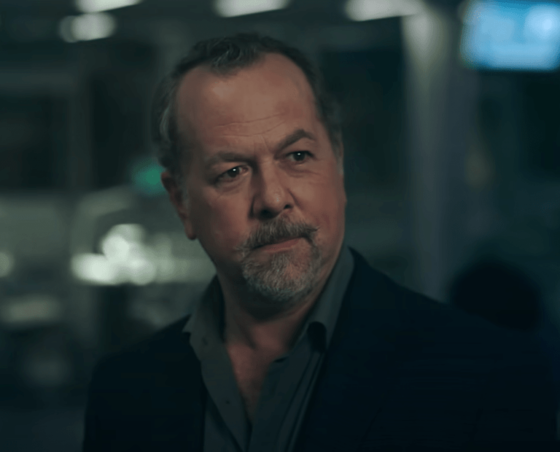 While the poll I have run on Twitter gives it to Axe, it is my award and I am keen on presenting it to Axe's newly minted Axe Bank CEO.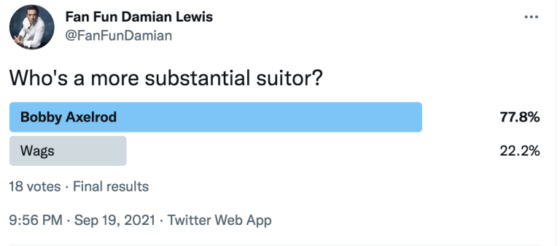 Wags does not only bring the celebrity chef Tom Colicchio himself to cook and serve a lovely dinner for two (that pea puree!) in the office he also manages to deal with Hard Bob as well as alpha (Dollar Bill) and beta (Ben Kim, Tuk) employees of the company during dinner. It is up for debate whether Chelz is impressed only because Wags is not a lap dog but a Rottweiler but, all in all, Wags is one step closer to the child he will raise right 🙂
Perfect Synonym  for "Occupied" – Chuck Senior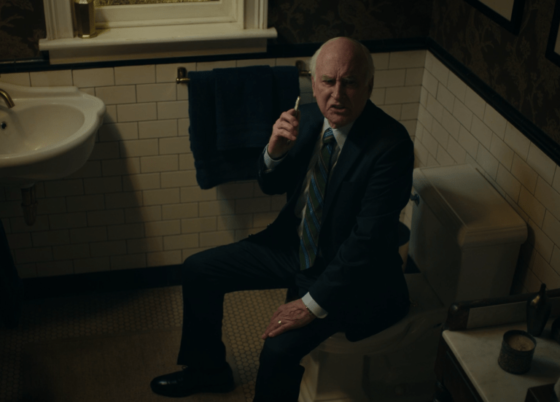 "Try one of the upstairs commodes. And have a little respect for a man with one recently-installed fucking kidney."
Chuck Senior has the best lines and Jeffrey De Munn steals every scene he is in.
Read the rest of the original article at our sister site Fan Fun with Damian Lewis here.