Heartfelt Songwriting Detour
by Adrian Thrills | Daily Mail | June 15, 2023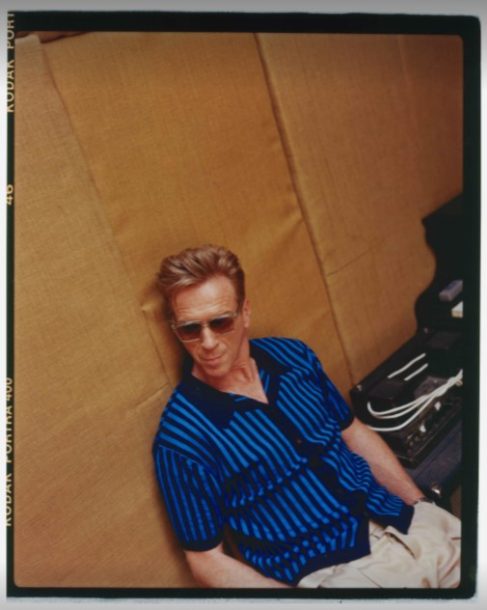 Mission Creep ★★★★
Damian Lewis knows exactly what he's getting into here. 'It's just what the world needs… another record by an actor,' says the film star, drily, of his new career as a singer-songwriter.
With fellow thespians Kiefer Sutherland, Hugh Laurie, Jeff Goldblum and Scarlett Johansson all having made albums in recent years — and Johnny Depp seemingly happiest with a guitar in his hands — he has a point.
But Lewis, 52, who played U.S. Marine Nicholas Brody in Homeland and Steve McQueen in Quentin Tarantino's Once Upon A Time…In Hollywood, is moving into music with honourable intentions, and his debut album, Mission Creep, is nothing like a vanity project or midlife crisis.
A contemplative set of rock, folk and jazzy grooves, it's a heartfelt affair with a natural feel.
After coming up with the songs, without co-writers, in lockdown, Damian was introduced to the London-based jazz musicians of Kansas Smitty's House Band by the septet's saxophonist Giacomo Smith, and it's they who provide the bulk of the richly-varied backing here, with Smith and slide guitarist Dave Archer to the fore.
Inevitably, parts of this record reflect the recent turmoil Lewis has been through. His wife, Peaky Blinders actress Helen McCrory, died from breast cancer in April 2021, and it's hard to listen to the raw but poetic folk song 'She Comes' without viewing it as an elegy to her: "She comes as a blackbird, she comes as a fox, she sits at a window, she sings from a rock," laments Lewis.
But Mission Creep is otherwise romantic rather than sad. 'Hole In My Roof' might be a chronicle of late-night despair, but its sense of melancholy is set to a jazz-funk backdrop.
'My Little One' finds Lewis delving into rockabilly. 'Why?', the album's only co-write (with Smith) is an old-fashioned New Orleans swing piece.
There's the odd throwback to the day-job. Rollicking blues number 'Never Judge A Man By His Umbrella' is inspired by his portrayal of secret agent Nicholas Elliott in the espionage drama A Spy Among Friends.
There's a touch of the over-enthusiastic fanboy to the album's three covers, Neil Young's 'Harvest Moon,' JJ Cale's 'After Midnight' and Dr. John's 'Such A Night.'
But this is a playful yet poignant detour. Before becoming an actor, Lewis spent a summer busking his way through France and Spain with a guitar and a second-hand motorbike, making this the culmination of long-held dreams.
Damian's debut album Mission Creep was released June 16, 2023 and can be ordered from several outlets here. Upcoming shows include Rough Trade East (includes album signing!) on June 19, Union Chapel on July 11 in London and Mercury Lounge NYC on July 19. Additionally, Damian just announced new September/October UK Tour dates here. Don't miss out, get your tickets now!
'Mission Creep' Album – Damian Lewis Music Store (UK) here
'Mission Creep' Album – Damian Lewis Music Store (US) here
'Mission Creep' Album – Several music services here or Target
'Down on the Bowery' – Apple Music, iTunes, Spotify, YouTube, Amazon and more here
'Zaragoza' – Pandora, Tidal, Spotify, YouTube, Amazon and more here
'Makin' Plans' – Napster, Pandora, Tidal, Spotify, iTunes, Amazon and more here
'She Comes' – Spotify, YouTube, Apple Music and iTunes here
Source: Daily Mail