One Last Power Move
by Gingersnap | damian-lewis.com | June 15, 2023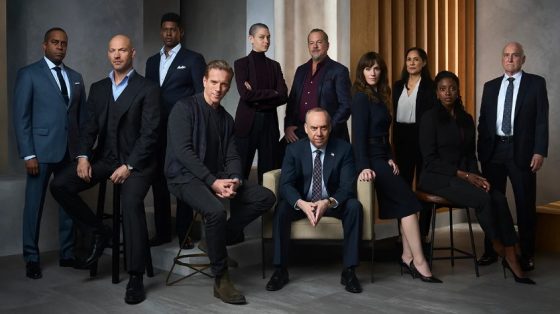 It was announced today that the critically acclaimed series Billions will make its much-anticipated return for it's seventh and final season, premiering Friday, August 11, 2023 via streaming platform Paramount+ with Showtime before making its on-air debut Sunday, August 13 at 8:00 p.m. EST on Showtime. It was previously announced that Damian would return for 6 of the 12 episodes and we're so looking forward to seeing him as Axe back on our small screens soon!
Season seven synopsis: Alliances are turned on their heads. Old wounds are weaponized. Loyalties are tested. Betrayal takes on epic proportions. Enemies become wary friends. And Bobby Axelrod returns, as the stakes grow from Wall Street to the world.
Damian will once again share the screen with his original co-stars, Paul Giamatti as Charles "Chuck" Rhoades, Jr. and Maggie Siff as Wendy Rhoades, as well as Corey Stoll, who first appeared in season 5 as Michael Thomas Aquinas Prince.
Ahead of the series' return, it was also revealed that Toney Goins, who plays Philip, had been upped to series regular. Goins will star alongside David Costabile (Mike "Wags" Wagner), Asia Kate Dillon (Taylor Amber Mason), Condola Rashad (Kate Sacker), Jeffrey DeMunn (Charles Rhoades, Sr.), Sakina Jaffrey (Daevisha "Dave" Mahar) and Daniel Breaker (Scooter Dunbar).
Speaking with Entertainment Weekly following season 5, Showrunner Brian Koppelman teased that he and David Levien had the ending already mapped out. "We do understand the way in which we will eventually end the show. But we're not there yet," he said. Speaking to Lewis' departure and Stoll's emergence as "heartland billionaire" Mike Prince, he added, "And we think that this whole situation presents the opportunity for a lot of storytelling that's compelling to us. We're still completely engaged with these characters and this story and this world. And so while we know what the end game would be, we don't feel like we're there right now."
"Billions has deftly explored power, money and greed in a way that not only made it a massive hit, but also defined its own genre thanks to the creative brain trust of Brian and David," said Chris McCarthy, President & CEO, SHOWTIME/MTV Entertainment Studios and Paramount Media Networks.
He added, "This final season is packed full of the incredible, complex dialogue and character dynamics fans have come to love, and we are thrilled to partner with them on turning this hit series into a global franchise."
That global franchise has spurred a cinematic universe with a number of spinoffs in development that are set in both the United States and the United Kingdom. Among the announced series are Billions: Miami, set in the world of private aviation, and Billions: London, which will depict the world of U.K. finance. Additionally, Millions will follow a group of thirtysomething financial moguls while Trillions will be centered around the titans of industry who rank among the richest people in the world.
Primary Source: ET
Secondary Source: Entertainment Weekly
Tertiary Source: IndieWire
Quaternary Source: People Magazine
Quinary Source: Collider
Senary Source: Hollywood Reporter
Additional Sources: Deadline and Variety Magazine