Boutique Festival of Americana
by Trev Eales | Louder Than War | June 22, 2023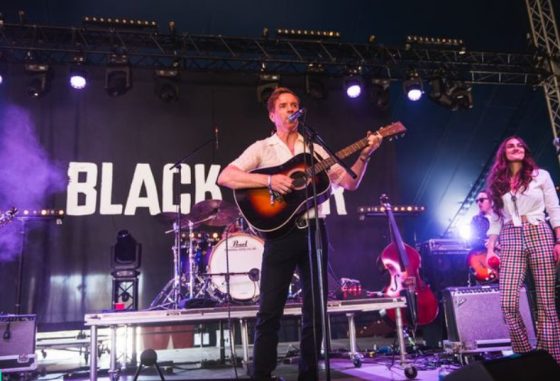 Sometimes, walking into a festival gives a feel for what's to come. A dusty track leads through a wild flower meadow as people of all ages haul their weekend belongings towards the festival gate. There's a small queue for the arena but everyone's chilled and there's a laid back vibe.
Stetsons and cowboy boots abound as we leave The Garden of England for a world of Americana. Rows of Harley-Davidsons celebrate the iconic bike's 120th anniversary, and the smell of barbecues fills the air. The rustic Arkansas Porch Stage echoes with acoustic sounds of the deep south as the audience sit baking in the afternoon sun.
Heading deeper into the site, Haley's Bar offers some shade. An escape from the heat? No, it's more like a sweatbox.
Sometime actor Damian Lewis isn't looking so cool in the sauna-like Ridge Tent. Doused in factor 50, he had thought he was playing outside. There are self depreciating jokes about "gingers" as his sun repellent melts and begins to trickle down his face. Musically he's very pleasant but the tone changes when he dedicates a song to his late wife. He's got a decent voice too, so there may even be a career ahead.
In 2023 Black Deer has delivered again. It's got a great chilled vibe, it's set in an idyllic location and attracts a real mix of people. There are impressive facilities, few queues, absolutely no litter and a good range of activities and food. In many ways it's the perfect boutique festival, and that's without the music. Once you factor in some exceptional performances you have something special.
View more photos from the event in our Gallery.
Damian's debut album Mission Creep was released June 16, 2023 and can be ordered from several outlets here. Upcoming shows include the highly anticipated and biggest venue yet Union Chapel on July 11 in London and Mercury Lounge NYC on July 19. Additionally, Damian just announced new September/October UK Tour dates here. Don't miss out, get your tickets now!
'Mission Creep' Album – Damian Lewis Music Store (UK) here
'Mission Creep' Album – Damian Lewis Music Store (US) here
'Mission Creep' Album – Several music services here or Target
'Down on the Bowery' – Apple Music, iTunes, Spotify, YouTube, Amazon and more here
'Zaragoza' – Pandora, Tidal, Spotify, YouTube, Amazon and more here
'Makin' Plans' – Napster, Pandora, Tidal, Spotify, iTunes, Amazon and more here
'She Comes' – Spotify, YouTube, Apple Music and iTunes here
Read the rest of the original article at Louder Than War