'Down On The Bowery' Effortlessly Shows Capability of Lewis' Voice and His Commitment to the Craft
by Nick Reilly  | Rolling Stone Magazine UK | June 22, 2023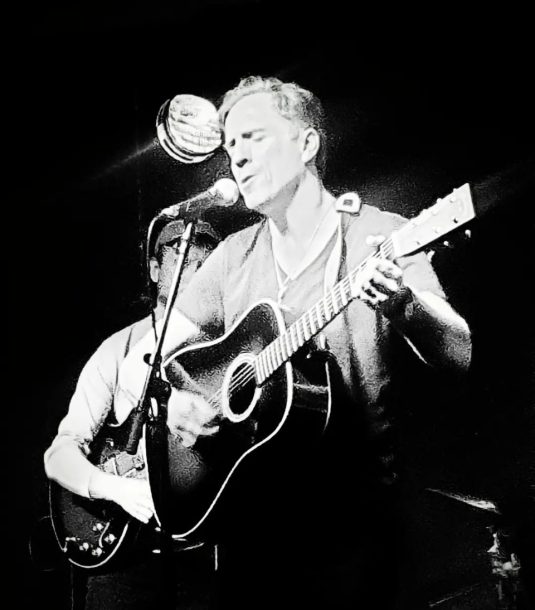 As he releases his debut album, acting royalty Damian Lewis tells Rolling Stone UK why he's under no illusions about proving himself as a musician. Damian Lewis has opened up on releasing his first ever solo album and why he's ready to deal with any cynicism that his latest venture might attract.
Last week saw the Band of Brothers star release 'Mission Creep', a record of largely roots-y Americana, backed by an accomplished band of eclectic musicians. One stand-out highlight comes in 'Down On The Bowery', which effortlessly shows out the capability of Lewis' voice and his commitment to the craft.
But Lewis is under no illusions that the record, recorded in his own North London, will attract the attention of detractors who are cynical about actors turning their hand to music.
"When you tiptoe across a boundary into a different creative form, you know there'll be people definitely honing their sights from the building tops," he said.

"They'll want to say things like 'why, dear god have we got another actor wanting to make an album or another musician wanting to be actor', whatever it happens to be.

"I just hope people will listen to it and take the music at face value. If it's, if it's any good, it will have a, it will have a life and if it doesn't, well, I've enjoyed it."
As for his own musical background, Lewis explains that he was a member of the school choir and played guitars, but really took his first steps during jam sessions that occurred at wrap parties for his hit show Homeland.
"We'd put these wrap party bands together and these guys had recorded in studios down in North Carolina in studios where REM had recorded a couple of albums, so it had a nice bit of history to it."
Lewis is also under no illusions that fans of his work will attend, but admits that he'll need to win them over with the music if they're going to stay.
"Once they get there, once I've got them in the door because they liked Band of Brothers, that's great. But then the music's got to be good enough to keep them there, hasn't it?"
On a personal level, Lewis went on to explain how the record came out of the period when he was caring for his late wife Helen McCrory, who died of cancer in 2021.
"It came out of lockdown when my wife died. I was writing around then, but if it's reflected in the music that will be for people to determine themselves. It certainly wasn't a conscious thing that I was doing."
Back to the now, he's looking at gigs in the future.
"I'd love to play Glastonbury in the future, but I'd be so lucky. The truth is this year might be a bit soon, but I'd love to play those sort of gigs. We just need to sell tickets to our own gigs first. We don't want those fields to be empty."
Damian's debut album Mission Creep was released June 16, 2023 and can be ordered from several outlets here. Upcoming shows include the highly anticipated and biggest venue yet Union Chapel on July 11 in London and Mercury Lounge NYC on July 19. Additionally, Damian just announced new September/October UK Tour dates here. Don't miss out, get your tickets now!
'Mission Creep' Album – Damian Lewis Music Store (UK) here
'Mission Creep' Album – Damian Lewis Music Store (US) here
'Mission Creep' Album – Several music services here or Target
'Down on the Bowery' – Apple Music, iTunes, Spotify, YouTube, Amazon and more here
'Zaragoza' – Pandora, Tidal, Spotify, YouTube, Amazon and more here
'Makin' Plans' – Napster, Pandora, Tidal, Spotify, iTunes, Amazon and more here
'She Comes' – Spotify, YouTube, Apple Music and iTunes here
Source: Rolling Stone Magazine UK