Always Remember to Twiddle Your Knob
by Ethan Croft | Evening Standard Diary | June 26, 2023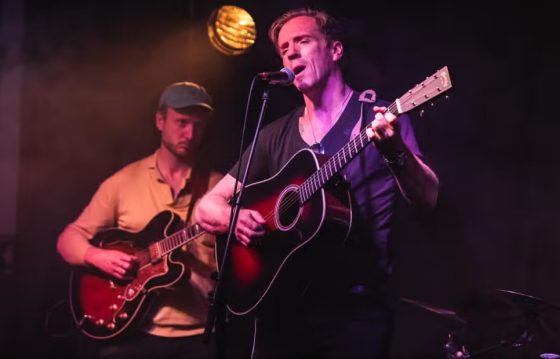 Damian Lewis doesn't know if he is still an actor after making a departure into the music industry. We caught up with the Homeland star as he performed with a band to a crowd of around 150 friends and fans at Rough Trade in Brick Lane. He was playing tracks from Mission Creep, his debut album.
Lewis's surprise career change certainly crept up on us. When we asked if he still considers acting to be his main job, he said "I don't know. Watch this space. We're not very good at changing lanes in this country. We don't like people to change lanes. It's just about whether you're good or not. It's as simple as that," he said.
He was certainly expressive on stage. Has acting helped his stage presence? "I don't know. Maybe the coolest way to be is just to be absolutely still, and deadpan, and rock and roll, brooding."
Lewis, whose main experience of performing music had been teenage busking, had technical difficulties. "I think I might have just played that song without my amplifier on. Always remember to twiddle your knob," he said. "Or get someone to do it for you," joked his backing singer. "I hadn't realized until the end of the song," Lewis said, "and the worst part is that nobody else did!" Has it been cathartic? "No, not in particular. But fun. Really fun." View photos from the event in our Gallery.
Damian's debut album Mission Creep was released June 16, 2023 and can be ordered from several outlets here. Upcoming shows include Union Chapel on July 11 in London and Mercury Lounge NYC on July 19. Additionally, Damian just announced new September/October UK Tour dates here. Don't miss out, get your tickets now!
'Mission Creep' Album – Damian Lewis Music Store (UK) here
'Mission Creep' Album – Damian Lewis Music Store (US) here
'Mission Creep' Album – Several music services here or Target
'Down on the Bowery' – Apple Music, iTunes, Spotify, YouTube, Amazon and more here
'Zaragoza' – Pandora, Tidal, Spotify, YouTube, Amazon and more here
'Makin' Plans' – Napster, Pandora, Tidal, Spotify, iTunes, Amazon and more here
'She Comes' – Spotify, YouTube, Apple Music and iTunes here
Read the rest of the original article at Evening Standard