Nighttime Meeting
by Justine Browning | Entertainment Weekly | June 26, 2023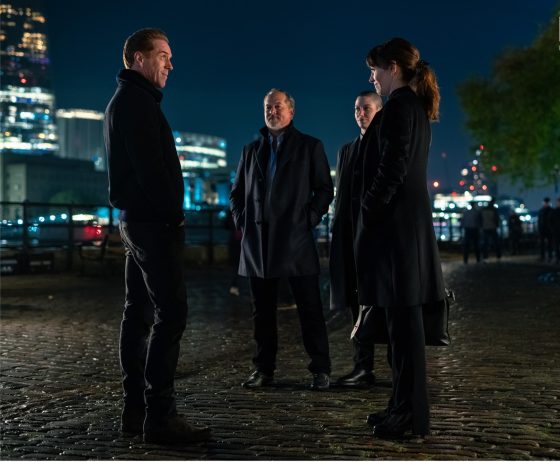 Power, wealth, and high-stakes drama are heading toward an epic conclusion as the final season of Billions approaches. EW has your first glimpse at what's ahead with exclusive images from the upcoming season 7, including the highly anticipated return of Damian Lewis as bad-boy finance bro Bobby "Axe" Axelrod. Official trailer drops tomorrow, June 27, 2023.
In one shot, he's seen taking a nighttime meeting with Mike "Wags" Wagner (David Costabile), Taylor Mason (Asia Kate Dillon), and Wendy Rhoades (Maggie Siff). Lewis, who departed the series at the end of season 5, will return for six of the final season's 12 episodes. (Gingersnap note: The nighttime meeting appears to be from filming at Tower of London back on November 4, 2022. View those photos here.) View more first look photos in our Gallery.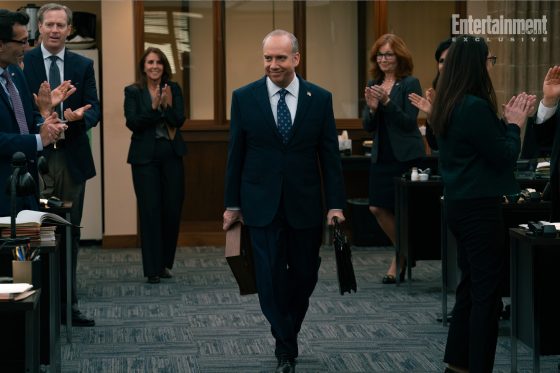 Chuck Rhoades (Paul Giamatti) is also looking quite chipper, while Corey Stoll's "good billionaire" Michael Prince — Axe's rival — is on the campaign trail in his run for president. And it appears that things with his estranged wife, Andy (Piper Perabo), are going well, as she stands with him hand in hand at one campaign stop. But if we've learned anything from the world of these billionaires, and Prince's world especially, it's that things aren't always what they seem.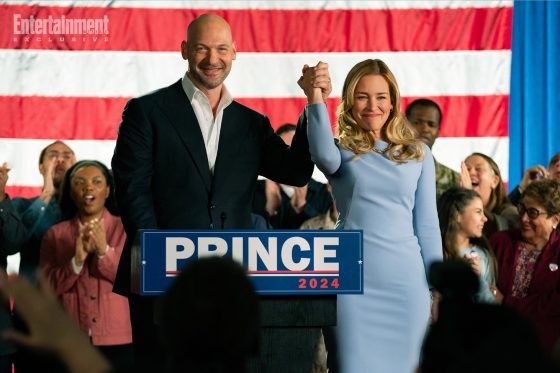 While the forthcoming season will be Billions' last, four potential spin-offs are in the works, including ones titled Millions and Trillions, EW previously reported. Billions creators Brian Koppelman and David Levien are overseeing the potential spin-offs, which could expand the franchise from New York City to Miami and London.
Season 7 synopsis: Alliances are turned on their heads. Old wounds are weaponized. Loyalties are tested. Betrayal takes on epic proportions. Enemies become wary friends. And Bobby Axelrod returns, as the stakes grow from Wall Street to the world.
Billions season 7 premieres Aug. 11 on Paramount+ with Showtime and Aug. 13 at 8 p.m. ET/PT on Showtime.
Official Trailer:
Promo Trailer:
Read the rest of the original article at Entertainment Weekly