Axelrod's Back and Prince Eyes the White House
by Richard Roeper | Chicago Sun-Times | August 9, 2023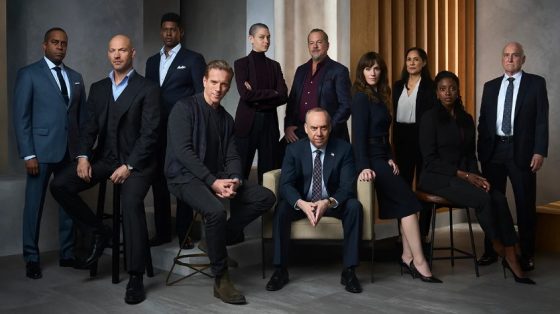 "Billions" features a total of 11 primary cast members, and it's a tribute to the deep bench of this financial drama that at least a half-dozen other members have their moments to shine. Based on the six episodes I've seen of a 12-chapter final run, it's evident showrunners Brian Koppelman, David Levien and Andrew Ross Sorkin are poised to close things on a high-stakes note — although there reportedly are plans for a number of spinoffs, including "Millions" and "Trillions." (I'm in!)
Featuring some of the most impressive production values, needle drops and ensemble acting of any series of the last 10 years, "Billions" has been a signature title in the Showtime arsenal since 2016 — and the complex and intertwining storylines are further boosted in the home stretch with the return of the screen-commanding Damian Lewis as the billionaire hedge fund legend and schemer extraordinaire Bobby Axelrod, who remains in exile overseas but might be poised to get back in the game.
With Paul Giamatti, Maggie Siff, David Costabile, Condola Rashad, Asia Kate Dillon and Corey Stoll leading the talented cast of main players, and some high-profile recurring roles and guest cameos we won't spoil here, there's never a scene in "Billions" that doesn't feature at least one brilliant actor delivering razor-sharp lines. Even when "Billions" is delving into pure prime-time soap melodrama with some plausibility-bending plot twists, it's never not entertaining as hell.
Season 6 of "Billions" ended with Corey Stoll's crusading, self-righteous zillionaire Mike Prince sacrificing some $3.5 billion of his personal fortune just to gain the upper hand on Paul Giamatti's Chuck Rhoades, who is briefly jailed but then sprung by the opportunistic New York State Attorney General Dave Mahar (Sakina Jaffrey), so that Chuck can help her bring down Prince. Season 7 starts in media res, with a huge confrontation between two major players — and then we roll it back to "5 MONTHS EARLIER," and let the gamesmanship begin. We pick up the action as Prince is not only running the former Axe Capital, which now bears his name, but gearing up for a run at the presidency in 2024. (Cast newcomer Babak Tafit lends an electric presence as one Bradford Luke, a high-priced political consultant who tells Prince it's a whole new ballgame now, and his every move will be scrutinized by the press, the public — and the newly free Chuck Rhoades.)
The difference between Michael Prince and virtually every other character in "Billions" is that while Bobby, Chuck, et al., readily admit they'll bend laws and basic rules of fair play to get what they want, Prince believes he's not only changing the world for the better, but he knows what's best for the masses.
After Prince makes a "hammer or the anvil" reference that echoes a 1929 speech by Hitler, Wendy (Maggie Siff) meets up with Wags (David Costabile), tells him Prince has a textbook God complex and adds: "I've decided he's dangerous." This puts Wendy at an ethical crossroads, given she's the psychiatrist and motivational coach for Prince's company, as well as an inner circle confidant. Meanwhile, Chuck is experiencing a case of the "yips" in that he's hesitating to make any bold moves, while Wags finds himself wondering if he's still an alpha lion after he attends a 35th anniversary celebration for Michael Lewis' "Liar's Poker" book and is treated like a retiree on his way out. (Lewis plays himself, in keeping with the "Billions" tradition of "as himself" and "as herself" cameos. We won't give away some of the other celebrity pop-ins.)
As usual, the pop culture drops are fast and furious and sometimes bordering on overkill. In the first episode alone, we get references to Nirvana, "Turner & Hooch," Michael Bay, Stanley Kubrick, "Raising Arizona," B.B. King, the 1970s New York Knicks backcourt duo of Walt Frazier and Earl "The Pearl" Monroe, "Star Wars" and hey, there's Styx's "Renegade" blasting in the home office of a character who is, well, a renegade. (In a later episode, a new character notes that so many of Prince's star employees make references to films and actors, she's been catching up on her movie watching.) It's not really the way people talk, but it's the way "Billions" people talk, and we've come to embrace it, even when we wonder how these people found the time to attend all the best schools and make millions of dollars when they all seemed to have watched practically every TV show and movie of the last many decades. It is, as they say, what it is.
It appears that much of the final season of "Billions" will focus on characters who will either rise to permanent exalted status or come crashing to the ground with a brutal thud. It's a tribute to the writing and the performances that in most cases and with most of the main players, they're equally deserving of triumph and tragedy.
"Billions" Season 7 Premiere, Friday, August 11, Paramount+
Read the rest of the original article at Chicago Sun-Times