Tower of London Season 7 Episode 1
by Isaac Rouse | TV Insider | August 11, 2023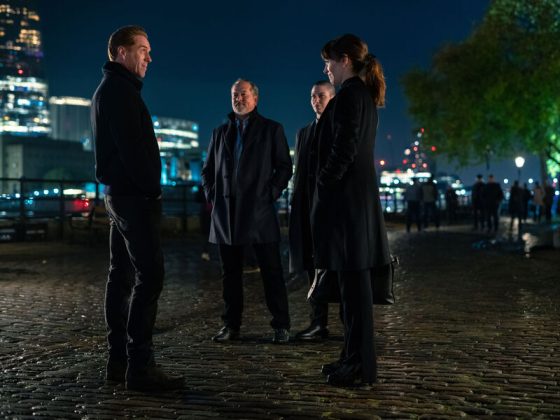 [Warning: The below contains MAJOR spoilers for the Billions Season 7 premiere "Tower of London."]
The road to the end of Billions has begun with the start of its seventh and final season, which brings Damian Lewis back as Bobby "Axe" Axelrod for one last showdown.
Axe did not give up his business empire easily. At the end of Season 5 of Showtime's Wall Street thriller, a two-pronged attack drove him from New York City to Switzerland, turning him from a swaggering master of the universe into a financial fugitive. New York State Attorney General Chuck Rhoades (Paul Giamatti) falsely accused him of money-laundering charges. Meanwhile, his billionaire nemesis, Michael Prince (Corey Stoll), took advantage of the situation to acquire Axelrod's assets below price. However, despite the setbacks, Axe has made a strong comeback with his charismatic and cutthroat demeanor still intact as he reenters the ring.
At the end of the Season 7 premiere, we see Wendy Rhoades (Maggie Siff) at the Tower of London (after which the episode is named) and the tower bridge in the background. She is swiftly approached by Bobby, who remarks, "Stirring spot, isn't it?" Wendy smiles and responds, "And I think I understand why you picked it. But I was surprised this was the meet. Thought I'd have to take a longer flight to see you." She jokes, "Even blindfolded, so I couldn't lead them back to you, even under duress."
Bobby explains that politics "is fluid" and takes responsibility for delivering Ukraine javelin anti-tanks "early in the conflict." He ensured it brought him a great deal of goodwill "across the continent" from the U.S. and E.U. Bobby then harshly asks about Prince, who will soon run for president. She asks for his help to protect the firm, the thing he and she made from Prince, and the potential damage he can do outside of it. Suddenly, Wags (David Costabile) and Taylor (Asia Kate Dillon) walk up, with Bobby referring to the three as "Luke, Leia, and Chewie" before declaring himself as the Hans of the group.
Read the rest of the original article at TV Insider