Basingstoke, Eastleigh and Milton Keynes
by Naomi Clarke| Evening Standard | August 13, 2023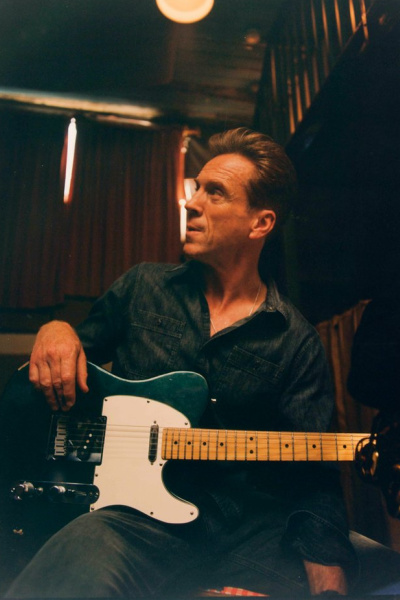 Damian Lewis has announced extra dates for the upcoming tour of his debut album, Mission Creep, due to popular demand. The 52-year-old British actor, best known for starring in TV dramas including Band Of Brothers and Homeland, is taking his new band on the road for the first time this autumn.
He has now extended the eight-show run by adding a further three shows in Basingstoke, Eastleigh and Milton Keynes in November.
Lewis said: "I can't wait to get out on the road with my band this autumn for our first UK tour.
"We've played London, we've played New York, but now we're getting serious and bringing the music to the great towns and cities of Gateshead, Nottingham, Brighton, Bristol, Cardiff and many more.
"And, am I allowed to say this, 'due to popular demand', we've just added three more dates at the start of November so, all of you in Basingstoke, Eastleigh and Milton Keynes, get your glad rags on."
The tour is due to kick off on September 9 in Nottingham before heading to Birmingham, Cardiff, Bristol, Brighton and Manchester – and then playing shows shows in Leeds and Gateshead in October.
The new dates will start on November 1 in Basingstoke and continue on to Milton Keynes and Eastleigh.
In June, Lewis released his first studio album, which is described as a "thoughtful collection of rootsy, rock and jazz-tinged songs that reveal a deep love of music, and a deep need to communicate".
Its origins go back to when the actor left school and took to the road with his guitar and went busking through continental Europe.
This experience is said to have impacted the album, which came about after Lewis rediscovered the guitar during the lockdown.
As his acting schedule freed up due to the pandemic, he began playing and writing songs and later teamed up with various musicians including Italian-American Giacomo Smith, who offered to produce the album.
Smith also introduced him to some musicians from his jazz outfit Kansas Smitty, and together they formed a group who have been performing gigs.
Lewis previously performed at Wilderness Festival in Oxfordshire last year and has taken to the stage at Cheltenham Jazz Festival and Black Deer Festival so far this summer.
His tour also follows on from the group playing a string of sold-out shows at London venues including Omeara, Koko, Union Chapel, The Tabernacle and Hoxton Hall.
Last month, Lewis performed the national anthem to open proceedings at the grid ceremony of the Formula 1 British Grand Prix.
Reflecting on the upcoming shows, the actor-turned-singer added: "I've been blown away by the critical response to Mission Creep, and I hope everybody likes it as much as the critics seem to."
"All written by me and produced by my friend Giacomo Smith, with one or two favourite tracks thrown in as covers, you might think it's a little weird that Major Winters is singing you a love song, or that Bobby Axelrod is getting all tender with some Neil Young, or that Nicholas Brody is wailing some up tempo rock 'n' roll at you, but come along, see for yourself."
"Because actually, none of those guys are up there, it's just me with my incredible band of jazz 'n' rock musicians, and we're in town to give you a great night out."
But not one to rest on his laurels, Lewis also revealed he hopes to play the festival circuit next summer including a slot at Glastonbury 2024. He said, "If you like what you hear then come back next summer for the festivals, when we hope to be at Glastonbury and others. How cool would it be to play the West Holts Stage at sunset?"
SEPTEMBER
Saturday, September 9, 2023 – Rescue Rooms, Nottingham – 25 Goldsmith Street – 7:30 p.m.
Friday, September 15, 2023 – Town Hall, Birmingham – Victoria Square – 8:00 p.m.
Saturday, September 16, 2023 – The Gate, Cardiff – Keppoch Street – 7:00 p.m.
Sunday, September 17, 2023 – Thekla, Bristol – The Grove – 7:00 p.m.
Friday, September 29, 2023 – The Old Market, Brighton – 11A Upper Market Street Hove – 7:00 p.m.
Saturday, September 30, 2023 – Band on the Wall, Manchester – 25 Swan Street – 7:00 p.m.
OCTOBER
Sunday, October 1, 2023 – Brudenell Social Club, Leeds – 33 Queen's Road – 7:30 p.m.
Saturday, October 7, 2023 – Sage 2, Gateshead – St. Mary's Square – 7:00 p.m.
NOVEMBER
Wednesday, November 1, 2023 – The Haymarket, Basingstoke – Wote Street – 7:30 p.m.
Monday, November 6, 2023 – The Stables, Milton Keynes – Stockwell Lane, Wavendon – 8:00 p.m.
Thursday, November 9, 2023 – The Concorde, Eastleigh – Stoneham Lane – 9:00 p.m.
TICKET OUTLETS
Alt Tickets here
Ticket Web here
Stereo Board here
See Tickets here
Gigantic here
Bands in Town here
**Birmingham tickets from B:Music here
***Basingstoke tickets here
***Milton Keynes tickets here
***Eastleigh tickets here
MISSON CREEP TRACKLISTING:
SIDE A:
1. DOWN ON THE BOWERY
2. SOHO TANGO
3. HOLE IN MY ROOF
4. HARVEST MOON
5. MY LITTLE ONE
6. SHE COMES
SIDE B:
1. AFTER MIDNIGHT
2. ZARAGOZA
3. NEVER JUDGE A MAN BY HIS UMBRELLA
4. WANNA GROW OLD IN PARIS
5. MAKIN' PLANS
6. WHY?
Bonus Track on CD and digital downloads (UK/US): SUCH A NIGHT
OFFICIAL MUSIC VIDEOS:
 'Down on the Bowery' 
'Zaragoza' 
'Makin' Plans' 
'She Comes' 
Read the rest of the original article at Evening Standard
Secondary Source: Music News