The Unbeatable, Unstoppable, Unparalleled MVPs 
by Staff | Fan Fun With Damian Lewis | August 17, 2023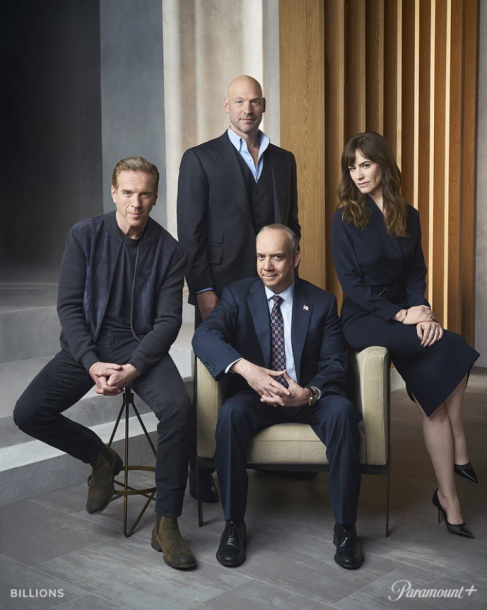 Billions is back and so is our MVP series! Fun times were had awarding our Most Valuable Players for the Billions season seven premiere, but if you're new around here, let me explain. Our series compilation, the 'Billions MVP Fanbook,' commemorates all those in honor of achievement for the utmost brazen, uber shameless, ultra scheming, unmatched bad asses from the episode – from sports references, music and tasty food to pop culture remarks, shocking twists and ultimate paybacks.
Let's dive in. Here are the Billions MVP awards for Season 7, Episode 1, "Tower of London."
Gingersnap
Most Apt and Cracking Tune of the Episode – London Calling by the Clash. This song is one of my faves from the 80's (yet released in 1979) and perfectly soundtracked to play in the final scene that takes place outside the Tower of London (episode title namesake). It's the first time we see Damian Lewis as Axe since season five and we see him in none other than Damian's homeland of London (see what I did there, all you Homeland fans). Axe is being summoned from the underworld and to test if the waters are safe and true, he sends signals through his trading style that only Mafee would recognize, as if London is calling to faraway New York. Wendy, with the help of Wags and Taylor, needs to enlist Axe to battle a foe, which is amplified in the lyrics:
"London calling to the faraway towns
Now war is declared and battle come down
London calling to the underworld
Come out of the cupboard, you boys and girls"
Badass Wardrobe – Wendy takes the award. She sets the battle tone of the entire season in just the opening scene of the first episode as she walks to work on the streets of New York in a bruised-up garb of black and blue to the fitting anthem Because I'm Awesome by the Dollyrots.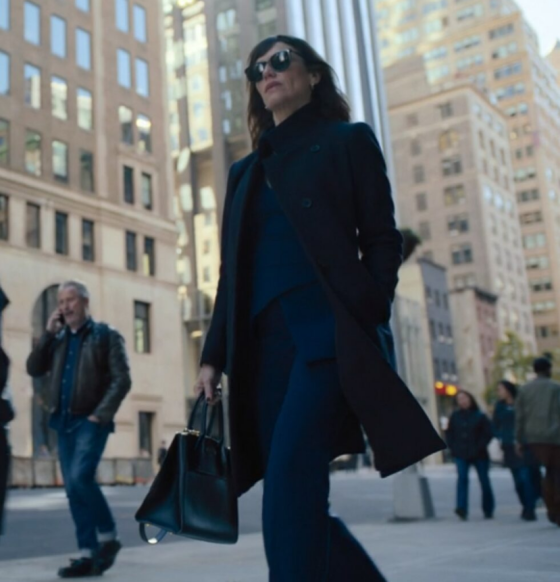 The writers and directors are telling us she's the leader of the battle this season. I've cherry-picked the lyrics:
"I've got the new style, uh oh
And I'm walking right down your street
I'm on your speed dial, you know
The one everyone wants to meet
I'm a leader, I'm a winner, and I'm cleaner
'Cause I'm awesome
I don't need you 'cause I'm neato and I beat you
They say I'm gifted, uh huh
Well I'm a certified prodigy
I'm gonna own you, uh huh
I'm gonna bring you to your knees"
Wicked Easter Egg – Welcome to Area 51! Whether the writers/directors/showrunners meant to portray this or not, we see Wendy enter the building's lobby and go up the elevator to floor 51 to Mike Prince Capital. Will MPC become more like Paradise Ranch with layers of restricted access, top secret operations, intense secrecy, classified documents and confidential informants?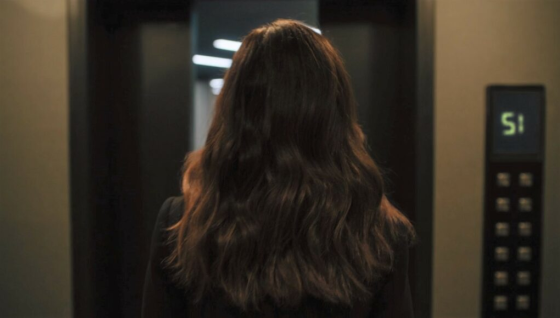 Superb Pop Culture Reference – Mike Prince claimed he wants Wendy to be the "Dave Grohl to his Kurt Cobain." Ahhh…Dave Grohl, loyal and true. I'm a HUGE Grohl fan and have followed him from drumming in Nirvana to frontman of Foo Fighters. I love everything he stands for, whether it's music without autotune in order to create a more pure sound that's not open to outside tampering to the countless music contributions and projects he's been a part of. To name a few: his work with Brian May of Queen, recreation of Beatles music for a movie, playing with David Bowie and Paul McCartney. On a global scale he encourages kids and young adults to play music, whether it's his daughter-musician Violet or participating in a drum battle with then 10-year-old YouTube drumming celebrity Nandi Bushell. Watch Dave guide Shane Hawkins (his late band member Taylor Hawkins' son) on the drums at the MusiCares x Taylor Hawkins benefit and tribute concert in late 2022.
Dave Grohl is "my hero…."
Dave and his mother released the documentary From Cradle to Stage (2021) that explored relationships between musical artists and their mothers including Dan Reynolds of Imagine Dragons, Pharrell Williams, Miranda Lambert, Brandi Carlile, Tom Morello of Rage Against the Machine and Geddy Lee of Rush. Not to mention directing the documentary Sonic Highways that chronicled his band recording an album across 8 different American cities and recording studios, my favorite being the New Orleans episode where he includes such details as the segregation laws that delayed – by several years – George Wein's founding of the New Orleans Jazz and Heritage Festival.
But the crème de la crème was Dave's performance with Trombone Shorty. I even tweeted to Damian about it.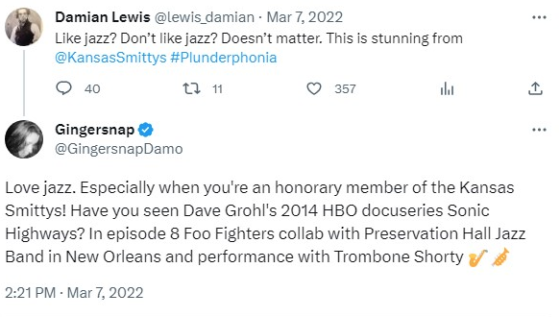 Common Threads – There are two. Leave it to the Billions writers to run a common theme throughout the entire run of the series. During his court appearance Chuck takes us back to season 4 when he tells the Judge, "You're treating me like some kind of lamster!" Lamster was the title of episode 11 in season 4 when Charles Sr. was on the lam after discovering his home was bugged. Jock Jeffcoat had the FBI detain Charles Sr. so he could question him about who secured the land deal for his development project. Now, stay with me here. Why would Billions want to go out of its way to mention the word "lamster?" Because as we see in next week's promo trailer, Jock Jeffcoat is back when Chuck visits him in prison! "Howdy partner…"
Then there's the mafia thread we've seen throughout the entire series, from real to literary, and this episode is no different. First Taylor accuses Kate of getting buddy-buddy with Prince like lawyer and mobster "Cutler and Gotti." Then Prince refers to Chuck as Eliot Ness, the American prohibition agent who helped bring down Chicago mobster Al Capone. Not to mention Sopranos, Sopranos, Sopranos, oh my…from Chuck and Dave's clandestine meeting spot at the cemetery in the Rhoades family mausoleum, like "Uncle Junior's doctor office" to Charles Sr. calling Chuck "Junior" at the restaurant (when has he ever done that?).
Brilliant Nickname – Award goes to Mafee for referring to his former boss as 'Big Red' when he spots Axe's trading style – fast, aggressive and sure-footed. (New York Times refers to Bobby Axelrod as "a certain red-headed maniac" lol)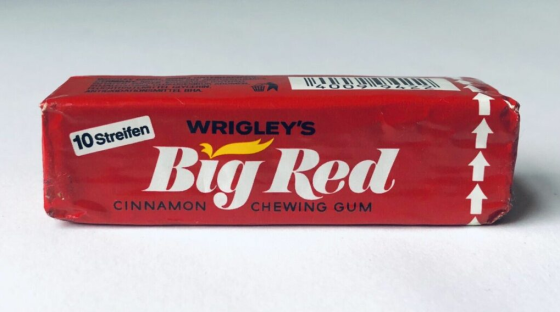 Uber Tricky Foreshadowing – During flashes of news bulletins we see a meteorologist forecast that hurricane Nicole made landfall in Vero Beach, FL. As we all know hurricane storms are named following an alphabetical system of order. So if storm "N" (Nicole) is about to land, the next hurricane is named "O," "P," and so on. And what's on the horizon? That would be Hurricane Rosie, the title of episode 4 coming up in three weeks! Now I'm not sure "Rosie" is a literal hurricane, because it could also be a person in the Billions world. But nonetheless it's pretty cool to see little teasers like this. But the Florida hurricane could also be a metaphor for the State's recent political climate of anti-woke bills, anti-trans laws, abortion bans, AP Psych course ban, book bans, etc.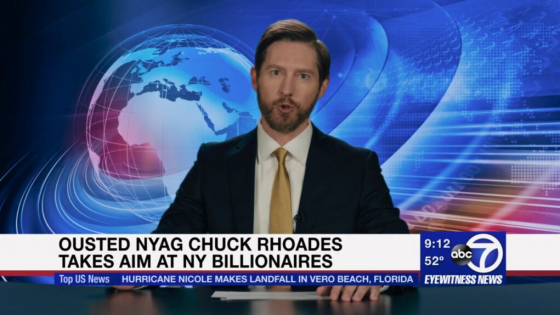 Overall Episode MVP – Dollar Bill, the renegade and gunslinger himself! He has the best scenes and the best lines. He's happy "like a pig in shit" working in his bathrobe from his garage that's set-up with a popcorn machine, a bar with a neon green Heineken sign and Napster-size speakers amongst a motorcycle and various sporting and exercise equipment. It's evident he 'gets his kicks, on route 66' with his US Route 66 sign hanging on the wall. He says things like "bullshizzle" and "I gotta nail the doggie door shut" when Taylor and Philip show up, and refers to Prince as the alien "Great Gazoo." LOL! (alien reference again, see Area 51 above). Flash forward and he's back at MPC taping his dollar bill to the bottom of Bloomberg, changing out the bathrobe for his signature monogrammed fleece and screaming "Alright you motherfuckers! When that bell rings I'm comin' outta the gates like I ain't been fed for a week. Better try and stay with me or get ready to look real fuckin' bad come comp time."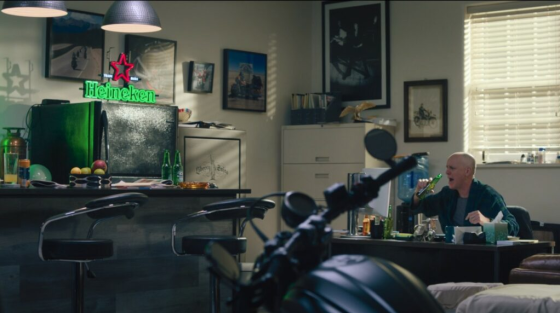 Read the rest of the original article at Fan Fun With Damian Lewis here.