Chuck and Prince Square Off While a Fugitive Situation Unfolds
by Kyle Fowle | Entertainment Weekly | September 3, 2023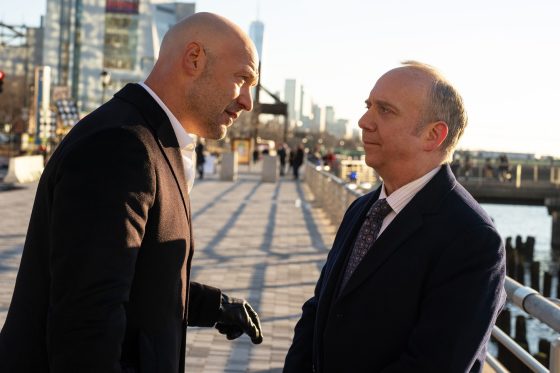 There was no way Billions was going to go off the air without doing it. Considering the show's penchant for displaying the various scams and distortions of the financial elite, it was only a matter of time before it introduced a storyline involving NFTs.
This week's episode begins with Karl (Allan Havey) at a Gamblers Anonymous meeting. He's not there because of any addiction, but rather to gather information. He listens in as one attendee details how they didn't realize their investment in NFTs was essentially gambling, and that they lost a ton of money to some billionaire's son named Kai Huang Liu. Like so many rich kids, Liu managed to avoid the consequences of his actions, hiding behind the political and financial pull of his father.
Karl eats up this information, does some digging, and brings it back to Chuck (Paul Giamatti) and Ira (Ben Shenkman). This is the kind of guy he's been looking for because Liu has significant ties to Michael Prince (Corey Stoll). So, Chuck tells Karl to arrest Liu and bring him in. Easier said than done, as Liu (Joey Chan) flees. The good news for Chuck? He flees using one of Prince's private planes. Now there's not only ties between the NFT scammer and Prince, but Prince is harboring a fugitive.
While the employees of Michael Prince Capital entertain themselves by betting on the name and category of a hurricane that's about to hit Florida — the entertainment lasts only so long before they realize that MPC has holdings in disaster relief and that significant devastation will cost the firm a ton of money — Prince announces that he's arranged for Scooter (Daniel Breaker) to conduct the New York Philharmonic Orchestra, something he's dreamed about for years.
The news doesn't go over well with Bradford Luke (Babak Tafti), Prince's campaign manager. He believes that classical music is seen as snobby and for the elite, and that it gives off a bad vibe when Prince is trying to court working-class voters. Their disagreement sets off an episode-long exploration of who Prince needs to be in order to get into the Oval Office. Wendy (Maggie Siff) doesn't think he should change who he is, but Bradford doesn't view it as Prince changing his ways so much as managing how he's perceived by the public.
So far the season hasn't offered the most drama or the most stirring scenes, but you can't help but admire the way this episode hones in on Prince and plots something very succinctly. In essence, every thread here is about how Michael Prince, in his transition from the "good billionaire" and operator of MPC to presidential candidate, is now under intense scrutiny. He has amassed a fortune, power, and influence, but he's out there in the political arena and attracting a lot of eyes he didn't before.
How he handles everything in this episode is important. It's a classic battle between Chuck and Prince, each one trying to predict the other's motivations and their next move. Chuck eventually thinks he has Prince cornered as the plane containing Liu refuses to land — until Prince shows up on the tarmac and swings the media in his favor, taking control of the situation and making it look like he's an upstanding citizen who respects law and order.
This week's Billions installment does leave us with a big question though. With Prince focused on Chuck as the biggest threat to his presidential run, will he lose sight of other dangers? The episode specifically lays out how Wags (David Costabile) went rogue and nearly cost Prince his campaign, all while being relatively undetected until it was too late. Wendy and Wags are regrouping in their efforts to stop Prince from taking office — and Prince might be more vulnerable than ever.
Read the rest of the original article at Entertainment Weekly