Lewis Filming Duo
by Claire Hill | Western Mail | May 6, 2006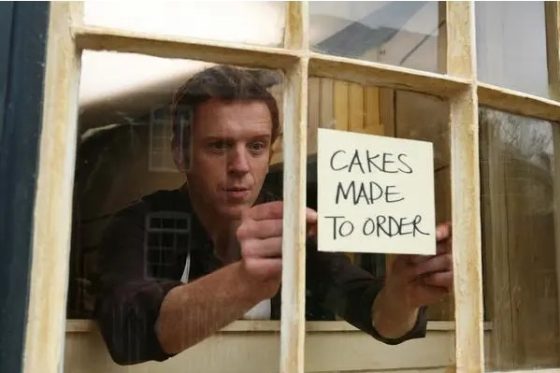 Move over the Coen Brothers, there's a new film making duo in town, and this time they're Welsh. Actor Damian Lewis has teamed up with his baby brother Gareth to make their first film together. Claire Hill joined them on location in their beloved Wales
Damian Lewis's legs are half sticking out of a makeshift vent shaft as the actor attaches knee pads underneath his all- black ensemble.
A gun is visible and is just peeping out from the band of his trousers. Next to his feet, rolls of silver gaffer tape and wires are scattered on the floor. Directly in front of him, in the old paper mill, tucked at the back of a Cardiff industrial estate, someone fashions a gun holster out of an old yoga mat.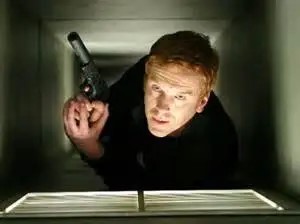 The film clapper board reads Roll 46, Slate 74, Take 1 and the rest of the 40-strong crew are getting ready for a scene rehearsal.
The Welsh actor's key role in this scene is to crawl through the painted silver boxes and make it look as if he is scrabbling through the vents of a ceiling shaft.
And, he has to do all of this while holding a gun, a motive in his mind and a sense of ennui about his current situation in life. Impossible? That's acting for you, darling.
It's week one of shooting The Baker, the first feature film from the Lewis Brothers – that's Damian, starring as actor and producer, and his younger brother, Gareth, the writer/director.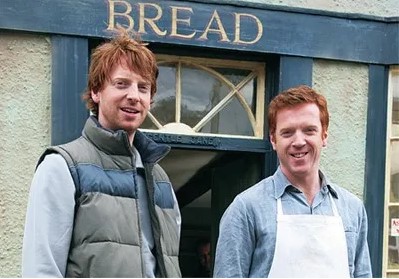 Together they're making a Welsh comedy about life, love and second chances.
Safely outside of the vent and overseeing his debut movie, Gareth is calmly sipping water out of a paper cup which reads Barry Island Pleasure Beach – a leftover from the previous mill owners – and quietly murmuring his last set of instructions to his brother.
The camera starts to roll and the general pre-scene bustle stops as Damian, who famously won a Golden Globe for his role as Major Richard D Winters in the Spielberg/Hanks' production Band of Brothers, starts his crawl through the vent, gun in hand, looking harassed and intense.
In something of a romantic notion, the brothers have decamped to Wales, a place they class as home due to their North Walian father Watcyn and a second house which they have occupied in Llandeilo for more than 25 years. Their purpose is to shoot the gangster comedy, with a twist.
Lewis, the actor, plays Milo, a discontented hitman who fails to carry out his last job much to the infuriation of his bosses.
But he soon discovers the city is a dangerous place for a gunman who is shooting blanks and when he finds himself the subject of a hit he's forced to escape to the Welsh countryside, taking on the persona of a rural village's new baker in the process.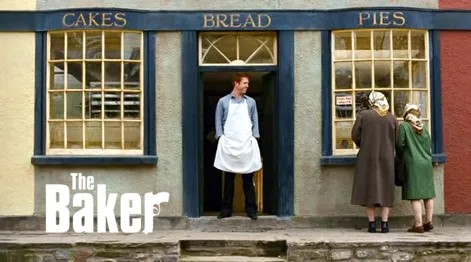 It's not long though before he settles into his role and the reformed killer falls in love with the local vet (Kate Ashfield, Shaun of the Dead), attracts the interest of the local villagers and has to outwit his former colleague Bjorn (Nikolaj Coster-Waldau, Wimbledon) who has tracked him down and is out for Milo's blood.
'It really was a different script when I first started it. Whole families have been written out, characters have been and gone,' says 33-year-old Gareth who has been ushered into a room during the 4pm tea and cake break to talk shop.
'I suppose it's all about a guy figuring about what he wants to do with his life and that's where I was when I was writing it. The hitman thing was a way of exaggerating it all.'
Milo and his hitman plot came alive in the north west London flat that Gareth and his older brother, Damian, 35, shared for three years.
'With me as an urbanite coming to Wales ever since I was born it was just an ideal that I had of the rural life that everyone loves each other. The idea was that in the city you can escape and be anonymous but if you live in a village you can't do that.'
Wales is almost a main character in the film when the village of Gwynfyd appears.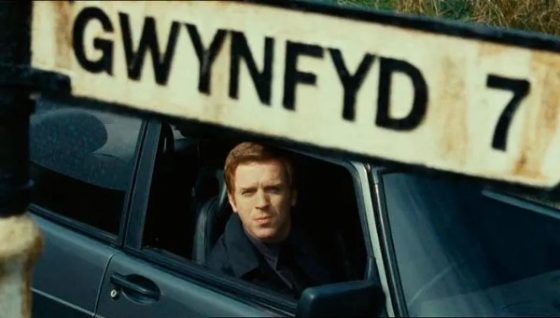 A host of Welsh actors, including Brian Hibbard, have been brought in for the filming as Gareth tries to capture the idiosyncrasies he loves about the country and relay them in the film.
It's not surprising that the brothers' first film was set here. Holidays and weekends were spent either in Llandeilo or around the beaches of Porthmadog, celebrating St David's Day was a childhood event and the Welsh team was the only one to back in rugby.
'Wales is very central to Gareth's plot,' says Damian. 'It's where he got a lot of his inspiration.
As the pair sit together the similarities are obvious from the pale skin to the shock of red hair which frames both of their faces. Gareth is the scruffier of the two with a more dishevelled student look complete with stubble to Damian's short back and sides look. But they both share the same mischievous glint in their eyes as they begin to play off each other.
The thespian half of the brotherhood wields a prop gun complete with silencer, as he announces that he got the part of Milo merely by being the director's brother.
Nepotism aside, the pair have been born to make a film together as friends of the Lewises' parents, father Watcyn and their late mother Charlotte, will attest after watching their childhood performances and plays.
'We have been doing this since we were tiny kids making up characters and putting on plays,' says Damian.
One such play was The Chewing Gum play, with the central character a young boy called Masdaq, which, from what can be gathered through the pair's laughter, was about a young boy and a piece of chewing gum which went all around the room.
Needless to say, Gareth has become more sophisticated in his plots and Damian more adept at portraying characters since then.
The Lewis Brothers, a coupling that Damian sees as romantic venture like the highly successful film partnership of the Coen Brothers, had their first screen outing in a short film that Gareth put together in New York. Damian, at the time, was treading the boards in Hamlet for the RSC but stopped to pose with cigarettes moodily on street corners while egged on by his brother behind the camera.
This time, it's all a bit more serious.
Respected actors like Michael Gambon are on the cast list for The Baker. Damian is juggling acting with a producer's hat alongside Adrian Sturgess for their own company Picture Farm Ltd and Grandville Pictures' Dan Shephard and Justin Williams.
And for Gareth, well it's only his name on the line when the film is released in 2007.
'It's been a bit of a pipe dream for some years,' says Damian. 'When we were living together it all started with Gareth writing the script but it really came into focus and we made serious preparations for it in the last two or three years.'
But the pair don't seem too stressed about everything resting on their shoulders. As far as Damian is concerned his job is to be bossed around by his younger brother and it doesn't faze him at all. In fact the whole production team is jovial and laid back, just getting on with the job. Actors always liken film sets to one big family, but perhaps on The Baker it is more true than most.
'There was always the prevailing sense that it would be a lot of fun to do together,' says Damian.
A few days later the scene is slightly more tense. Damian is looking somewhat smarter in grey shirt and tie and is crouched underneath a kitchen sink, panting his lines while trying to put his gun together.
He's slightly pre-occupied, but still trying to converse on his mobile.
The crew have moved from the dilapidated settings of the deserted paper mill to the more salubrious location of a pub. Well, it's in actual fact the top floor of The Gatekeeper pub on Cardiff's Womanby Street which has been transformed from an unused shell into Milo's urban designer loft apartment.
The kitchen is stocked full of cereal and baked beans to ensure that the lone hitman never goes hungry and leather chairs, bookcases and various ornaments fill the rest of the room. Only the dark grey breeze-block walls reveal the floor's original state.
All eyes are turned to Damian's character, Milo, as he conducts the said tense telephone conversation with his boss (played by Michael Gambon). The terse call is made even more frantic as the hitman is caught in the middle of a gun battle. Retribution has begun for the failing hitman and he's having a close shave.
Behind the crew Milo's bed is peppered with bullets and the feather pillows have certainly taken a beating.
Taking a break on the side of the set, Milo's on-screen enemy Bjorn, played by Nikolaj Coster-Waldau watches the scene unfold.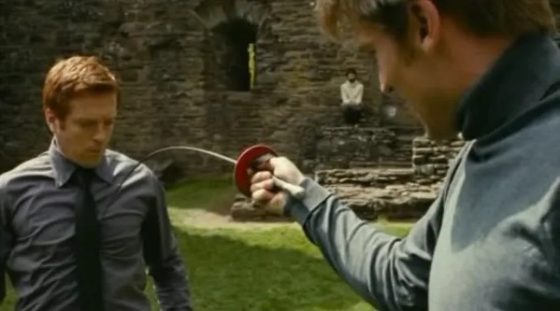 The Danish actor, who is currently flitting between Wales and Norway as he simultaneously completes two films, is glad to see filming finally under way.
'I met Gareth and Damian almost two years ago when they were trying to get the film going,' says the actor who grew up loving Peter O'Toole and Richard Burton.
While waiting for the film to start he nailed performances in Wimbledon and most recently alongside Harrison Ford in Firewall, but now he's looking forward to getting his teeth into his farcical hitman and working with the brothers.
'What is great about this film is the team spirit, everyone is doing it together.
'You cannot do this job if you are awkward because you are together all of the time and you have to get along. It's not heart surgery what we do, the world doesn't depend on it but we can still make it fun.'
From the city it's time for the cast and crew to move to the idyllic, rural, and slightly drizzly, joys of Gwynfyd – Grosmont in real life – as they enter the final spell of filming.
This generally involves sitting in the Green Room – the local village hall – listening to the random shuffle of an iPod, drinking endless cups of tea, reading the papers and the odd discarded celebrity rag while waiting to be called for their on- screen moments.
After weeks of filming around Cardiff, the crew have taken possession of the village, near Abergavenny.
The change of scene brings a host of cast members to the filming, as the likes of Milo's village confidant Eggsy – played by Royal Welsh College of Music and Drama student Dyfan Dwyfor on his Easter break – and veterinary love interest Rhiannon, played by Kate Ashfield, arrive.
While Dyfan is still in a state of shock about being cast in a real-life film, Kate is finding other things to preoccupy her mind.
The Shaun of the Dead star is unfazed by her romantic scenes with Damian, after the pair meet over an exploded sheep, and is more worried about perfecting her Welsh accent.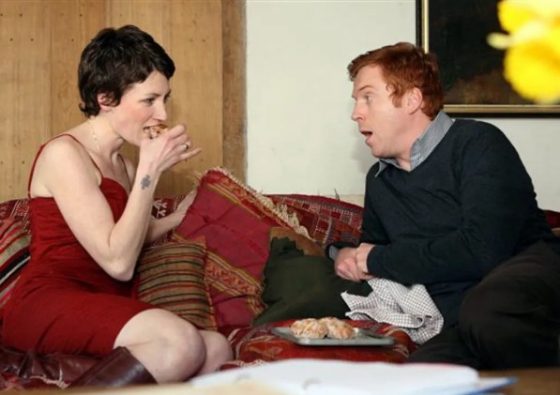 'I'm not so sure about that. It's only meant to be a slight Welsh accent but I will apologise to anyone in advance.'
While her two-year-old son, Ethan Buffalo, gets to enjoy his time in Wales by standing in fields watching trucks Kate is perfecting the art of waiting.
But she doesn't mind.
'It seems like a real team effort. When you are away from home it can be like that.'
And as she is full of praise for the brothers, especially because the pair introduced her to her hero, Michael Gambon.
But it's the script she was most impressed by, which was, in her eyes, 'funny, fresh and different.'
Out of the window of the Green Room you can see the ironically named neighbouring street Poorscript Lane and to the right the cameras, trucks and crew are busying themselves.
The village is the last stop for filming for the Lewis brothers and is key to the plot.
The bakery has been given a makeover and is now full of burnt, misshapen loaves of breads and rather unappetizing Welsh cakes as would befit the products of a hitman turned novice baker.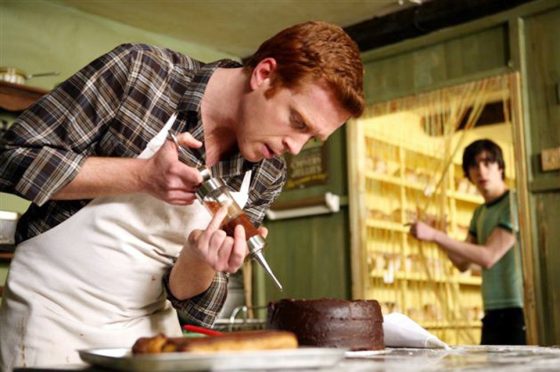 The shops have been transformed from their traditional white to a rainbow of colours and the local pub has been painted yellow and renamed The Daffodil – something the locals have really warmed to. Read more about transforming the village shops for the film here.
As Gareth pushes on for the final few weeks of filming he is still amazed by how well the shoot is going. And still there has been no bust-ups being the boss of his older brother. But then, the pair have always been slightly baffled by the fact that no one around them believes that siblings can work together.' Everyone keeps asking this, but there's been no problems. It's all amazing isn't it?' says Gareth who still shows no signs of stress at the helm of his first feature film.
As for Damian he's more romantic, and typically luvvie about the combination.
'Obviously there is a romantic notion of working with your brother, if you get on with each other which we do. From a personal point of view I am totally entirely sentimental about working with my brother. It seems a bit of a romantic ideal, like the Coen Brothers. It has been one of the most fulfilling experiences of my life and my professional career without a doubt.'
I'm no longer amazed that they aren't fighting like cats and dogs, but I am amazed that they've got so much work done. Because off camera they are so keen to mug about, especially when it comes to taking the cover shots for this magazine.
It is the second time photographer Steve has attempted to get some vaguely serious shots of the pair together. Damian, I am assured, enjoys having his picture taken. And the evidence of numerous magazine fashion shoots where the actor has pouted his way through a selection of designer clothes in some interesting colours seems proof of that. Gareth is not so keen. So when you attempt to get them to hold moody poses it all falls apart.
The pair have literally minutes to spare after the lunch break before heading back into Grosmont for a long afternoon of shooting, but still they cannot stop fooling around.
Humorous catalogue poses are rife and the 'grown men' can't help pulling faces and making bunny ears above their respective siblings head. Readers of Esquire, who voted former Eton College student Damian, Britain's 31st Most Sharp Man in 2002, would be aghast. All this from a man who many see as a serious thespian.
'Well that depends on what people have watched. I have always liked doing comedy, it's fun. I have done almost as much comedy as serious roles,' says Damian who for every Forsyte Saga has given us a satire about Jeffrey Archer and for every Colditz, a Much Ado About Nothing.
And with a high calibre back catalogue, which most recently included roles in Stephen Poliakoff's Friends and Crocodiles and indie flick Keane, choosing the right project is very important for the 35-year-old.
'I would have found it difficult to commit to this if I didn't think it was a brilliant work. It's funny, charming and a really good story,' says Damian who is chomping down on the remaining pieces of his Thornton's fudge Easter egg, dressed in a black vest and his co-star Kate's tight blue puffa jacket.
'It has always been my intention to get involved with projects earlier than the acting stage and this was the perfect opportunity to do that with my brother's first feature.'
Juggling producing and acting has been a revelation for the actor who trained at Guildhall School of Music and Drama.
'First and foremost it's fun,' he says. 'I enjoy having two heads on. Every now and then it creates stress and the cooker boilers over but then you get on with it again.
'Overall it's even more fulfilling than acting. I love acting in itself but one of its greatest attractions is that it comes without any responsibilities, except for the very, very important creative process of portraying someone interestingly and convincingly. But it's a very cocooned way to spend your time. I remember talking to Tom Hanks when he was directing and producing and he said that he much preferred acting now because it really felt like an escape and playing.'
This could have something to do with getting older, as Damian concurs.
'When you start off as a young actor it's everything to you, you want it to be everything and for it to feed your soul and curse through every vein in your body. It has that importance, that intensity of purpose. Now, it's not that it's become less important for me, it's just there is a different energy, I feel more playful now.'
This probably has something to do with the massive changes that Damian has undergone in his personal life.
He recently became engaged to actress Helen McCrory and the pair are looking for a home, planning the wedding and preparing for the arrival of their first child later this year.
The lopsided smile returns as Damian teases that the Western Mail was the only paper in which he and Helen announced their engagement – a fact not strictly true because his father placed an announcement in the Daily Telegraph.
And when asked about the busy year ahead, he stretches back and nonchalantly says, 'I'm living life and creating life.'
But for now his focus is squarely on his making the Lewis Brothers a name to be reckoned with in the film world. As he walks back across to his brother and they confer before heading inside the makeshift bakery for a take, he muses that the proof of the pudding will be when the film hits the cinemas.