Just How 'Woke' Billions Wants Us to Believe Axe Capital Is
by Molly Stout | Refinery 29 | March 26, 2018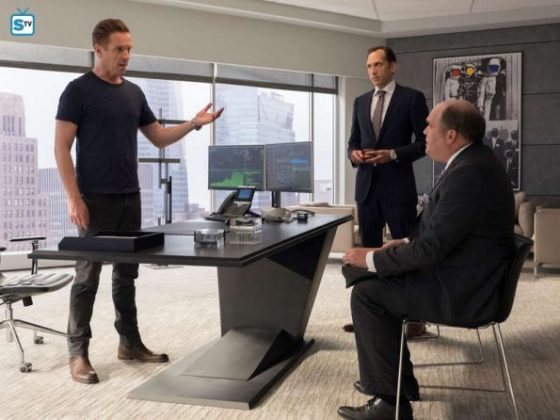 After two full seasons of Billions, we are still no closer to choosing sides. In this extravagant chess match between Chuck Rhoades (Paul Giamatti) and Bobby "Axe" Axelrod (Damian Lewis), we're somehow still rooting for both of them to knock over the other's king-sized ego. Or, as Axe suggested in the thrilling season 2 finale, for both of them to end up in check. Since the show's beginning, we've found qualities to admire in each man: Bobby's scrappy Yonkers childhood and ability to turn a stadium's lights off with the God-like snap of his fingers, and Chuck's gastrophile trivia and love of Winston Churchill first-editions. And neither man is evil enough for us to pledge allegiance to the other.
Even the characters we used to unabashedly cheer for are giving us pause. Lara Axelrod (Malin Akerman) has always made it clear, to Axe and to viewers, that she isn't a trophy wife. She enjoys the money and the power Axe's career has given her and the boys, but she's still just a working-class girl at heart who loved Bobby long before he made his first million. But last season, Lara told Bobby that she wouldn't run from the government with him. She even tried to buy off Orrin Bach (Glenn Fleshler) to counsel her on what she would get in a divorce. Then there's Taylor Mason (Asia Kate Dillon). It's hard not to like the efficient, confident Taylor, but they ultimately chose the dark side of private planes, $26,000-a-month penthouses, and climbing the dirty corporate ladder, eventually telling Bryan Connerty (Toby Leonard Moore) that they don't believe in souls. Even Wendy Rhoades (Maggie Siff), our favorite overpriced therapist, gave two distinctly different hugs to the men in her life last season. The one with Axe felt real, yet she returned home to Chuck.
All three supporting characters, essentially, have taken a turn for the morally bankrupt. Not that that's a flaw in this world, exactly, but our love for them is harder to defend.
If Axe ended season 1 on a high note, having escaped Chuck's attempts to catch his insider trading and effectively ending the Rhoades' marriage, and Chuck ended season 2 by putting Bobby in jail, then we're back to square one when season 3 begins. Sure, Chuck managed to stay a few chess moves ahead of Axe in last season's Ice Juice trap, but Axe is a billionaire. And billionaires walk in and out of prison as quickly as they do a revolving door.
The season 3 premiere, co-written by showrunners Brian Koppelman and David Levien, begins on a musical note, as most Billions episodes tend to do. Chuck is in D.C., swaggering down a hallway to Garrett T. Capps' "Born in San Antone," on his way to meet with the newly appointed Attorney General Waylon Jeffcoat (Clancy Brown). It seems that, in the Billions universe, all sorts of Cabinet members are getting appointed. Trump's name is never mentioned, but there's a sense (especially after we meet this new AG and later, the new Treasury Secretary) that the showrunners have firmly set this new season in the months following an inauguration.
Jeffcoat isn't only wearing men's Christian Louboutin loafers, but worn-in Louboutin loafers. Despite this, Jeffcoat tells Chuck that he's from "horse country" in West Texas, and launches into a crude metaphor about "teasers." In order to get a mare horse ready for breeding, certain subpar male horses are sent in to "tease" her. The teasers spend their time with foreplay, getting kicked by the mare until she's finally ready to mate, and then they send the "real stud" horse in to do the job.
In our world, Oliver Dake (Christopher Denham) is the stud who gets to fuck Axe after Chuck teased him. Cool.
Jeffcoat also gives Chuck some instructions: Ignore all the naughty boys on Wall Street. Even if it looks like an easily winnable case against the next Lehman Brothers or AIG, Chuck shouldn't try nailing them. Let the players play, let the bankers be bankers, let the boys be boys. Chuck, predictably, smiles and Yessirs, but we know he's not in alignment with this good ol' boy routine. He and Jeffcoat head to a stuffy gala with a sea of nametags on blue blazers. At least Kate Sacker (Condola Rashad), our new chief of the criminal division, is there. As are Dake and Connerty, who now make up the duo officially prosecuting Axe, from their newly assembled position in the Eastern district.
Dake isn't wearing his glasses anymore and appears to have gotten a haircut. We hope his wife appreciates his new, somehow even cleaner-cut look. A nice allusion to Trump happens when Dake tells Chuck, "I serve at the pleasure of the —" only to have Chuck interrupt with, "Oh, don't we all." Chuck takes Dake aside to remind him that he and his family are not to be associated with the Ice Juice case against Axe Cap. Dake is coy, telling Chuck: "You are like a man who committed a crime of passion. In the moment it felt so right. But in the morning, all he sees is the blood splashed on the walls of his dead lover's bedroom, and he just wants it all to go away." This is our first hint that Chuck's wishes to keep his family's involvement out of the case are unlikely to come true.
Our second musical entrance goes to Taylor, who gets their own swagger walk to "The Next Big Thing" by The Dictators as they enter Axe Capital's new office space in Manhattan. Mike "Wags" Wagner (David Costabile) and Taylor are now sitting at the head of the conference table during a big firm meeting. We learn, thanks to some angry exposition from "Dollar Bill" Stearn (Kelly AuCoin), that Axe has been MIA, and all of their assets have been frozen by the government. On top of that, Dollar Bill has to drive 90 minutes into the city now (the suffering!), and Taylor is asking for pitches ahead of an Idea Dinner. Even though Bobby has never gone to these "hog shows" in the past, Taylor and Wags insist that joining a dinner where the top 10 hedge funds in New York exchange their best ideas is important right now. For those wondering, the Idea Dinner is a real thing that happens in Manhattan.
Taylor makes a few more promises: If they start working on new investments now, they'll earn bonuses equal to or higher than the ones they got last year. Taylor also makes a Top Gun reference, saying "no one will fall below the hard deck." Wags is impressed. Everyone else? They miss Bobby.
And so do we… until we get to know the new Bobby. Now that he's under investigation (and clearly guilty), he's living alone in a bachelor pad penthouse high above the sky in Tribeca (we spotted the Jenga-like 56 Leonard outside his window). Wendy arrives for a session, and Bobby whines that the government is to blame for making his firm look "crooked," like an addict blaming their parents for the needle in their arm. He's worried he can't contain his rage, and Wendy takes him through an exercise Tony Robbins taught her about using that rage to his advantage. After he shares a sob story about a small con gone bad in fifth grade, Wendy asks where he sees himself in five years, sounding more and more like a generic head of human resources rather than a professional coach so valuable that Bobby risked his marriage for her insight. In any case, the session ends with Wendy convinced she taught him a valuable lesson about focus, and Axe convinced she's a genius.
Now it's time to talk about Lara and Bobby. Last season, we knew that Bobby's lie about choosing not to see Wendy one-on-one (in fact, Wendy was the one who established that rule when returning to work) broke something precious in the Axelrod marriage. Lara couldn't focus during sex. She told Bobby that she wouldn't flee with him once they found out about his impending arrest. But this episode makes it clear that Bobby and Lara are barely on speaking terms.
Lara arrives at Axe's swanky new offices with Steven Birch (Jerry O'Connell), of all people, as her business manager, for a review of the firm's assets (presumably to see just how much her husband's liquidity has shifted since the charges against Axe led to panic among clients). After Wags puts up a fight, Axe relents and says Birch is free to take a look at the books. "A lot of guys watch Bruce Lee movies," Axe says. "It doesn't mean you can do karate."
Later on, Axe is at home in his new penthouse when a young blonde woman (unforgivably credited as "Stunner" in the end titles) shows up. And thus, the most shocking moment of the episode begins. Remember last season, when Axe went on his voicemail tirade to Lara during their temporary split, and he raged about all the affairs he could have had? How all his colleagues and fellow hedgies essentially had yachts filled with prostitutes in their backyard? And how he, Bobby, was different? Because he'd never even come close to cheating on Lara for 15 years?
With that in mind, we thought the blonde must be there to give him an innocent massage. Or to interview for a personal assistant position. Or maybe she was the babysitter. Surely Bobby, our fictional beacon of marital morals amidst a sea of unfaithful bankers, wasn't sleeping around. But then he turns to the blonde and says, "Hi. Want dinner? We need to do that?" Apparently not. They hold hands and head up to the bedroom. Oh, Bobby.
When Lara pays a visit to Axe later on, he mocks Birch and says he hopes Lara isn't riding around in the third-rate manager's "starter plane." The Lara we thought we knew, the one who was clearly not a trophy wife and not with Bobby for the money, is nowhere to be found. "I wouldn't be caught dead in that fuckin' sardine can," she says. "The money, Bobby. Just don't fuckin' lose it." The romantic in us wants to believe that Lara and Bobby haven't fallen out of love just yet. They didn't start out with money, but it's who they've become — whether they're together or apart. And they don't let themselves feel guilty for loving the life money has bought them. They've never used money as a weapon against each other and, in a way, their recognition of its importance is endearing.
We learn from Orrin that Axe is facing 15 to 20 years in prison and tens of millions in fines. The quick solution to the firm's frozen assets problem is for Bobby to give up his license to trade, meaning he wouldn't be allowed to direct any trades, know about any trades, or act as the face of the company. "I might as well give up my license to breathe," he says, initially, before succumbing to the strategy by episode's end after a pep talk from Wendy and a quick tete-a-tete between Orrin and Connerty outside Wang Chen's Table Tennis Club (a real place!). We always love these reminders that Bryan, despite being movie star handsome and the only honorable one among thieves, is a giant dweeb in his spare time.
Ari Spyros (Stephen Kunken) is Axe Capital's new head of compliance and makes his grand entrance by crudely smirking at and checking out all the women in the office. Something tells us that rape back story will come back to haunt him (and us). He's already failing to charm Axe with his attempts at "telestrator" jokes.
Read the rest of the original article at Refinery 29