"Sitting Here in the Dark, Like an Assassin"
by Molly Stout | May 20, 2018 | Refinery 29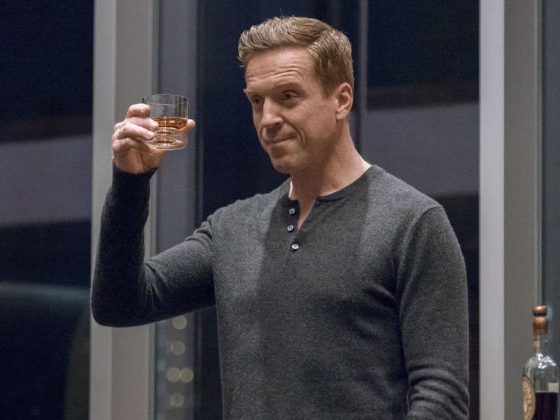 We've been waiting so long for John Malkovich to make his appearance on 
Billions
 that we started questioning 
the casting news
: Were we 
sure
 we read that he was joining the cast as a Russian oligarch? Did we misread that, and he's actually gonna show up on the final few episodes of 
The Americans
? Was it all just wishful thinking on our part, fan fiction we came up with in a dream?
Nope. Finally, Malkovich made his 
Billions 
debut, dripping in Russian stereotypes. We first meet his character, Grigor Andolov, at a hockey rink, where the monotone, cold-blooded, probably murderous character is fresh off checking an opponent on the ice. At first, Malkovich's Grigor reminded us a bit of an inebriated 
Uncle Junior from The Sopranos
 — if Junior had been rich and constantly drunk. Then we started getting 
Godfather vibes
, particularly when Grigor begins his "funny story" in the episode's final scene. But we're not giving enough credit to Malkovich, who is essentially sui generis, and has created an original, watchable character in spite of all the familiar caricatures of rich, evil Russians infiltrating our government these days.
So how does Grigor fit into the Billions universe?
Well, first we see Axe (Damian Lewis) reunited with the original Hall, and they're already back to doing great things together. Like bribing one-armed coffee cart owners for information. Axe is hungry for a buyer, but not just any buyer. He needs an investor who has $20 billion to sink into Axe Cap, and doesn't care about Axe's recent legal issues. But before propositioning someone like Grigor, he needs to do some recon on the notoriously "protected" and "ruthless" mystery man. Initially, Wags (David Costabile) is cautious, describing Grigor as "very" liquid, someone who doesn't answer to anyone and has everything he needs.
Axe goes through the motions of listening to Wags and bullies his way through a meeting with alternate investors at Spartan Ives, but they can't give him what he wants. He spits out a few overkill lines, like "I want the fucking money now," and "Generate some money. Then you can pay someone for an idea." We get it, Axe. You're a tough guy. But this is just the beginning of a comically machismo episode-long arc for Axe, that ultimately ends in castration.
So Axe pursues Grigor directly, showing up at the aforementioned hockey rink, and manages to set up a pitch meeting between their deputies. But, Taylor (Asia Kate Dillon) being Taylor, they pitch this oil billionaire's lackey on socially conscious investments. Axe is pissed at Taylor for purposely tanking the meeting, but Taylor says there should have been a discussion among them before pursuing Grigor's money. "There was a discussion," replies Bobby. Ouch.
Later on Grigor comes over to Bobby's penthouse for a game of pool. So far, Malkovich is playing Grigor as a pretty nonintimidating kitty cat… until he asks Axe if piss is running down his legs. Axe fights macho with macho. They drink whiskey. They discuss sniper rifles and being ruthless. Eating meat. Cool, bros. Axe mic drops the masculinity contest by bragging that he's hooked up "on high" with the government. Grigor needs him to prove it before handing over his money.
We're then treated to a mini-arc with Todd Krakow (Danny Strong), who is saved in Axe's phone as "Muresan" (a fun reference to Gheorghe Muresan, the tallest NBA player in history at 7'7). The vertically challenged Krakow has Axe saved in his phone as "Bullitt," due to 
Damian Lewis' resemblance to Steve McQueen
. In a ghastly display of how, yes, money buys power, Axe arranges for Kevin Durant to record a personal "Happy Bar Mitzvah" message to Krakow's son (has Todd 
not heard of Cameo?
), in exchange for a $100,000 donation to Durant's foundation. In exchange for 
this
, Todd agrees to prove just how "on high" Axe is hooked up to the government by showing up to a meeting with Grigor.
Grigor is impressed, but he demands Todd's direct phone number. Axe continues his performance of virility by telling Grigor, "You go through me or don't go at all." Grigor is annoyed, but eventually succumbs. He shows up at Axe Cap after hours. We know it's late because Taylor is just leaving for the day. What is it with Russian characters and their need to do everything at 2 a.m.? Remember when Aleksandr Petrovsky insisted on starting his first date with Carrie Bradshaw at midnight?
And here's where Grigor tells his "funny story." After reminding Axe that he simply can't lose his money, Axe is like, well duh, literally every single thing I do in life is to make, and not lose, money. Grigor takes this opportunity to tell Axe about the time he raped a poor, hungry little boy's mother and then handed her off to Russian soldiers. Finally, after diving headfirst into bravado and chest puffery all episode, Axe grits his teeth. This man will clearly kill Axe if he loses even one ruble.
Speaking of murderers, Attorney General Jock Jeffcoat takes Chuck (Paul Giamatti) to West Texas so they can hunt coyotes from the back of a pickup truck. Chuck appears deeply uncomfortable, but somehow manages to kill one on his first shot. So many tough guys this hour!
Now that Chuck has abandoned his gubernatorial plans in favor of getting shit done in the Southern, the AG is back to his old ways: demanding, in no uncertain terms, that they prosecute Jose Lugo for killing a prison guard. As we know, courtesy of Bryan (Toby Leonard Moore), Lugo was actually the victim of constant bullying and assault in prison, so killing the guard was a clear case of self-defense.
At first, Sacker (Condola Rashad) and Chuck are going along with it. Jeffcoat wants the death penalty, but Chuck says it's fine if they wind up with a 20-year sentence. Splitting the baby, so to speak. But just before trial begins, Sacker finds out that Lugo was killed on his way to the courthouse. The guards escorting him claim he died from injuries caused by a fan, or something, but it's clear the guards murdered him. Sacker is emotional, but Chuck assures her they will "get those fucking guards."