Billions' Creators Brian Koppelman and David Levien Talk Season 3 Finale
by Dana Feldman | Forbes | June 10, 2018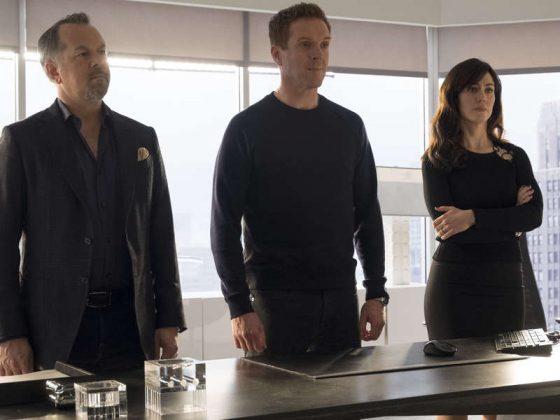 Elmsley Count
The season finale of Billions entitled "Elmsley Count" was a stunner! Where to begin? Two major things have happened that will make the wait for season four very difficult for diehard fans. First, Axe now knows Taylor started their own shop. To say they are enemies is an understatement. Second, Chuck has been stabbed in the back by virtually everyone he works with. As we know, though he may be down, it will not be for long.
As Showtime's No. 2 drama series, Billions averages 4.5-to-5 million weekly viewers across platforms and the show's viewership has grown season-over-season. Throughout season two, the series grew on Sunday nights by more than 35% from premiere-to-finale. And, the season three premiere was the show's highest-rated ever with the March 25 debut up 23% from last year. A fourth season is in the works and seeds have been planted leading up to the finale that prove how exciting season four is going to be! The writers are already working and filming will resume in the fall. Show creators Brian Koppelman and David Levien spoke with me about the third season and why they think it was such a hit with fans. More on this below.
Axe And Taylor Are Now Enemies:
The episode opens at a Spartan-Ives Capital introduction event where the richest of the rich convene. Upon arriving, Wags (David Costabile) asks Axe (Damian Lewis) if he "smells that?" He is, of course, referring to the smell of money. By the close of the day's event, $30 billion will be earmarked, invested and captured. Wags aims to walk out with at least a third. One Axe Capper is noticeably late; Taylor (Asia Kate Dillon).
In the next scene, we see why Taylor is late. They are meeting with Grigor Andolov (John Malkovich) at their new office. Andolov asks Taylor why they're leaving Axe. "He made you," he says. Taylor, not in agreement, replies they can debate that statement some other time.
As to why they've left, Taylor answers: "The same reason you leave a house that has a furnace leaking carbon monoxide. It's the only way to survive." Immediately following the meeting with Andolov, Taylor heads over to join their Axe Cap colleagues.
Billions, well known for its celebrity cameos, has Axe have a quick run-in with SPANX founder Sara Blakely, who confirms she has no plans to take her company public. Axe, however, says to let him know if she ever changes her mind.
A late Taylor comes through, nailing the pitch, offering investors the opportunity to come shadow them for a day. "Because it's like asking a magician how they do their tricks. We all know it's not magic; it's the opposite of magic." Just as a magician perfects the Elmsley Count, a sleight-of-hand maneuver so the audience never sees where the cards really are, Taylor has done the same. Not showing one's cards, and keeping them well hidden, has been symbolic throughout this show.
On the heels of Taylor's speech to a room full of potential high-roller investors, Axe says, "Taylor is the single most effective manager of money I have ever come across. They are the future of Axe Capital." This particularly stings when Axe realizes Taylor has set up their own shop. But, before he finds out, he celebrates getting $6 billion committed in one morning. Axe is on the highest of highs, but as we know all too well, the higher you rise, the harder you fall.
Taylor's Betrayal Pummels Axe: 
Axe returns to the office the next morning to a concerned Wags. He tells Axe he's been making follow-up calls to book the money that was pledged at the raise. "I'm having problems locking it in," he says. Axe asks what kind of problems, to which Wags replies that he's having trouble reaching people. "They're dodging. I'm feeling like someone slipped us a Cosby."
Axe then asks where Taylor is and the reality of the situation dawns on him. Taylor isn't at the office, nor is Mafee (Dan Soder). Taylor reeled Mafee in with the promise that he'd make more than he is at Axe Cap and have a partnership stake in the new company.
"Taylor's making a move. They've played the Elmsely Count on us," an infuriated Axe says to Wags upon seeing Mafee's empty desk. The two realize Taylor pretended to be one of them just long enough to take their personnel and capital. The two approach Wendy (Maggie Siff) and tell her what's happening. Axe makes plans to file suit for intellectual property theft among other things, but it's really too late to stop Taylor from opening their shop.
Wags tells the team that, as for the cash, only $500 million came on board; $3.5 billion went to Taylor and the other $2 billion pulled back and went elsewhere not wanting to get involved.
They find out that Ben Kim (Daniel K. Isaac) was also approached by Taylor, but he remained loyal to Axe Cap. Taylor tried to sway Ben by pointing out that he was given only a paper title as a way to keep him running in place. "But I will give you an entire field to sprint down." Axe tells Ben he has a future at Axe Cap, one that'll have him "getting as rich as a futile Lord" if he keeps performing.
Wendy Advises Axe On The Taylor Situation: 
Wendy initially tells Axe that at a time like this, he should look within to see what they did to cause this. In a later conversation, Wendy has an idea. "What if you didn't go anywhere, did nothing? Most people in the business would think you sent Taylor off, invested with them. Maybe you still can…or, take comfort in the knowledge that the betrayer will suffer for their actions."
Wendy explains Taylor will not only suffer internally, but when the reversals show up, which they will, and Taylor has to go it alone, they'll have down years and they will spiral. She says it's unavoidable, that all he has to do is wait for it. Axe, however, isn't sure he can wait that long. By the end of the episode, Wendy's advice has completely changed: she's all for total destruction.
Axe Is Conflicted When Andolov Offers To Kill Taylor:
Axe meets with Andolov to discuss his problem with Taylor. "You don't have pest control, so the pests are running all around the place with no consequences," Andolov says. But, he tells Axe he's very good at dealing with pests. He offers to make Axe's problem disappear in a way that would ensure it would never return. Axe, though he understands what Andolov is offering, says he cannot ask him to do this at this time, even though that may be what's called for. He's somewhat irked by what it means to say no to Andolov and the ramifications of not giving him a green light. Should he ever decide to move forward, Andolov would always have this on him. How he answers will determine a lot, so he thinks carefully before moving forward. His intentions against Taylor remain "total destruction" but he has his own ideas for that. He eventually passes on Andolov's offer. Andolov threatens to pull all his money and give it to Taylor. "How can I keep my money with a man who won't kill for it?"
"I don't want Taylor dead," Axe responds. "I want them alive to experience all that I'm going to do to them. I'm going to destroy them in ways that'll make them wish they got what you offered." Andolov warns that if what Axe does to Taylor costs him, they will meet again.
Axe Confronts Taylor:
Wanting to look Taylor in the eye, Axe goes to Taylor Mason Capital. Mafee fumbles his words and realizes the consequences of betraying Axe. Taylor then faces Axe, cool as ever. Taylor's reasoning to Axe includes the undercutting, manipulation, public and private humiliation, lies and broken promises. "All while I good-soldiered it and made you money," Taylor says.
Axe insists he was never against Taylor. "I wasn't getting rid of you or working against you," he says. "You were on the inside. We were succeeding together. I trusted you in a way that I almost never trust anyone." The betrayal is raw: Taylor has taken from him, stolen, and all under false pretenses. "You've betrayed me!"
"I did what I had to do to survive," Taylor defends. "And, to win…I did it for me, not against you." Taylor then says they expect to surpass Axe's assets under management at a rate calculated at "three years at the earliest, eight at the latest."
"You have to know that anything I do to stop you is warranted," Axe threatens.
Taylor, still cool as a cucumber, says they anticipated his reaction. "So, do what you must, and I'll defend as I have to."
Axe still has his loyal comrades, which is proven when Taylor attempts to recruit Wendy in a heated confrontation. "I'm building, not destroying," Taylor says, trying to convince Wendy, but she's not swayed.
Chuck Realizes He's Surrounded By Enemies:
Chuck (Paul Giamatti) remains determined to take Jock Jeffcoat (Clancy Brown) down, but he's unstoppable.
Connerty (Toby Leonard Moore) approaches Sacker (Condola Rashad) and tells her he knows Chuck is using the FBI to hide a witness to help Jock. Sacker tells Connerty he has things backwards, that he cannot try and take Chuck down on this one because Chuck is finally doing the right thing by going after Jock. She's cornered, however, when Connerty reveals that she's on the text transcripts getting favors from the FBI. Connerty gives Sacker a choice: she can help him or go down with Chuck. A conflicted Connerty returns to Dake (Christopher Denham) and tells him the news. "We have it flipped." Dake concludes that Chuck is going after Jock, not covering for him.
Chuck gets advice from Chuck Sr. (Jeffrey DeMunn) who says it's "better to play fast and aggressive with inferior material, then let them be exposed later." As one of the few people that truly has Chuck's back, he continues, "If the end game is coming sooner or later, even if it might crush you, I say bring it on! Shift the pressure of the decision from you to him. Let him have to avoid the mistake or see the one move that might get him through." This incites Chuck to move forward and pull the trigger on the grand jury.
Unbeknownst to him, Chuck is the one ultimately being played by everyone he thought was on his team. Jock asks to meet with him about a prosecution in the works against his brother. Chuck agrees and works on the perfect set-up, only it comes to light that he's the one ultimately being stabbed in the back.
It appears as though all is going perfectly according to plan, but when Chuck goes to his office to hear the tape of Jock attempting to obstruct justice, he's met with quite the shock: Kate Sacker standing at his office door. "You recognized I was a political animal. You fed it, nurtured it. And, I warned you it might bite you," she says, opening the door. He enters to find Alvin Epstein (Brian Stokes Mitchell), Connerty, Dake and Jock. He knows he's finished. Connerty finally gets his revenge firing Chuck in the same cruel way in which he was recently fired.
Taylor Realizes How Lonely It Is At The Top:
Oscar Langstraat (Mike Birbiglia) visits Taylor at their new office and invests some initial seed money of $500 million. When Taylor says they want to talk, Oscar's reply leaves them devastated. "I'm happy to put capital with you because you're smart and I think you'll make me money. But, after what you did I could never open myself up to you again." Taylor is heartbroken.
The Perfect Ending To An Incredible Third Season And Set-Up For A Fourth:
In the final scene, Axe, Wendy and Chuck convene to discuss their plans for taking their enemies down. How are Billions fans expected to wait until next year to find out?
Interview With Show Creators Brian Koppelman And David Levien:
Read the rest of the original article at Forbes