Damian Lewis is back as hedge fund alpha Bobby Axelrod. And hell hath no fury like an atomic asset manager with his billion-dollar balls in a vice.
by Paul Henderson | GQ Magazine | March 19, 2019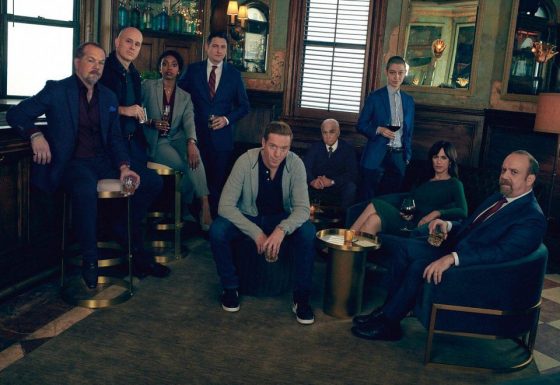 Within five minutes of the start of season four of Billions, hard-rockin' hedge fund alpha Bobby Axelrod (Damian Lewis) has woken to the sound of "Ace Of Spades" by Motörhead, skipped breakfast ("A man like you should eat something. You've got fuel to burn," says Axe's manservant. "Do I look like I need to fan the fire?" snaps back the response) and unleashed a maelstrom of iron-clad legal documents that his lawyer Orrin Bach (Glenn Fleshler) describes as "tighter than AC/DC in '78".
Meanwhile, on the other side of town, former US attorney Chuck Rhoades (Paul Giamatti) kicks off proceedings by air drumming his way through the Rev Al Green's "I Feel Good", before getting on with his new and far less prestigious job: playing the small-time power broker as he sets about trying to re-climb the greasiest of political poles.
In other words, Billions is back, baby, and it means business.
To make sure you hit the ground running as hard as Lemmy's bass line, here's where we were at the end of season three. Old enemies Axe and Chuck have formed an uneasy alliance, having both been on the receiving end of a classic triple cross. Rhoades, you see, had spent the best part of 35 episodes trying to put his billionaire nemesis in prison for illegal trading, only to end up helping him get off because it would have also ruined Axe Capital's in-house performance coach, Wendy (Maggie Siff), AKA Mrs Rhoades, Chuck's wife.
And that isn't the only thing bothering the pug-faced politician. Having mis-played his hand in trying to oust right-winged, red-necked attorney general Jock Jeffcoat (Clancy Brown), Chuck is out of office, relegated to the private sector, and spends much of the first episode trying to wangle a gun permit for a powerful New York bigwig. As a man on a mission, it doesn't sound like much, but Chuck needs to show he still has the wiles to get a job done without the weight of office behind him. He, like the first episode, is laying down a marker.
Axelrod, on the other hand, is at all-out war and playing with considerably higher stakes. Not only has he been betrayed by his brilliant non-binary lieutenant Taylor Mason (Asia Kate Dillon), but he has also lost the financial backing of his black-hearted benefactor, the murderous Russian oil baron Grigor Andolov (played with pantomime menace by John Malkovich). Fickle Andolov has decided he likes the cut of Mason's gender-neutral jib, but Axe isn't about to go down without a fight. Hell hath no fury like an atomic asset manager with his metaphorical billion-dollar balls in a vice.
And all the while Axe's right-hand man, Mike "Wags" Wagner (David Costabile), is being held hostage in a Middle Eastern embassy after getting back on the coke, hard liquor and hot ladies express train. Next stop… oblivion.
And this, after all, is the appeal of Billions. Despite the clever psychological toing and froing, the double-dealing political intrigue and the black arts of manipulation, blackmail and duplicity, when it comes to the big players in the Billions universe, they are always all in.
Read the rest of the original article at GQ Magazine