Billions MVP Fanbook
by Gingersnap | Fan Fun with Damian Lewis | March 27, 2019
Last week we introduced you to our 'Billions MVP Fanbook,' a compilation  post commemorating all those in honor of achievement for the utmost brazen, uber shameless, ultra scheming, unmatched badasses to date – from sports references, music, and tasty food to pop culture remarks, shocking twists and ultimate paybacks. Let us continue with that tradition as we award our Most Valuable Players (MVPs) this week.
Here are our Billions awards for Season 4, Episode 2, "Arousal Template."
Gingersnap
Hottest Moment – Axe flirting with Rebecca…and scoring. He really likes her confidence, and so do I. Intelligently, he's met his match it would seem.
Rebecca: "I saw value. I took. You think that makes me bad?"

Axe: "Yeah. I do. In the best way."
Ultimate Outfit – OHHhh meeee geerrrdd! Axe in dark jeans, white kicks, and a two-tone three-quarter sleeve baseball tee. I've been wanting Axe to wear those dark jeans again since season one, episode eleven "Magical Thinking." There's just something about those jeans! I don't know why he looks good so dressed down, but he does. A very American Damian. #YumTime
Best Line – Chuck when he says, "Why, a year ago, I had legions at my command while your fund was deflating like a Tijuana breast implant." The lesson here being, don't get plastic surgery in Mexico.
Most Formidable Comeback – Rebecca to Axe: "Give me back the shares, FUCKO."
Supreme Undercover Mud Holder – Tuk in the sting operation at Eureka Building Solutions
Most Perfect Analogy – When Chuck tells Axe that "…Raul is using the pension fund the way that Chris Stapleton uses Tennessee Whiskey – to slake his thirst."
Damianista
Most Exasperated Sandwich Eater – Bryan Connerty. No explanation necessary.
Best Stretcher in Town – Kelly! Well, Axe swears by her so I believe him 🙂
And OH MY GOD! I was about to have a heart attack when this young woman arrived at Axe's place just after Rebecca left.  It is no secret I do not like single Axe. And as much as I have been rooting for him and Lara to get back together, I know it is a very long shot given Malin Akerman is not a regular on the show anymore. So I would take a committed Axe over single Axe any day! Imagine my relief when I find out Kelly is just the best stretcher in town.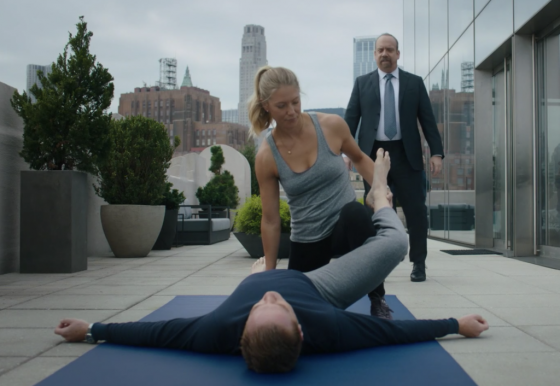 And it turns out Kelly is playing herself in the show!
The woman in this scene, Kelly Stackhouse does this job in life. She teaches yoga. But also stretches Billionaires from time to time.

— Brian Koppelman (@briankoppelman) March 25, 2019
Read the rest of the original article at Fan Fun with Damian Lewis