Back in Business
by Sean T. Collins | New York Times | September 5, 2021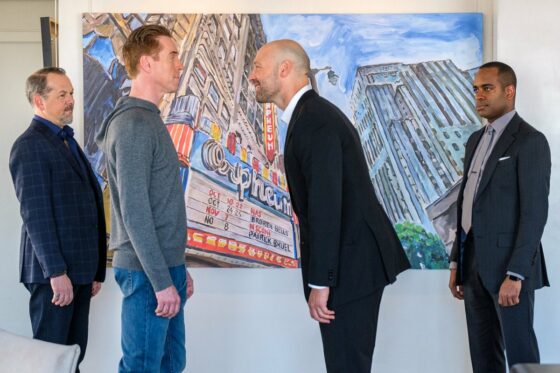 Season 5, Episode 8: 'Copenhagen'
Chuck Rhodes has shaved off his beard. But he wants to be clear: It's not that big a deal.
"You look ready to toss your cap in the air at West Point!" exclaims his underling Karl Allard (Allan Havey).
Rhodes's weary reply? "Don't make a whole thing of it."
My guess, and it's just a guess, is that this new clean-shaven Chuck Rhodes has more to do with the vagaries of scheduling talent for the back half of this Covid-scrambled season than a decision made in the writers' room. If your show stars Paul Giamatti, and if he has gone beardless sometime during the many months since you were last able to film, then by God, your main character will go beardless as well.
But "Don't make a whole thing of it" doubles as a mantra for the entire … what should we call it? A half-season premiere? Season Five version 2.0? However you slice it, the writers have taken a steady-as-she-goes approach to the show's return. No hard reset, no launching point for a slew of brand-new story lines — this is a standard "Billions" episode, which is to say it simply advances its pre-existing plotlines in dense and dizzying style, through crackling dialogue and confident performances.
For Chuck, this means losing more than just his beard. His relationship with the Yale sex researcher Catherine Brant, played by Julianna Margulies, appears to have been another casualty of the forced break in production. The show writes her off with Chuck's revelation that his threesome with her and a sex worker, hired by Cat for the occasion, proved disastrous when its lack of sadomasochism, the thing that really gets Rhodes's engine revving, exposed fissures in their romantic connection.
Chuck's relationship with his alma mater produces more trouble than a regrettable sexual liaison, however. One of his former students, Merle Howard (Noah Robbins), led a revolt against Chuck's assignment to take down the secretary of the Treasury, Todd Krakow (Danny Strong), during the season's opening half. With the help of some photographic evidence provided by the Axe Cap sleazeball Bill Stearn, a.k.a., Dollar Bill (Kelly AuCoin), he has now resorted to blackmail, ordering Chuck to resign his post as the Attorney General of New York lest his long-ago role in rigging a Yale student election be exposed.
Chuck has a moral leg to stand on here: His opponent in the election in question opposed divestment from apartheid South Africa, and the young Chuck joined friends in burning ballots in a bathtub to prevent this ultraconservative candidate from achieving power. Unfortunately for Chuck, that candidate grew up to be the university's beloved chaplain, and a head-to-head morality-based showdown in the present day would not necessarily deliver Chuck a slam-dunk victory — not when election-rigging has been such a going concern in America in general, and on "Billions" in particular.
"It was a student election — persuading Oingo Boingo to play Spring Fling, and not Sun City," Chuck protests to Merle. "It's not Il Duce in '34!"
"One leads to the other," Merle responds without missing a beat.
Chuck's lawyer and best friend, Ira (Ben Shenkman), digs up an unseen file of dirt on Chuck's old election opponent, over Chuck's protestations. If Merle had a pistol," Ira asks, "would you let him shoot you? No: You'd defend yourself and then go about making amends once you knew you were still breathing."
In the end, Merle blinks, withdrawing his threat and reporting himself to the university's dean (Tawny Cypress). When she confronts Chuck about his youthful indiscretion, however, Chuck refrains from using Ira's file, tendering his resignation from Yale's faculty instead. Sic semper tyrannis, I guess.
On the opposite side of the great "Billions" divide, Bobby Axelrod (Damian Lewis) takes on an altogether more dangerous adversary than a law student: his fellow billionaire Mike Prince (Corey Stoll). When Bobby learns from his thoroughly hung-over right-hand man Wags (David Costabile) that Prince is on deck for an ambassadorship to Denmark, the two men dig for whatever dirt can cancel the appointment and ruin Prince's reputation.
They settle on Scooter Dunbar (Daniel Breaker), Prince's equivalent to Wags. Using a small army of runners to cover up his own involvement, Scooter appears to have developed a serious sports-betting habit, precisely the kind of security vulnerability that gets people axed from government positions. (Or at least used to.)
But Wags's attempt to bigfoot Scooter on the issue backfires when Prince shows up to Axe Cap headquarters, revealing that the bets were his own. The reason he placed the bets through Scooter and the runners wasn't to hide a dangerous vice, he says. It's because, given his well-earned reputation as a power player, his position could tilt the betting odds were it widely known.
Not that this stops Axe's attack. Keying in on a stray mention by Prince of his past, Axe tasks his lieutenants to dig deeper. Once again, it's Dollar Bill who gets the goods: According to the mother (Becky Ann Baker) of Prince's late partner, Prince swindled his former partner and best friend out of a billion-dollar deal — contributing, she believes, to his death in a drunk-driving accident. The ensuing TV news exposé lets Prince know he has a real fight on his hands.
Indeed, if there's a through line for this episode, it's about characters trying, and often failing, to stay true to the people and things that mean the most to them. The artist Nico Tanner (Frank Grillo), the current love interest of Wendy Rhoades (Maggie Siff), recoils from the culture of limitless cash and entitlement embraced by the Axe Cap/Taylor Mason Carbon power structure — although that doesn't stop him from fleecing one of them for thousands of dollars for a mere scribble. (His vigorous, shirtless creation of a new painting before an enraptured Wendy, to the tune of the Velvet Underground's euphoric song "Rock and Roll," is the episode's valedictory moment.)
As for Taylor (Asia Kate Dillon), the wunderkind trader is aghast to discover that the Mase Carb up-and-comer Rian (Eva Victor) still works as a cater waiter in her off hours. The side gig is an attempt to keep alive her relationships to her old friends, she insists. But if other major investors see her at work, Taylor argues, they will question how Taylor runs the shop. At Taylor's behest, Rian quits her side hustle and settles in for a cozy night in front of the telly with her boss. Is it just me, or is there reason to worry that Taylor's right-hand woman, Lauren (Jade Eshete), won't be the only woman in the young genius's life before too long?
And while Chuck scrambles to find a kidney donor for his father (Jeffrey DeMunn) — a course of action that leads to Chuck's humiliation by Dr. Gilbert (Seth Barrish), whom he put away for ethical violations — his ex-wife, Wendy, is tapped by Charles Sr. to be his health care proxy.
"I need you to be cleareyed and punch my ticket" should the need arise, Charles tells her.
In the end, the episode's most potentially momentous moment almost feels like an afterthought. Acting on a tip by his sinister go-to guy Victor Mateo (Louis Cancelmi), Axe buys up an obviously crooked payday lender that Chuck and his own lieutenant, Kate Sacker (Condola Rashad), have been looking into. Why? Because said lender has a bank charter, the golden goose for which Axe Cap has been searching all season.
Read the rest of the original article at New York Times here