There's Only One Damian
by Carissa Pavlica | TV Fanatic | March 28, 2022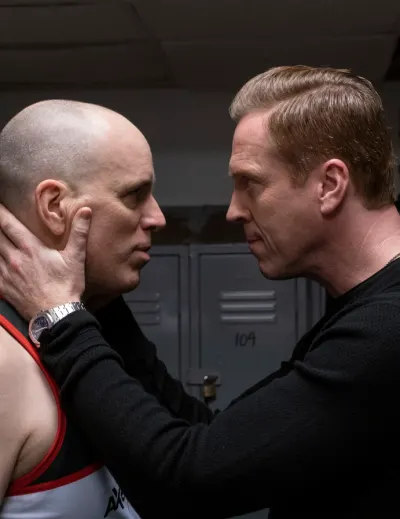 You may know Kelly AuCoin from his role on Billions, but he's also going to be playing a detective on Hulu's The Girl From Plainville. We had a chance to catch up with him by phone to talk about it. And yes, we touch on Billions, too. "…with Billions, I think it's super fun to watch people misbehave. And what I love about Billions is that people from all over the political spectrum like the show. My lefty friends, a lot of them love it. And my friends who are more on the right love it."
"I do find it interesting when people on the street talk about why they love the show and my character. I start to realize some people find it aspirational. They think of Dollar Bill as an aspirational character. And I'm like, 'You know he's a criminal, right?' "He's not a good person, per se, but I think the character…it's such a well-written show. And I think that the actors play the hell out of their characters. And I think the chemistry between the characters has been so strong and just grown stronger with each season. I think that translates."
"We have such a fun time. As I've said to people many times, the amount of misbehavior exhibited by these characters is an almost inverse proportion to the quality of human beings that they are and the sweetness that they actually exhibit and give back and forth to each other on set and in real life. We're all friends. We all have a great time. And Stephen Kunken, Ari Spyros, and I, Dollar Bill, are great friends, and we'll be in each other's faces and yelling at each other and shoving, and then we're just giggling afterward. I think that kind of chemistry translates to the screen.
That kind of on-screen tension, though, gives AuCoin a way to blow off steam, leaving real-life tension at the office, so to speak. "My jaw is set so tight and so jutted forward, usually when I'm playing that character, that I come home and my face hurts. And my wife has made it clear that if I bring any of that character home, I'm out. So good for her."
Continuing after losing a lead character on a long-running show can be quite a risk. When Damian Lewis exited the show, he took Bobby Axelrod with him. AuCoin had lovely things to say about Lewis as a leading man who kept things moving on set with his leadership and in scenes with his generosity as an actor.
"A show like that won't always necessarily become a family or an ensemble, but this one did. And it's largely because of the example he set. So yeah, you wonder, you worry about changing up the dynamic that feels so fundamental to a show, but there are all kinds of wonderful actors on the show that remain.
"And we have a brilliant casting director, and we have brilliant writers, and they created something, not trying to recreate what Ax brought to the table, but creating something that was a logical extension or a logical counter, something that would still work in this world, wasn't trying to recreate that, because you can't.
"I mean, there's only one Damian, but there's also only one Corey Stoll. And he's a great actor, and he's taken the opportunity to really run with it. Prince is a very different character, and he is very compelling to me because we still don't know who Prince really is.
"Maybe we do, and we're just looking for more cracks than there are, but I suspect there are more cracks. And I'm very curious to see where it goes next season."
"I'd say they definitely have their finger on the pulse of what's happening in New York and then in the country. So I wouldn't be surprised if, as news events happen, they weigh whether or not to add them to scripts. But I honestly don't know for sure.
"I know that they have, at least I've heard them say, that they have their thoughts about where these stories are going to go. And I suspect that the story arcs are paramount, and then they can flavor things with little bits here and there.
"The opening of season six when Wags is on the Peloton, and Prince puts these watches or these bands on everybody's arms, and they noticed that his heart rate's a little too high, and they burst in to save him or to protect him.
"Apparently, they added the line about Mr. Big because, in the Sex and the City reboot, they didn't know this when they wrote the script, but the same thing happened, and he actually died. So he is like, 'I'm not about to go all Big on you,' or whatever he said. So they know what's going on. Certainly."
The story is constantly in flux, and the writers are news junkies who have their pulse on the latest movements that could influence the industry.
Read the rest of the original article at TV Fanatic