Soccer Aid for Unicef: Two Teams, One Goal
by Gingersnap | damian-lewis.com | April 27, 2018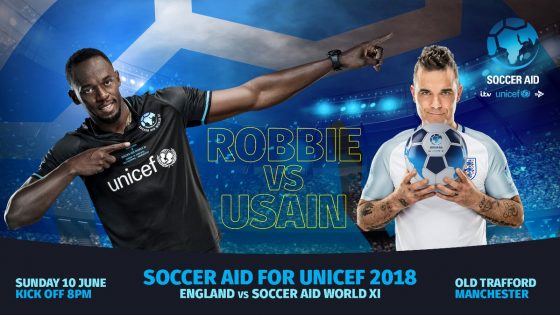 Today it was announced that Damian will return for Soccer Aid 2018, joining Team Robbie playing for England.  Damian played in the very first Soccer Aid back in 2006 and has gone on to make several subsequent appearances in the match, mainly as a central midfielder.
Here are the details:
What: Soccer Aid for Unicef
Who: England vs Soccer Aid World XI
When: Sunday June 10, 2018
Where: Old Trafford, Manchester
Time: Kick off at 8:00 pm (BST)
How: Purchase tickets here or call 0161 444 2018
Broadcast: ITV and STV
Presenters: Kirsty Gallacher and Dermot O'Leary
Referee: Mark Clattenburg
Teams: England Team Captain Robbie Williams vs. Soccer Aid World XI  Team Captain Usain Bolt
Why: Soccer Aid brings stars, football legends and all of us together to raise money so that more children around the world can grow up healthy, happy and safe. The football match was started by Robbie Williams and Jonathan Wilkes in 2006. Over the last 10 years, the £24 million raised by Soccer Aid has enabled Unicef to help more children than any other humanitarian organization. Unicef provides life-saving food, vaccines, clean water and protection from violence to millions of children around the world.
And guess what former Homeland co-star joins Damian on the field?
Continue reading Announcement: Damian Joins Soccer Aid 2018 – April 27, 2018