Hollywood Tells 'Fairytale' Horse Story
by Nellie Bird | BBC News | May 22, 2021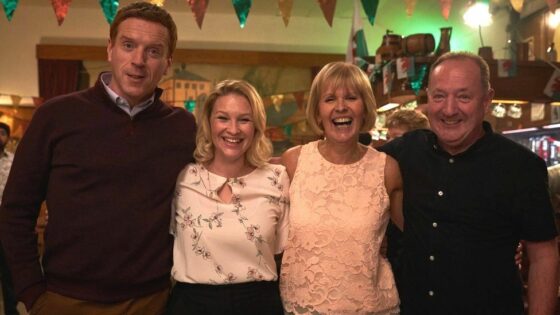 Damian Lewis (far left) and Joanna Page star in the film playing Angela Davies and accountant Howard Davies (far right)
Dream Horse will get its premiere in Blackwood, Cefn Fforest – the Wales village where the movie takes place – on Sunday, May 23, 2021 at Maxime Cinema Blackwood and a special screening at Vue Leicester Square in London on May 27, 2021 before its general release in the UK on June 4. The film was released in the US on May 21 and will receive a Video on Demand (VOD) US release on June 11, 2021, according to Metacritic.
Damian Lewis plays Howard Davies, an accountant who runs the syndicate – a casting that delighted the real life Howard.
"Most of my so-called friends and syndicate members thought that Danny DeVito would have been a better casting but Damian chose to take that on – we think it's incredible," said the accountant.
Continue reading Dream Horse Gets Wales Premiere and UK Special Screening