Damian Lewis at The Dorchester
by Natalie Theo | Factory Magazine | Fall Issue, 2005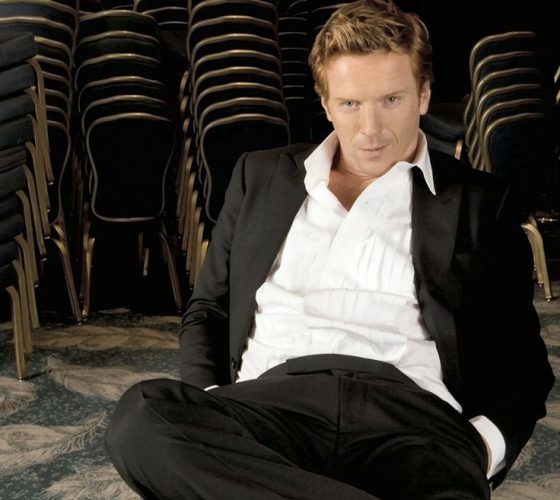 Damian Lewis really wants to be Widow Twanky. Thankfully Factory has asked him to camp it up as an all-dancing James Bond hero for its shoot at the Dorchester Hotel's London ballroom. "I went through a lot of pantomime when I was young – I mostly wanted to be Widow Twanky". Well, as I say, thank God we are more 007 today. You see I am blushingly helping Damian Lewis into a pair of elegant black Ralph Lauren trousers, shirt and diamond studded De Beers cufflinks. We are tucked away in the dark refines of the Dorchester ballroom's coat check cubicle.
The men's loos are unavailable for trouser tucking. Better to be tucking him into a Ralph Lauren number rather than a figure moulding pair of panto tights. Lewis has gamely agreed to swirl six dashing young actresses dripping in De Beers diamonds and slinking about in Ralph Lauren eveningwear for the day with his very own barman, sent along on orders from Dublin courtesy of Jameson Irish Whiskey, to see him through. His lead role as Major Richard Winters in HBO's Band of Brothers, produced and part directed by Steven Spielberg and Tom Hanks, precedes a slew of feature films due for September and early 2006 releases: Lasse Hallstrom's An Unfinished Life; Brides produced by Martin Scorsese; Lodge Kerrigan's Keane; Phillip Haas' The Situation; and Martha Fiennes Chromophobia. So I can't quite believe Widow Twanky is the be all and end all of the ultimate hero situation.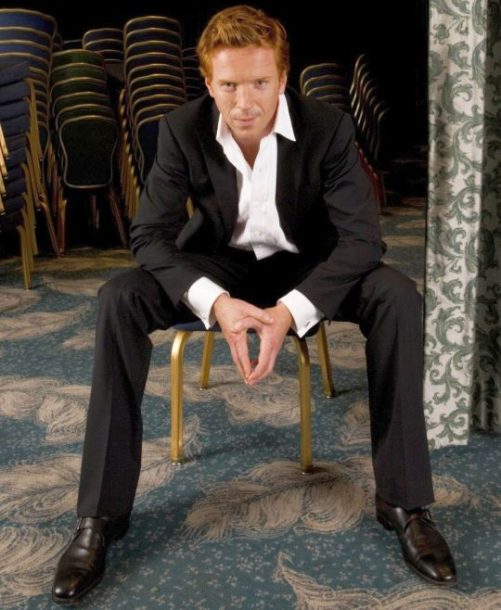 "Well I've already played the ultimate ultimate hero in Band of Brothers. It has reawakened such fervour and devotion to these men who fought in the second world war and particularly these men in Easy Company because that's the story that was told. You can't play anyone more heroic. He was a real Gary Cooper character. Economical with words, with emotions and an action, thinking-man's hero." At this moment hundreds of thousands of pounds worth of De Beers diamonds make their way into The Dorchester, in a backpack carried by security guard Graham Mannie. Mannie, it appears, is a huge fan of Lewis, so huge that Lewis even agrees to give him a signed autograph and lets me take a picture of the two of them so that Mannie can show his friends back home.
"I am an ex-infantry soldier," says Mannie. "I don't really like films and film actors and actresses, but he imparted great dignity to the role. He ennobled the role of the allied infantry commanders in the second world war. I am very glad I met him because I can tell my friends I actually met Captain Winters! He is going to have a distinguished career in film but he will always be remembered for Captain Winters. I don't think anybody else could have done that role as well as he did." Hmmm, I wonder if De Beers handpicked its man for the shoot today or what. It's one thing for the women on the shoot to get in a fluster over their main man, but a middle-aged man… Later on, when Mannie gets to pose with him, Lewis also whips out a publicity shot and signs it for him with a "I don't really do this…". For the troops, Damian, for the troops.
Factory doesn't seem to do anything in half measures. Opulence and Factory go hand in hand. I, for one, am tripping over metres of Ralph Lauren silks and leather and there are so many De Beers diamonds on the table that after a while it's like looking at a freshly stacked supermarket stand – "Oh those old things?" Damian Lewis's Ralph Lauren socks are on a special urgent courier delivery somewhere on Bond street. He's arrived in rubber flip flops; the tuxedo shirts, which I'm not even going to bother ironing because I don't do shirts, have been sent to the Dorchester's housekeeping for a good professional steam; and Lewis is wolfing down a club sandwich. The shoot hasn't even started and it's already exhausting. But Lewis is not complaining. Apart from the fact that there are six gorgeous young actresses, namely Andrea Corr, Lucy Punch, Siobhan Hewlett, Michelle Ryan, Kate Groombridge and Natasha Wightman, Factory has kindly arranged for rising star, actor Tom Chambers to chauffeur Lewis and said actresses to the shoot in a purple Lotus as a little extra something.
Why did Lewis agree to do this shoot? "It is the longest shoot I've ever done! I agreed to do it because I think Factory is a really good mag and it's produced really well. I stayed with Alessandro Nivola and Emily Mortimer who were on the covers of the Cannes edition of Factory. I was pretty merciless, taking the piss out of them for doing a 'his and hers' photo shoot article in the magazine. I was actually really jealous. Then Factory asked me to do it and I thought it was quite fun and ironic to do it. I liked the sound of the shoot. It has a theatrical, fun slant to it. Plus it is in the ballroom of The Dorchester, a bit camp, a bit theatrical."
But a lot of his roles are dark obsessive men, Factory points out. "Yeah repressed." Repressed? A bit of an understatement – more like intense tortured souls? "I think it's interesting to play people who are conflicted because I think most of us are all the time, or for a good part of our lives, or at least I've felt conflicted. It's true that if an actor seems to be able to play a baddie well, for example, or a tortured soul, those portrayals seem to register very strongly with an audience and the public. You might play five sweet comedic roles that don't grab people in quite the same way than if you played a tortured soul successfully. So Soames Forsyte, the character I played recently on TV, was definitely tortured, conflicted, unhappy, jealous, repressed."
Now it's no secret that women seem to love a man who is conflicted. It's a chick thing. Give us a sweet old soul and we'll chew him up and spit him out like a piece of gum that has lost his flavour. Give us a conflicted baddie and we'll stick to his shoe, like a piece of gum. I am sitting opposite the man who played Soames. I haven't quite stuck to his flip flop like a piece of gum, but I am still sitting opposite dear, misunderstood Soames, who, when he appeared on my television screen in The Forsyte Saga, certainly made me want to pop out of my gum wrapper and get stuck in to all sorts of interesting places. Anyway, steady girl. But I'm not really going to say that to Lewis now am I, so I go in with the more demure, "Funnily enough the character of Soames Forsyte is iconic especially in the minds of women. There was great conflict amongst women with regards to Soames. Some loathed him. Some felt he was wounded. Some just obsessed over him."
"I am glad of that. Because one is always biased towards one's own character because you support them and believe in them, otherwise there is no way you can play them credibly without judging them. You have to just absolutely understand in them, believe in them and, in many respects, believe them to be right. Then it's just a question of how persuasively, powerfully you put across your character's argument. There is no question that objectively looking at Soames he is misogynistic, homophobic, a snob, tight with money, pedantic. There are lots of things that are unattractive about Soames and I think why women identify with him in spite of all that is because they can see him as a man who was just torn up by love for this woman. Some women went crazy about Soames. Others said 'Oh God, you were a real shit weren't you'."
His character in An Unfinished Life, sounds nasty too. "I filmed that two years ago. Robert Redford, Morgan Freeman, Jennifer Lopez are the main parts. I play a jealous boyfriend and he is a violent and unattractive man. He is just outright, bad white trash and nasty. Spent his time in trailer parks and pool halls and beats his women up. He's just nasty. Really attractive. But I really wanted to work with Lasse. I've got Keane coming out, which is a very tortured character and a very dark film, but in my view a brilliant film, made by Lodge Kerrigan. The Situation with Connie Nielson is a really interesting political thrilller set in contemporary Iraq. At the centre of this is a love triangle, all based on true facts, between Connie who is a journalist, my character who is an Arab affairs specialist seconded to the CIA, and an Iraqi war photographer. The script is written by a first-time script writer – I can't think of anything more interesting than telling a story about Iraq. But it's no way a macho film story."
OK, I'm seeing a pattern emerging here – a shit in love. I think Lewis is the next Jeremy Irons, I point out to him. He just looks at me and I can't quite figure out what the look is. Also coming up is Martha Fiennes' Chromophobia. "I was in a hailstorm with windscreen wipers that didn't work on my way to my house in Wales, when I was asked to hurry back to London. Everyone was saying that there is this great script but they want to see you tomorrow and you have to come back. I was saying can you pitch this to me? Is it worth while turning around? I'm near Bristol, my windscreen wipers aren't working and I'm on the motorway in the middle of the hailstorm. [I'm glad I did] when I saw the script and the cast that was attached. It included Kristen Scott Thomas, Penelope Cruz, Ralph Fiennes. The movie closed Cannes Film Festival in May."
Factory has built a dance stage in The Dorchester's ballroom and swing music is grooving out over the loudspeakers. How did he get into this career? "My father loves theatre and it's totally down to him that I wanted to be an actor because every holiday he would take the family on a trip to the West End. My father lived in Chicago in the 1960s for five years so he loves all the song and dance men and women and musicals. So I went with him to see a lot of those classic musicals. Guys 'n Dolls, 42nd Street and also straight theatre and I just got a huge buzz out of it. Just being in the theatre as a child – the excitement and anticipation before a curtain goes down – there's always a sense of panic about getting to your seat in time. 'Oh I'll just go for a pee quickly, grab a bag of peanuts'. I think there is great drama just being in the audience; being in a live theatre you can't help but feel part of it. If you shift in your seat, you think 'Oh my God, can they hear me, see me?' You feel like you are contributing to the evening. So that was it. It was really just being a child and being taken to the theatre. Loving it and then doing theatre at all my schools from the age of eight and then at 16 deciding I want to do this professionally."
With all these films coming out, plus an upcoming theatre production, and the fact that in the new year he will be producing and starring in a film, The Baker (written by his brother for their production company Picture Farm Ltd), the question needs to be asked, will our very own Mr. Bond be taking a break or holiday after being put through his dance paces for Factory? "In November, I'll probably make a trip to Africa with Christian Aid whom I work with; I'm an ambassador for them. In spite of its title, it's a non-denominational organisation and I'm very involved with them in fair trade and increasing people's awareness in fair trade."
Lewis has been very very patient – a seven-hour shoot on his feet all day dancing. He has drunk Jameson cocktails, indeed he has drunk Jameson Irish Whiskey straight with a few rattling ice cubes to chill his palate, he has kissed necks, pecked at wrists, thrown a girl or two in the air, embraced his leading ladies in hot and steamy clinches, swirled them around in sheaths of Ralph Lauren and sparkling De Beers diamonds. And not even cooked up a sweat. Thankfully for my reputation, he needs no assistance undressing. Wonder what Alessandro and Emily will make of it?
To view more images, please visit our Gallery