Bobby Axelrod: The CASHmere King
by Gingersnap | damian-lewis.com | May 4, 2018 (updated October 23, 2023)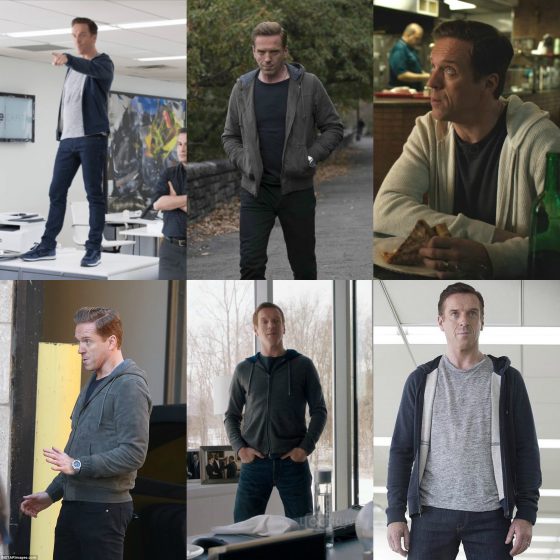 You would think Damian Lewis and Bobby Axelrod couldn't dress more differently but diving a little deeper, I found some commonalities. However, if we were to simplify, Damian typically dresses up with spurts of leisure whereas Axe dresses down with spurts of formality. Svelte Damian can wear a suit like a coat hanger and Axe can wear a hoodie like a dope Bankster. As Billions costume designer Eric Daman has said, "Damian looks like he just walked off a men's catwalk in Italy" so when "Axe does wear a suit, it's like a punch to the face."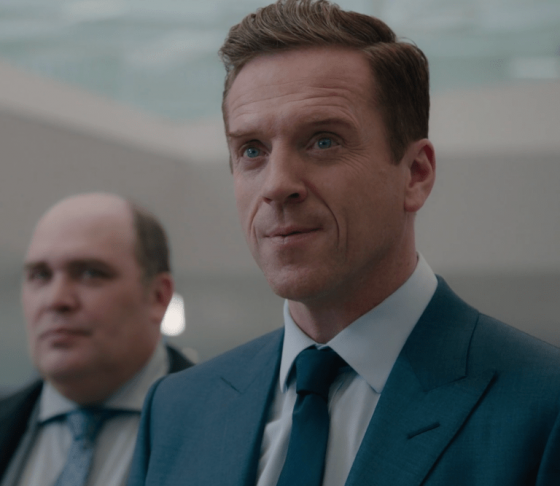 During his interview with Mr. Porter, Damian explained Bobby's fashion choices:
"The clothes that Bobby wears are something of a uniform, but they are prowling and athletic – easy to move fast in. And that feels right. Him not wearing a suit and tie shows great confidence. Shows that he isn't established. That he's very much outside the New York class system and its aristocracy of old European industrialist families. With Bobby, money is king."
He goes on to state,
"We talked a lot about the way Bobby should look. That culture of hoodies and sneakers has existed in the dot.com world for a while now, but you get it in the hedge fund world, also."
In this April, 2018 How To Dress Like a Billionaire article, the Wall Street Journal mentions the infamous Axe hoodie. Just "type Bobby Axelrod into Google and the first recommendation that pops up is Bobby Axelrod hoodie."  As mentioned earlier, Eric Daman revealed Axe wears cashmere Loro Piana zip-ups. The Bomber Hood Leasure is made of knitted cashmere and cotton, designed for leisure time and relaxation with a fitted cut and sweatshirt-inspired styling. Each one costs a mere $2,295! Now available from Neiman Marcus here. What does a cashmere hoodie feel like to wear? Find out here.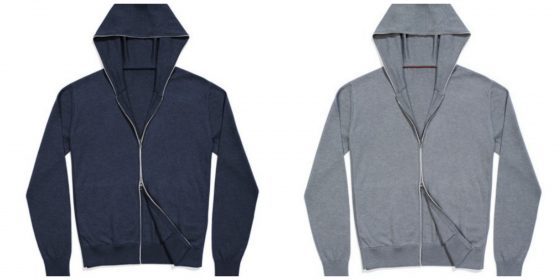 And you can't just throw these puppies into your washing machine! It's either professional dry cleaning or hand wash with neutral detergent, preferably the Loro Piana Cashmere Soap, a special detergent created by Loro Piana for garments in cashmere and baby cashmere. It's a natural product that refreshes fibers while keeping their softness using a gentle formula with a natural base derived from olive oil and sugar. The perfect accompaniment when gifting a cashmere garment.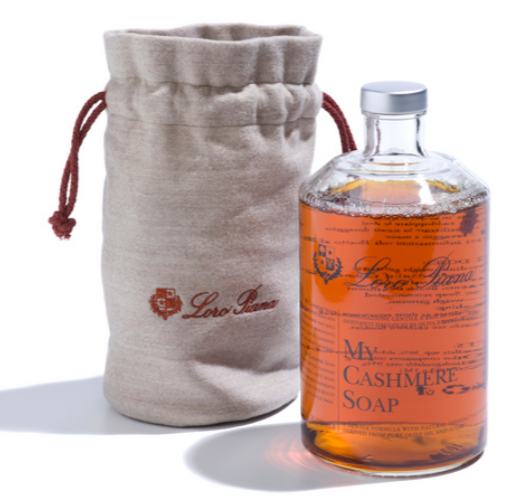 Both Damian and Axe like their jeans, trainers, and the occasional suit from time to time. In this article Damian mentions the Adidas Samba with three simple stripes, Rag and Bone jeans, and a tailor-made Huntsman or Burberry.  And while Damian has worn Adidas, Axe prefers Puma Suede kicks. As for a suit, Axe spares no cost and goes for the tailor-made Cifonelli pinstripe. Both enjoy a good watch, Axe preferring the Audemars Piguet Royal Oak Blue Dial and in this article Damian's choice is a Rolex Air-King.
SHOES
In Billions Season 1, we saw Axe sporting some Puma Suede kicks in both tan and black, the Nike Internationalist Premium Bleu, as well as the Nike FS Lite Run 2 Running Shoe.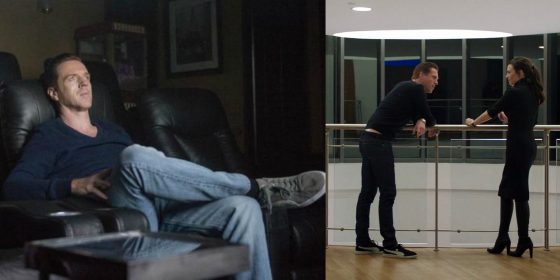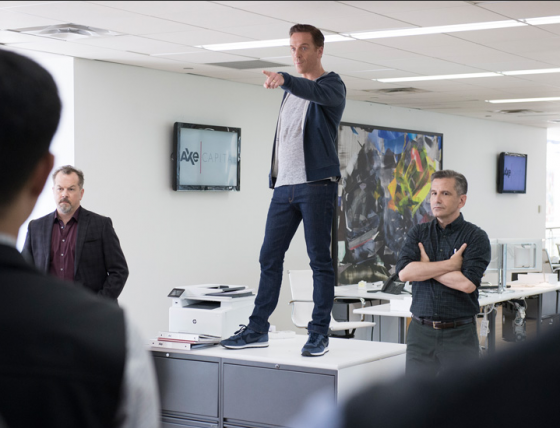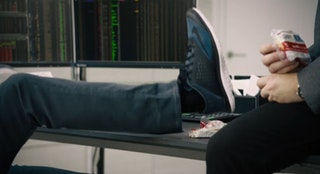 In Billions Season 3, Episode 5 and 7 we saw Axe wearing a pair of New Balance 891 in the color indigo.  Other similar styles from New Balance are from the Numeric Skateboarding series.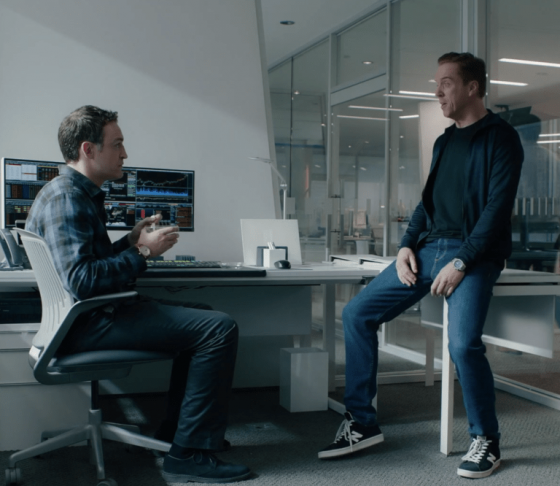 In Billions Season 3, Episode 8 Axe was sporting a pair of Nike Killshot 2.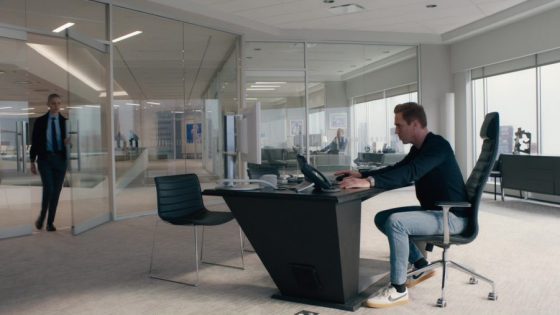 The Nike's pictured below, as seen in Season 4 Episode 5, appear to be the Nike Ebernon Mid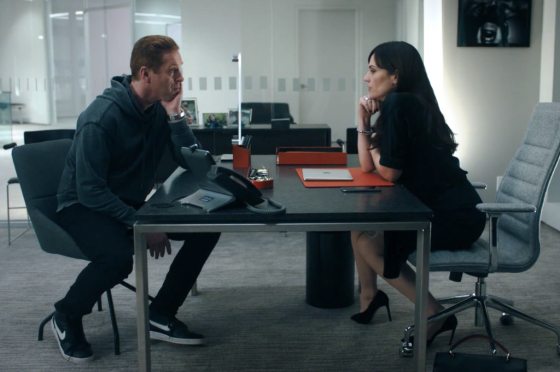 These New Balance, as seen in Season 4 Episode 6 and 8 (and also Season 3, Episode 5 and 7), are again, the New Balance 891 in the color indigo.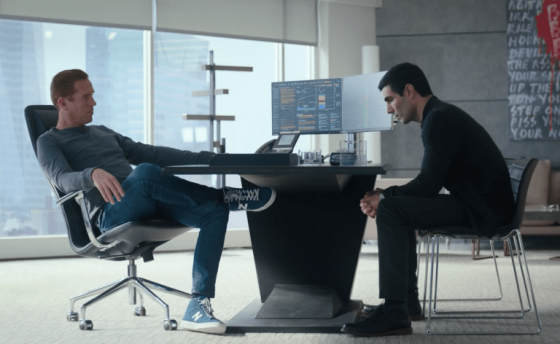 Since the premiere of Billions in 2016 there have been numerous articles about the fashion and style of the onscreen characters, namely Axe, Chuck and Wendy. In 2017 Showtime revealed a marketing campaign featuring the Billions fashion of Axe and Chuck and now in 2018, Showtime continues with a fashion and style marketing campaign, developing their own trend! Let's take a look at those campaigns and the fashion of Bobby Axelrod from 2016-present.
Season One – 2016
In a January 2016 Elle article, Billions' costume designer Eric Daman broke down what it was like to dress like a Billionaire.  Axe's go-to style is "an elevated version of T-shirt and jeans."  That $22.00 Metallica t-shirt?  Eric explains they "power washed, stretched, and gave 20 years of love by handworking it" to give it that shrunken look. Get Axe's Metallica t-Shirt from Rockabilia.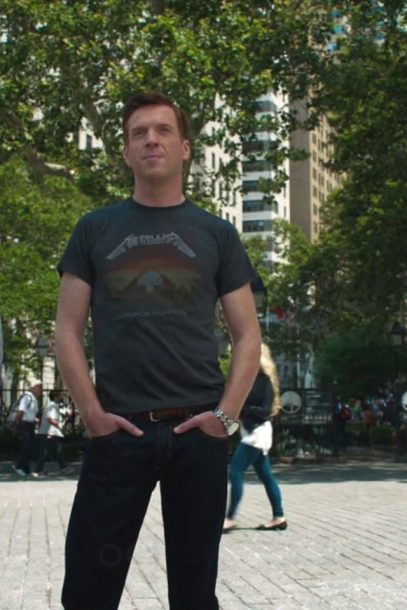 And as for that infamous black leather jacket, that would be a men's basic black rider leather moto jacket by Helmut Lang.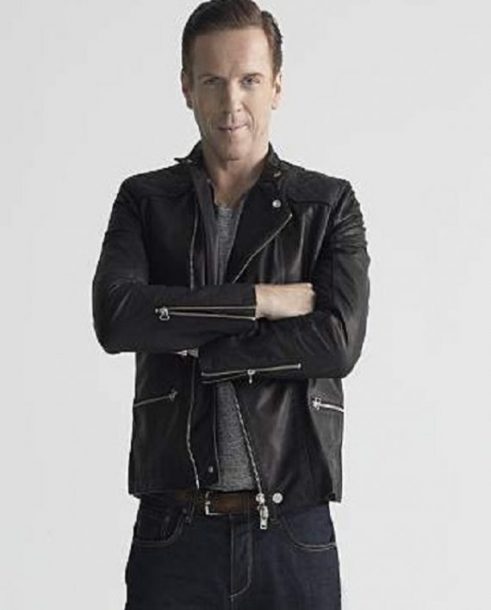 Season Two – 2017
In this 2017 Executive Style article, costume designer Eric Daman explains further, "I did quite a bit of research on billionaires and the mega finance influencers," explains Daman.  "But was pretty disappointed by their style choices. It all seemed a bit haphazard and not as aspirational or cool as I hoped."  So Daman did what anyone would do – he crafted a whole new look to encapsulate both Axe's wealth and his blue-collar background. But at a price. Eric's wardrobe for Axe is a little more subtle. Or sinister, depending on how you deep you want to look at the hidden meaning behind it. What looks like it should have come straight out of a vintage or department store sale is probably a high-end replica that costs more than your rent.
"It's really all about making high/high look high/low. Axe's day-to-day style definitely has a high/low flavor, but it's all about finding the perfect T-shirt, which sometimes can cost upwards of $650," says Daman. "It's the same for the jeans – perfectly distressed to feel like he has had them since his 90's Metallica fan days. Mix them with the perfect Classic Retro Puma or the newest Nike, and a $2000 Loro Piana Hoodie and there you go – Bobby Axelrod in all his glory." It's a sneaky game that perfectly plays into the complexity of Axelrod's character – a wardrobe that makes him look like an everyday bloke you'd spot on the street.
"It was integral to the character to infuse his wardrobe with the anti-establishment anti suit and tie statement. But at the same time not fall into the Silicon Valley collegiate nonchalance. Axe does everything with purpose, and selecting his wardrobe is a part of that considered thought process."
In February of 2017, Showtime marketing featured Fashion Vignettes at New York's Saks Fifth Avenue.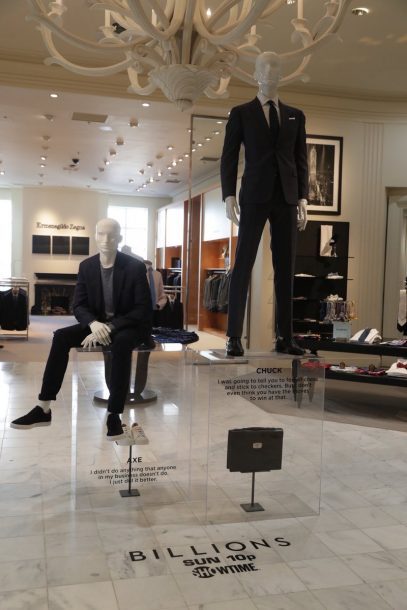 But perhaps the most memorable item from season two was that Megadeth concert t-shirt.  Get Axe's Megadeth t-shirt from Hot Topic.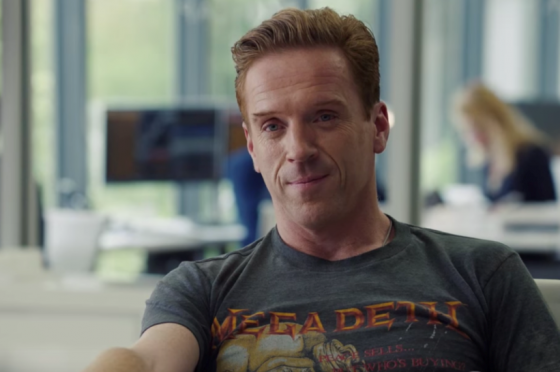 Season Three – 2018
In 2018, the Wall Street Journal published an article How to Dress Like a Billionaire discussing how Billions season three masterfully captures the changing dress codes of the finance world. In addition, Showtime marketing teamed up with Sheraton Hotels for a 'Go Beyond the Scenes with Billions' collaboration, giving us fans insight into creating an authentic look and feel for the show, from Axe Capital's modern offices to Axe's jeans and t-shirts.
In 2018, Showtime marketing released the Billions-GREATS Royale Limited Edition sneakers handcrafted from Italian suede with 24K gold aglets and custom details.
And to celebrate the release of the limited collaboration, Billions and GREATS hosted a launch party on Thursday, May 3, 2018 at GREATS Soho in New York.
During the advertising campaign, GREATs.com stated the shoe collaboration with Billions was because – "We admire Axe for his ambition as much as we do for his style. Favoring a well-worn pair of jeans and Metallica t-shirt over the obvious power-suit, Axe carries himself with the confidence and understated elegance that we appreciate here at GREATS. With Axe as our inspiration, we partnered with Showtime to create our richest Royale yet."
Introducing the Billions x GREATS Royale in both men's and women's: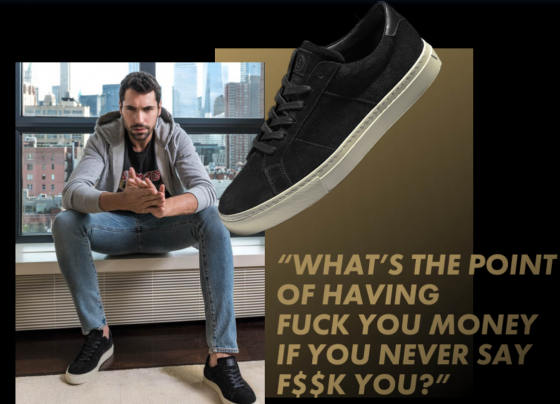 And the shoe has a little bit of Dollar Bill Stearn flair on the back "I am not uncertain":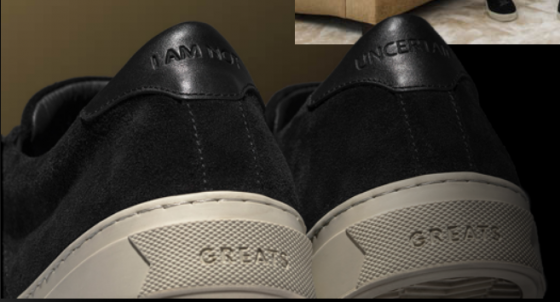 One viewer shared a photo on social media of their newly purchased sneakers, complete with money tissue paper!
And of course Axe and Dollar Bill have their very own pair.
Here is Kelly AuCoin talking about those very shoes in the second video below titled, "Favorite line this season:"
We'd be remiss if we didn't mention season three's concert t-shirt. Get Axe's Black Sabbath t-shirt from Hot Topic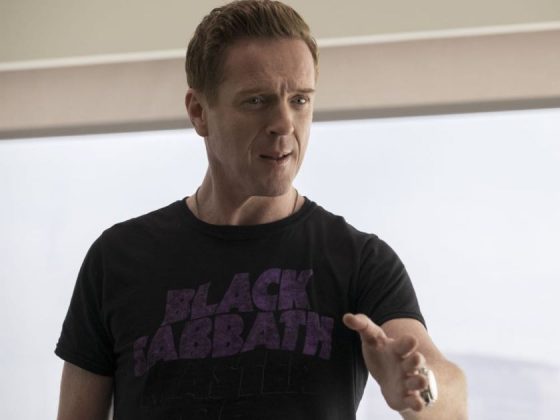 When season 3 filming wrapped, Damian (Axe) gave his co-stars a little parting gift.
Inside those little boxes was this: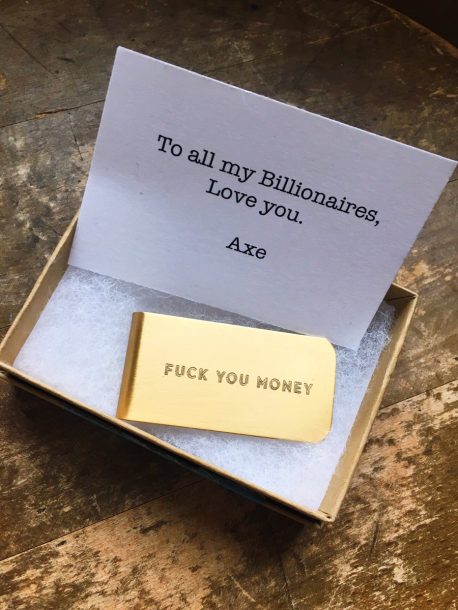 Purchase a similar money clip seen below, here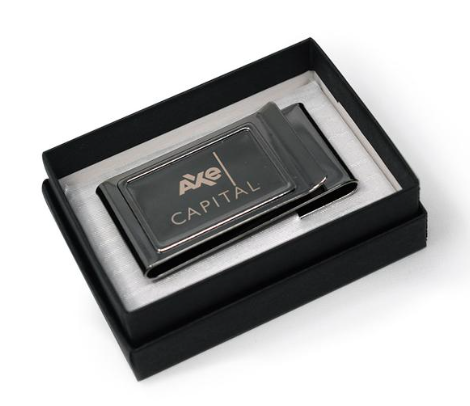 In this March, 2018 Tailor and Barber announcement, vision boards were created for dressing in Billions style for less, including Axe, Chuck and Wags.
Bobby "Axe" Axelrod – Nothing throws big money off more than athlesiure in the boardroom.
Jeans: J. Crew  //  T-shirt: JCPenney  //  Sneakers: Adidas
Socks: Falke  //  Jacket: Patagonia  //  Sunglasses: Ray-Ban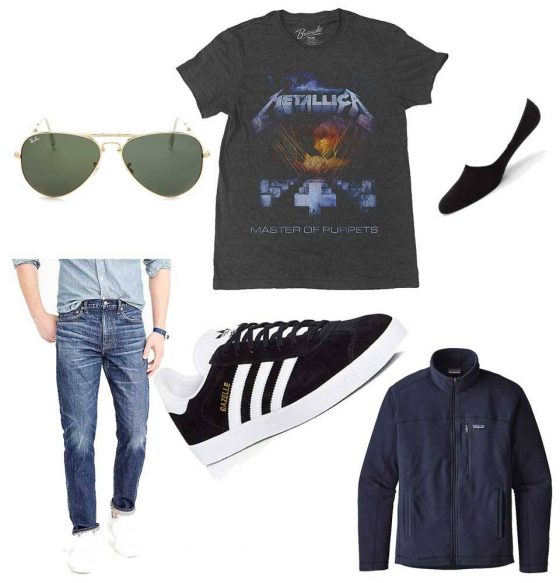 Chuck Rhoades – All business with a formal suit of armor, a custom three-piece chalk stripe suit.
Suit: Brooks Brothers  //  Shirt: Charles Tyrwhitt  //  Tie: Nordstrom Rack
Shoes: Allen Edmonds  //  Belt: W. Kleinberg  //  Socks: Corgi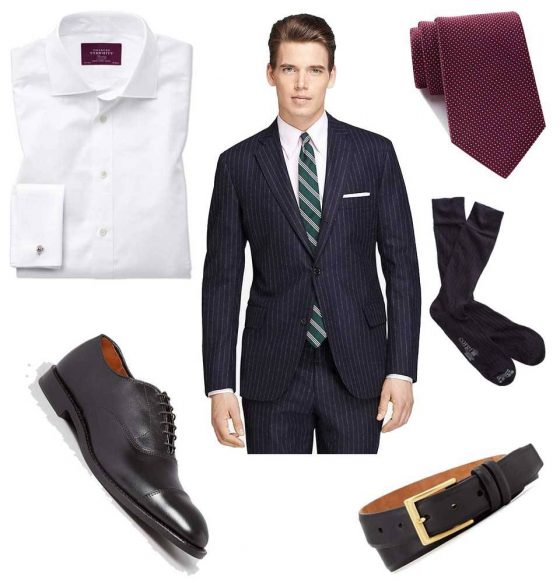 Mike "Wags" Wagner – Has mastered the upscale business casual look with soft colors and suit cuts to fit his frame.
Suit: Ralph Lauren Black Label  //  Shirt: David Donahue  //  Pocket Square: The Tie Bar
Shoes: Allen Edmonds  //  Belt: W. Kleinberg  //  Socks: Corgi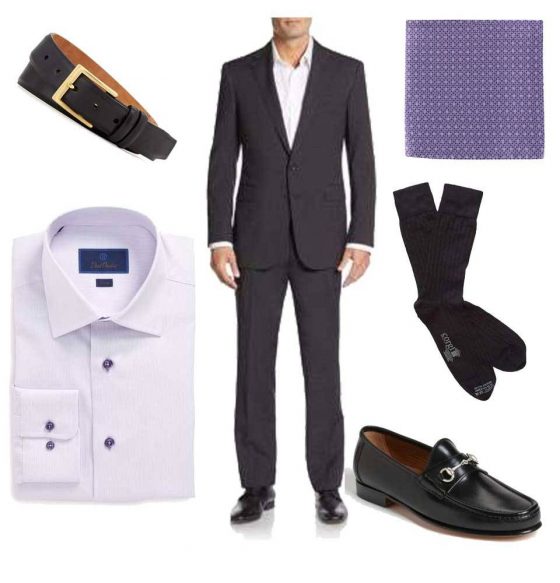 Season Four – 2019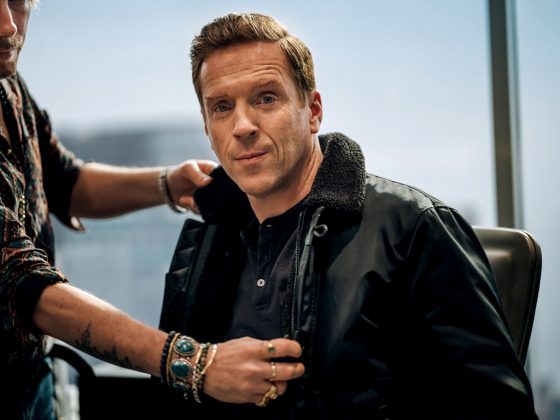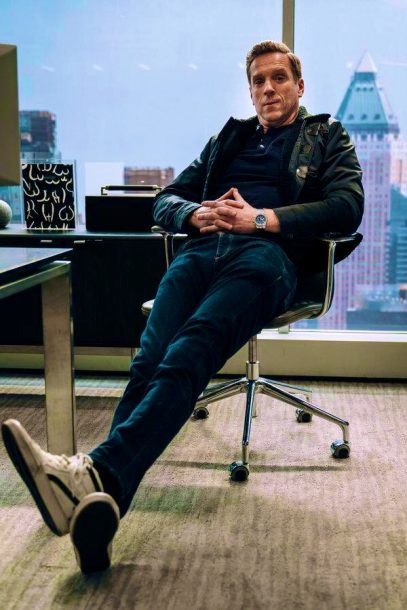 Stylist Eric Daman talks about the Billions fashion of season four in this article Billions and the Making of Wealth Porn
Season 4 Merch
The staple heavy meal band t-shirt for season 4 episode 1 is none other than Motorhead.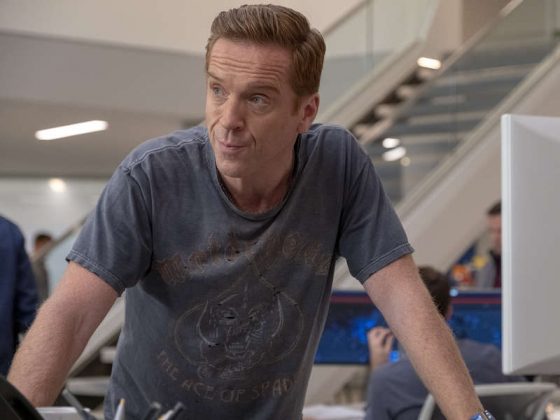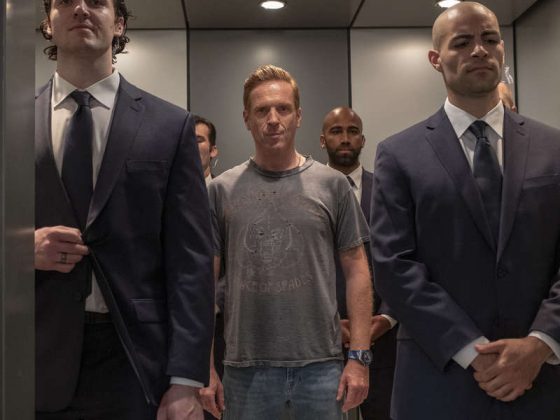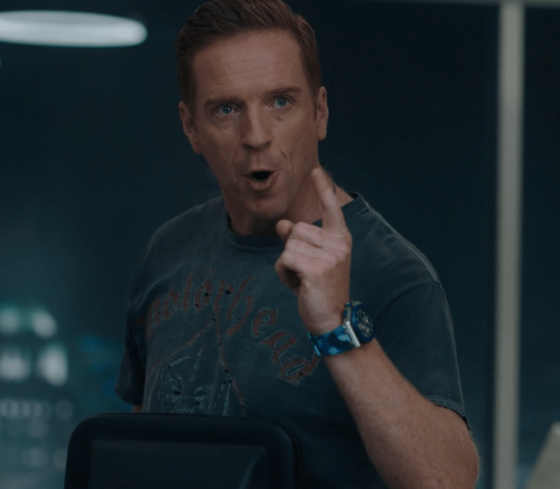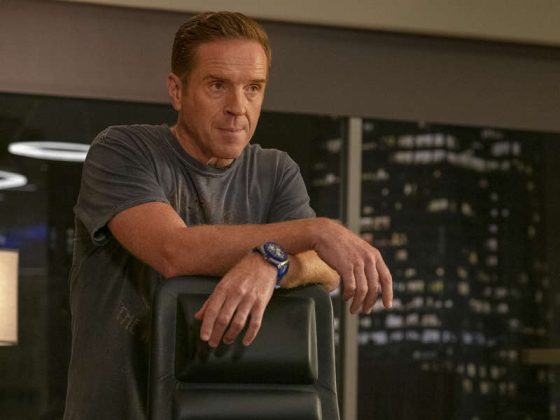 And the watch? Axe is wearing the newly released (2019 SIHH) Swiss luxury Blue Camouflage Audemars Piguet Royal Oak Offshore Self-winding Chronograph that cost a cool £28,500. The highly engineered 44mm by 14.4mm stunner in a stainless steel case flaunts a marine blue ceramic bezel, crown and pushers, with a matching méga- tapisserie dial and an eye-catching blue camouflage rubber strap to complete the look. Equipped with the self-winding manufacture Calibre 3126/3840, the chronograph is undoubtedly built for the relentless alpha male that Axe is.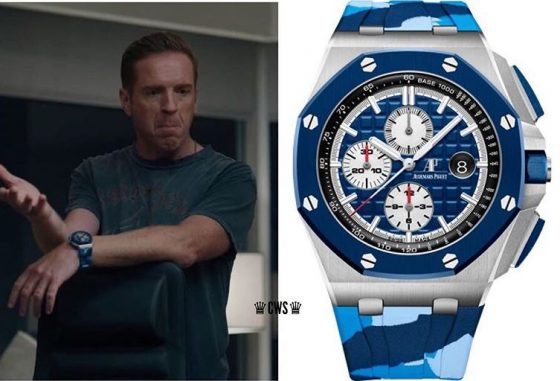 In season 4 episode 5, Axe is seen driving a Lamborghini Urus SUV, "the world's first Super Sport Utility Vehicle."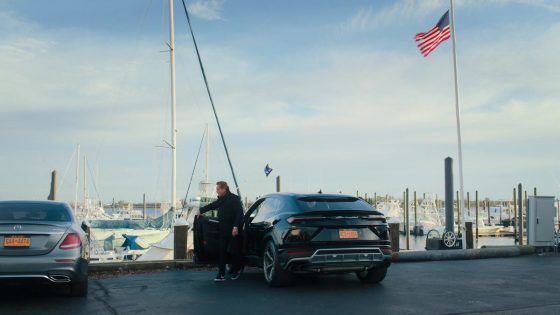 Season 4 Clothing and Shoes
The peacoat Axe is wearing is dark navy and upon zoom-in there are anchors on the buttons. Exact brand is unknown but we found similar, possibly exact match navy wool peacoats with anchors on the buttons from Schott NYC and  Brooks Brothers. It could also be the Burberry Sandringham short trench coat found here. A fan wrote to use and said you can just Google "Brit Caban jacket men" for an array of results. And what about those fleece vests that Bobby's 'Axe Cappers' wear? Catch up about the outerwear used in Billions here.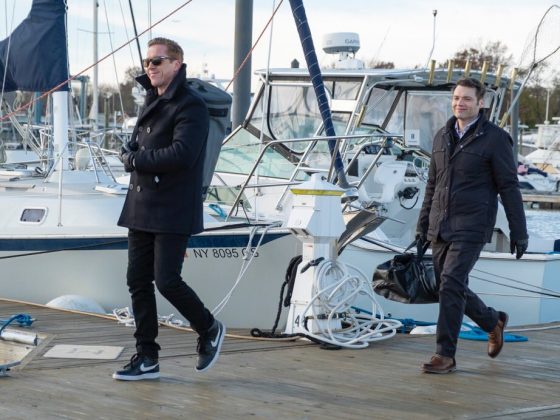 The Nike's pictured above and below, as seen in Season 4 Episode 5, appear to be the Nike Ebernon Mid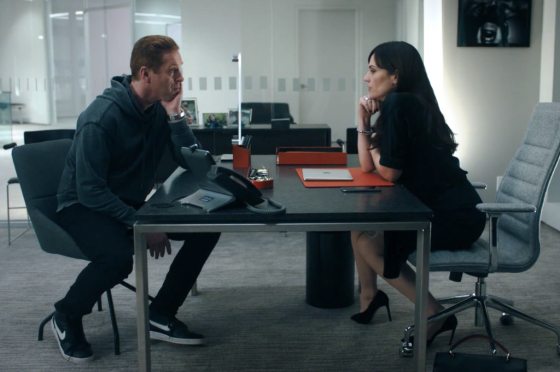 This is our favorite suede jacket he's ever worn, similar to Rag & Bone here:
These New Balance, as seen in Season 4 Episode 6 and 8 (and also Season 3, Episode 5 and 7), are New Balance 891 in the color indigo.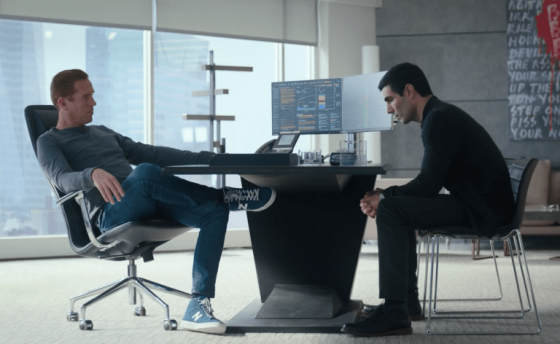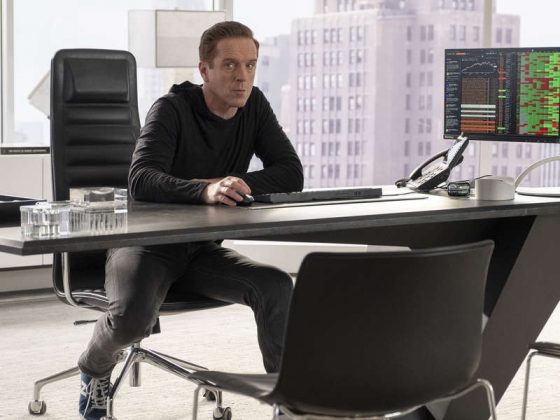 Billions on SHOWTIME® and GREATS teamed up again for a second time to release a limited-edition GREATSxBillions sneaker. Dropping exclusively in two new colorways of the Court—Power Black and Money Green.
And these bad boys sold out same day!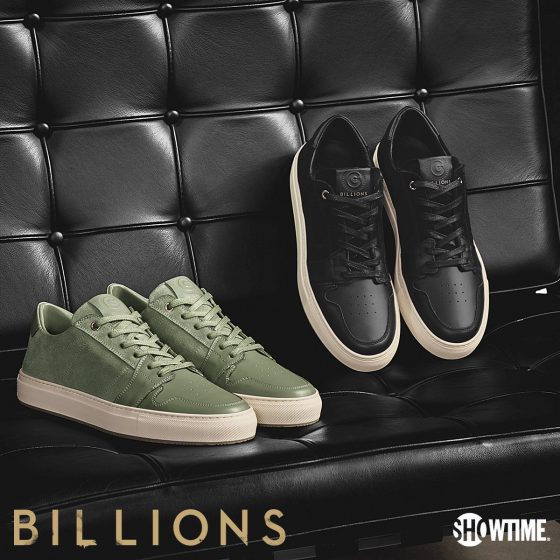 Inside the shoe reads, "The GREATS never sacrifice the important for the urgent. They handle the immediate problem and still make sure to secure the future." from Season 2, Episode 5: Currency.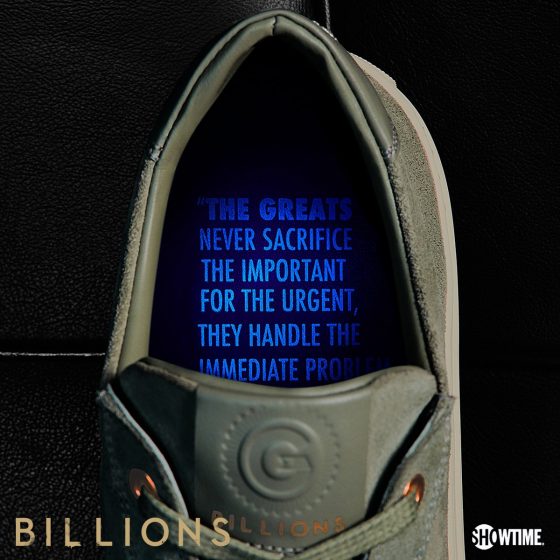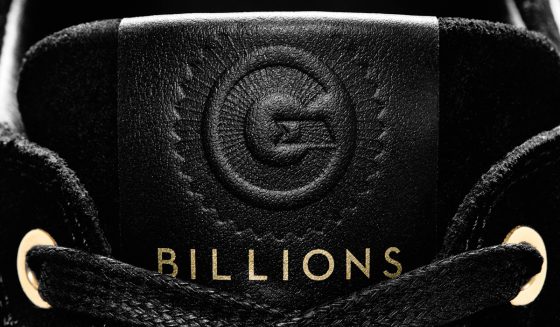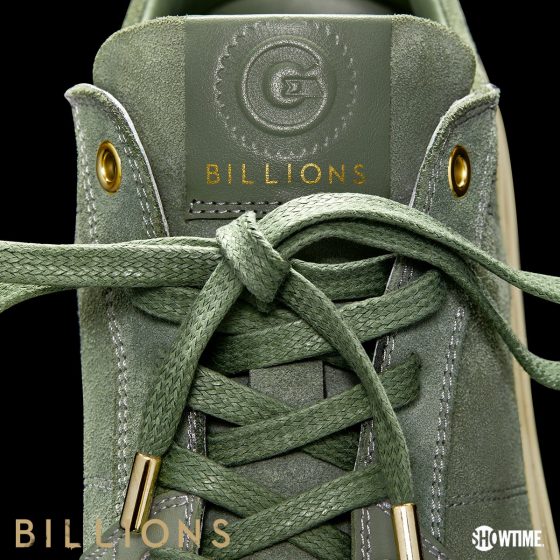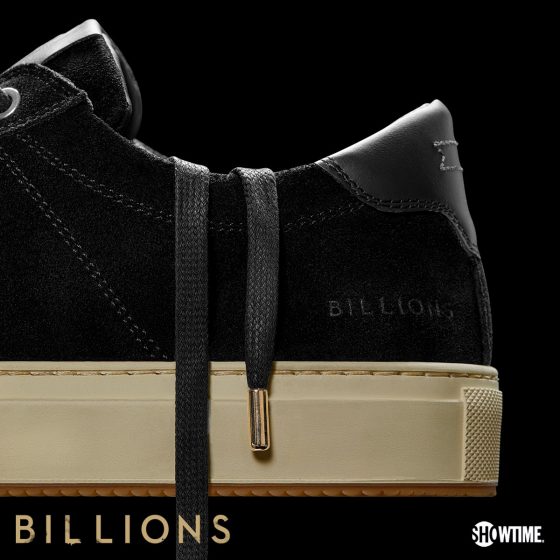 Here is a fan receiving their new pair, dollar bill tissue paper and all:
Don't forget your Axe Funko Pop! here

Season Five – 2020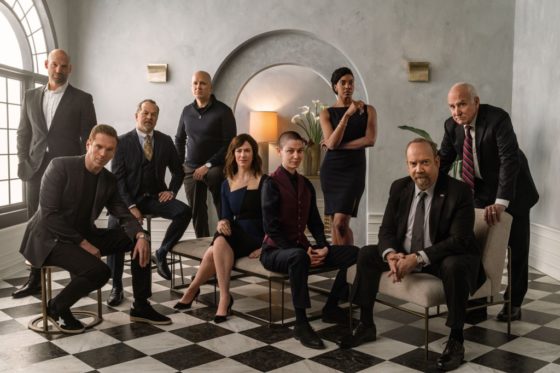 In this group promotional photo, it appears Axe is wearing Golden Goose Superstar sneakers, here.
Clothing, Shoes, Merch
First and foremost, don't forget to visit Showtime's official Billions merchandise store for Dollar Bill's Axe Capital fleece vest and other apparel here.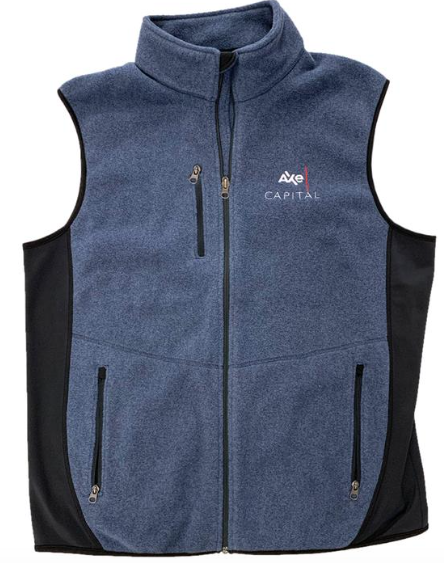 In episode 1 The New Decas, Axe's sports coat similar to Brooks Brothers here and same watch as previous seasons the 2019 SIHH Swiss luxury Blue Camouflage Audemars Piguet Royal Oak Offshore that cost a cool £28,500.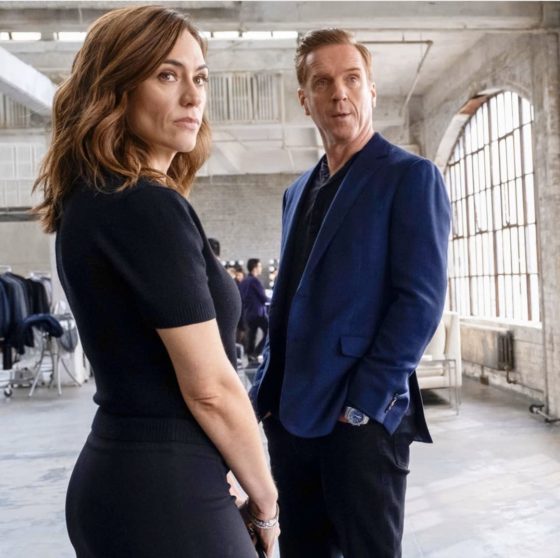 He is also wearing Golden Goose Slide sneakers.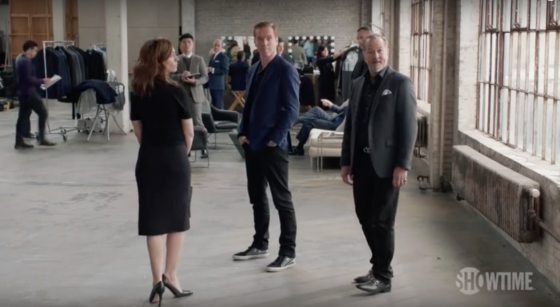 Suede jacket from Rag & Bone here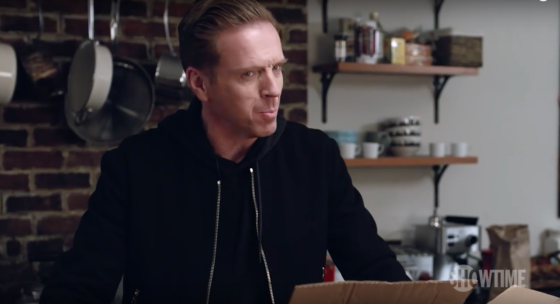 Staple cashmere hoodie from Loro Piana and now available from Neiman Marcus here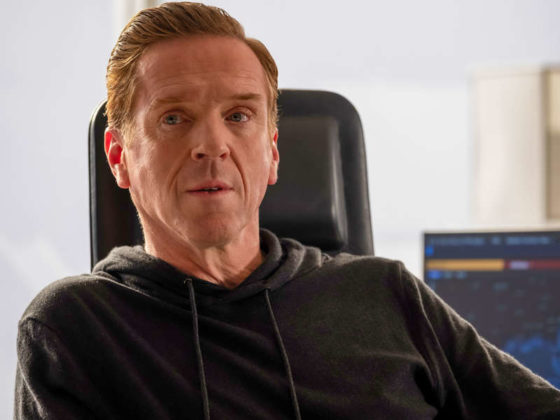 Motorcycle: BMW R1250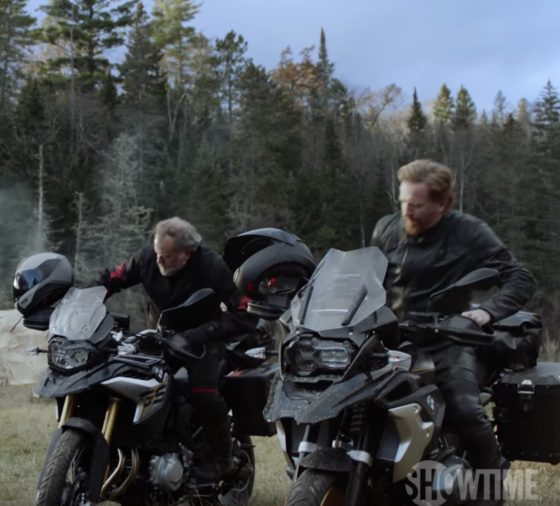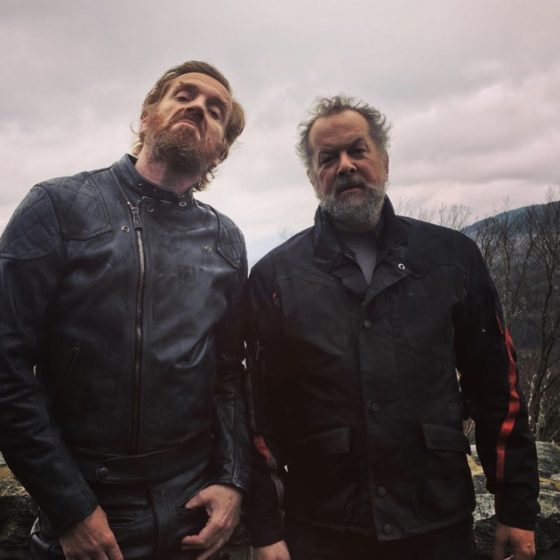 Riding gear: leather cruiser jacket and adventure/touring boots here and Ortlieb high quality waterproof motorcycle travel bag here Also, a fan informed us the jacket may be the Belstaff Ivy Jacket – visit Belstaff UK here or USA here.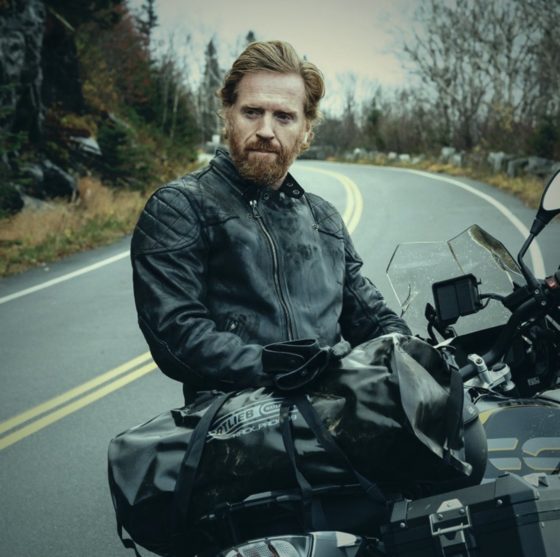 In episode 2 The Chris Rock Test, Axe wears a pair of Persol sunglasses with what appears to be an Emporio Armani men's suede zip-front bomber jacket here.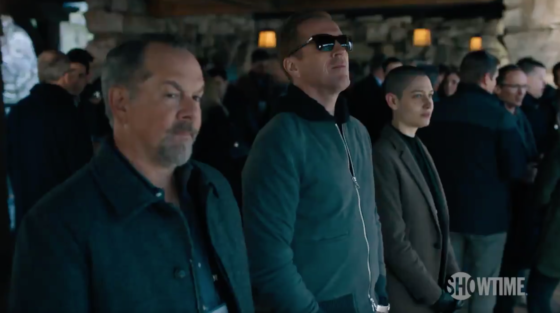 Also, Axe is seen wearing this hybrid zip jacket with hood and wool sleeves similar to this Moncler jacket or this Canada Goose jacket. Shop an array of Canada Goose men's jackets here.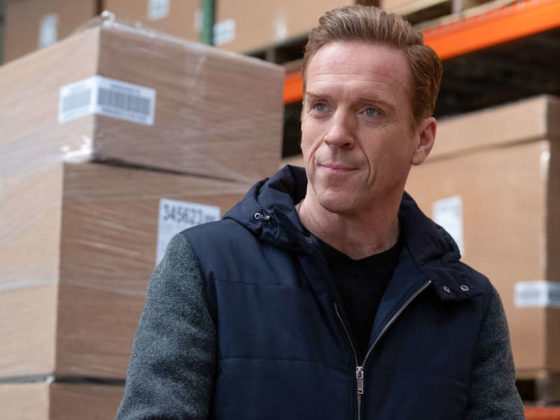 In that same episode, Axe and Wags are seen getting into a Bentley Bentayga car.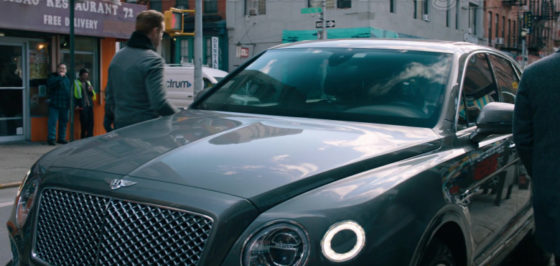 In episode 3 Beg, Bribe Bully, Axe wears heavy metal rock band Rainbow's "Rising" concert t-shirt from '76 tour, available from Rockabilia here and here (two different styles), or from Fearless Apparel here. The black Nike's appear to be the Nike Ebernon Mid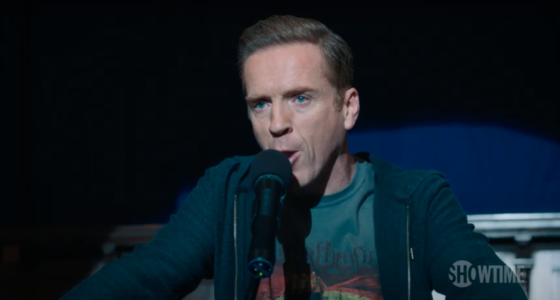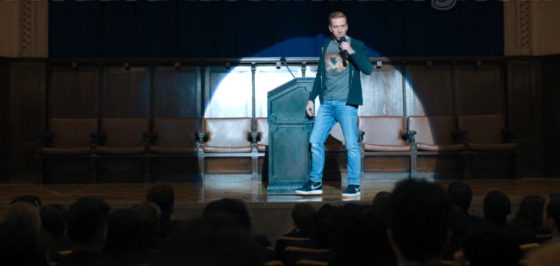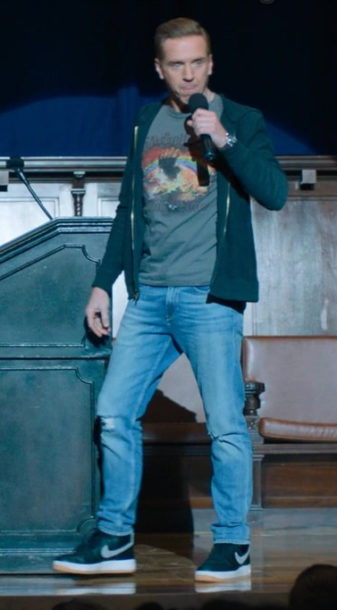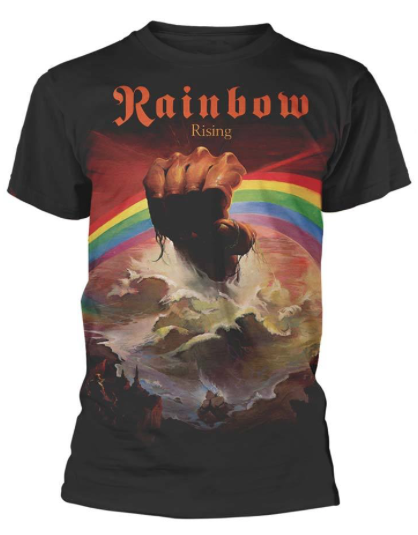 In episode 4 Opportunity Zone, Axe is seen wearing a puffer two-tone quilted jacket vest similar to this Hugo Boss one here, this Tom Ford cashmere down puffer jacket here, and this Barbour Powell quilted jacket here. It could also be Canada Goose jacket.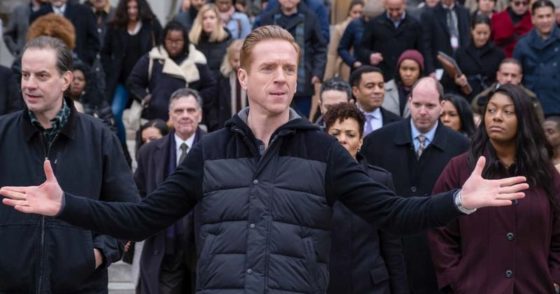 In that same episode, Axe is sporting a Nike polo shirt (here) with white Adidas sneakers (appear to be Swift Run here) while playing tennis with Franklin Sacker. For more Adidas court tennis sneakers, visit Adidas here.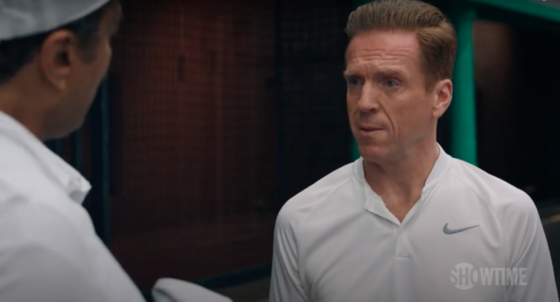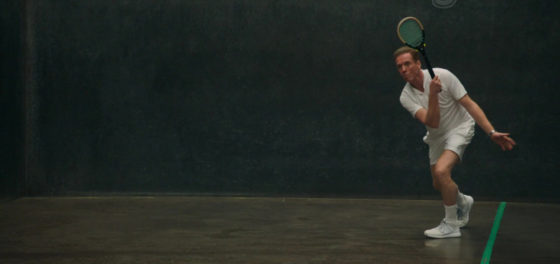 In episode six "The Nordic Model," Axe is seen wearing a deep blue suede jacket similar to other colors he's worn in seasons 3-5. Suede jacket from Rag & Bone here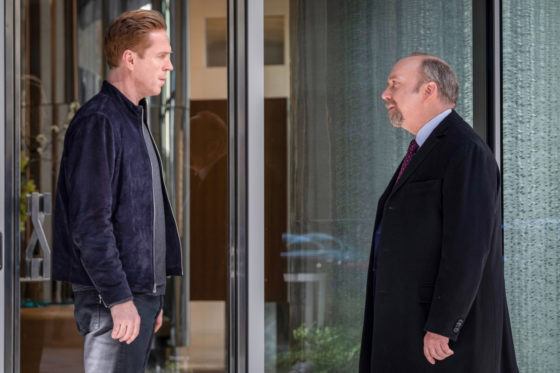 In episode nine "Implosion," Axe is seen wearing Golden Goose Men's Shoes. For more information, click here. Also, check out Neiman Marcus here.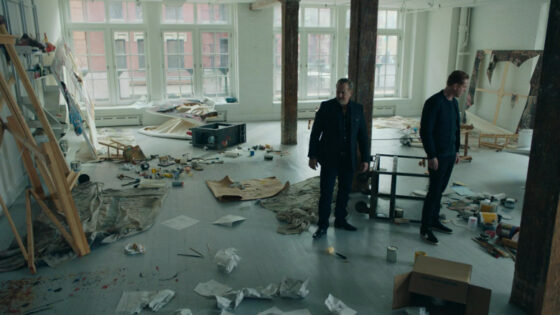 In late April, 2020 Showtime and Concepts launched a collaborative streetwear capsule. The initial launch featured a limited-edition co-branded apparel collection of hoodies and tee's (see below), emblazoned with iconic scenes from past Billions episodes. They envision launching a sneakers collaboration soon. For more information, click here.
Season 6 – 2021/2022
Bobby Axelrod fled to Switzerland at the end of season 5 and did not appear in season 6.
Season 7 – 2023
In this promotional photo, it appears Axe is wearing a blue suede bomber jacket from J.Crew (unavailable), but you can find a similar one from Rag&Bone. Axe also wears Bailey suede stone Chelsea boots from Hudson and a Mot1on Chronograph [Panda} watch from Sye.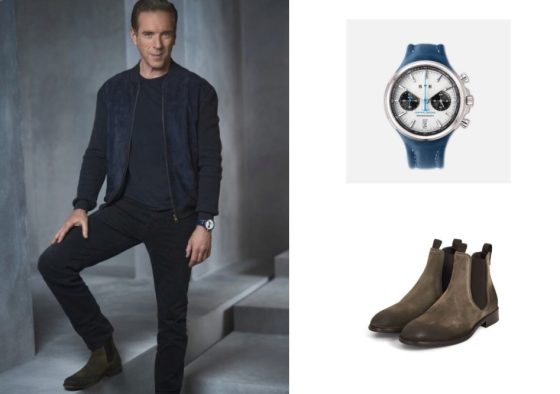 In season 7, episode 2, Axe greets Wendy, Wags and Taylor wearing a J.Crew slim fit cotton sweater from Mr. Porter here.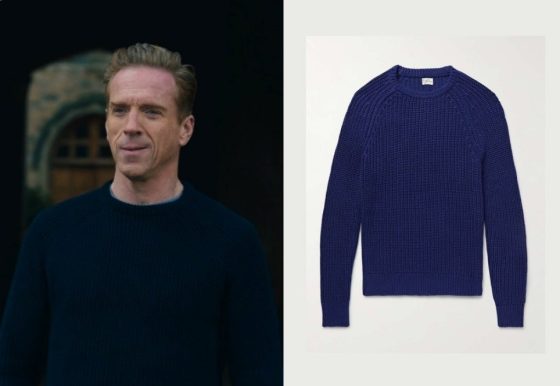 In season 7, episode 10, Axe came to slay in his first of three heavy metal concert t-shirts, Slayer: Reign in Blood. Get the merch at Rockabilia, Etsy (limited qty), Slayer Store, or Amazon.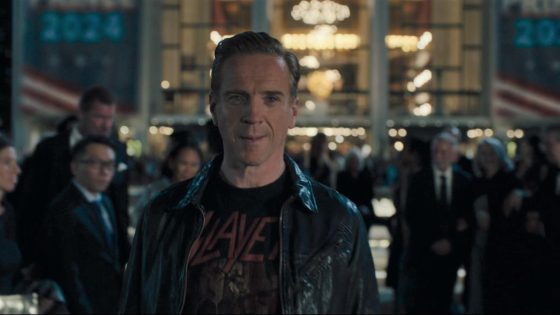 In season 7, episode 11, Axe wears the second of three heavy metal concert t-shirts, Guns N' Roses: Greatest Hits (classic bullet logo). Get the merch at Old School Tees, Amazon, Rockabilia, or as a sweatshirt from GN'R store here or in a limited edition jacket here (going fast).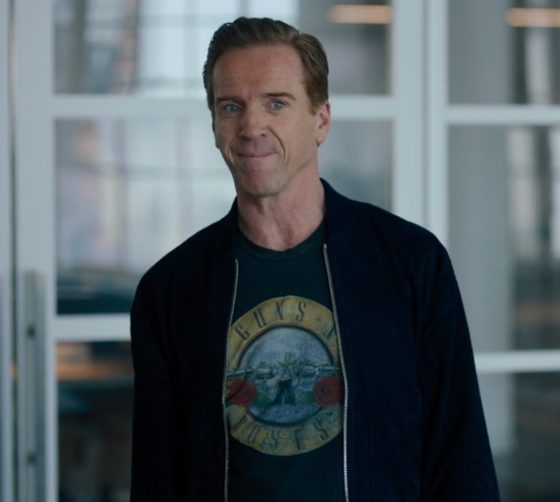 In season 7, episode 11 Axe wears a pair of Persol Aviator-Style Gold-Tone sunglasses. Get the product at Neiman Marcus or directly from Persol in the following models: PO5003ST,  PO5005ST, PO1004S, PO1003S, PO1006S, or PO2494S.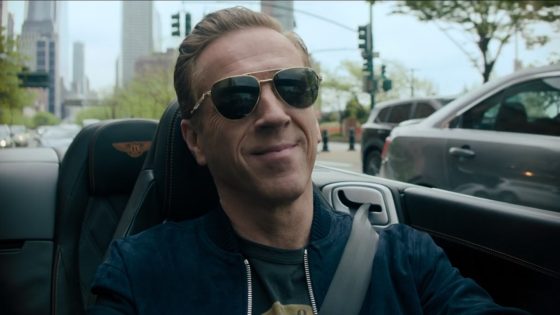 In season 7, episode 12, Axe wears the third and final heavy metal concert t-shirt, Metallica (general 1981 tee). Get the product at the Metallica Store.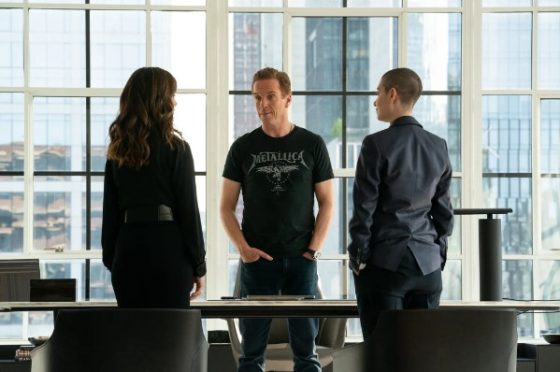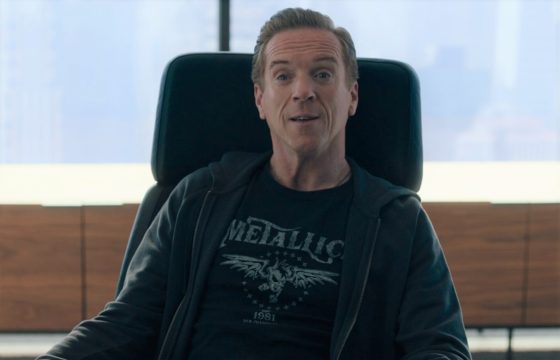 Can't find what you're looking for? Try Worn On TV here
Visit Showtime/Paramount Billions Merchandise store here
Visit GREATSBrand for more information
Visit Concepts for more information
For more information about How To Dress Like a Billionaire, please visit here
For more information about Bobby Axelrod merchandise, please visit here