Happy Endings for REAL Billions' Fans
by Ileane Rudolph | TV Insider | October 27, 2023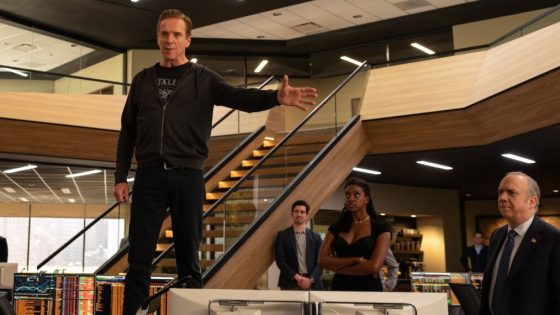 Who'd have thunk? Billions, Showtime's smart and cynical hit show about the intersecting worlds of NYC's financial and law enforcement goes out with a happy ending.
TV Insider talked to Neil Burger, a producer and director who helmed, among many other episodes, the inaugural episode and the series finale. (He also has a feature film The Marsh King's Daughter debuting on November 3.)
Before we get deeper into the show, there was an Easter egg towards the end when Wags (David Costabile), loyal lieutenant to hedge fund billionaire Bobby "Axe" Axelrod (Damian Lewis), says he's angling to head to Miami where all the action is now and Axe says they should go together. So will Miami be the first of the proposed upcoming Billions spinoffs?
Neil Burger: That one seems to the furthest along, and I think Wags may be going there. But time will tell.
In a show full of schemes and moral relativity, the series ended with the mother-of-all schemes with Axe and his major foe on the show, U.S. Attorney Chuck Rhoades (Paul Giamatti), joining forces to take down Mike Prince (Corey Stoll) and keep him from becoming the POTUS. Even if the cause was just, the incredibly complex plot to destroy his empire seemed shady at best and at worst, not entirely legal.
Burger: They always push it right to the edge of legality and maybe it bleeds over a bit to the other side. They're schemers, super clever, and sometimes it's a bit legally dubious, but they seem to get the job done.
With the exception of Mike Prince, who in Season 5 bought Axe's business on the cheap as Axe fled on Europe to escape Chuck's justice, most of the show's characters got what they wanted or at least got rich at the end. Was that always planned?
Burger: This is an ending for real Billions fans and those are the people that [executive producers Brian Koppelman and David Levien] are writing for, that avid fan base. You can hear it in the language of the characters and the [pop culture] references and the density of the dialogue. I think that the end will really appeal to that constituency.
How much did Damian leaving the show in Season 5 — though we later learned he would come back for several episodes in the final season — change the storyline?
Burger: There was COVID and Damian lost his wife, which was a huge tragedy, and [that] definitely changed the way the story was going to be built, but Brian and David are such adept writers that they took those blows and pivoted and adjusted. This last season might be the best season of all.
How did his leaving affect how the Mike Prince character would develop?
Burger: Mike Prince was already woven into the story before Damian left because a show seven seasons long needed to have another layer and another strong person added. By the way, Corey was an incredible addition and kind of unsung. He's tremendous.
Prince may have been the villain of sorts, but in his last scenes, especially with his lieutenant and old friend Scooter (Daniel Breaker), I actually felt some sympathy when he said to Scooter how they really wanted to do good when they began.
Burger: It's hard not to like Corey, which is great for a villain.
Speaking of villains, the show was set up so that Chuck and his team were not always the white hats and Axe and his were not always the black hats.
Burger: Yes.
What did that say about the two parallel and intersecting actions each took in their war against each other and sometime truces?
Burger: From the outset, Chuck Rhoades was always a complicated guy who needed to prove himself. His wife Wendy Rhoades [Maggie Siff] was working for the enemy, and he didn't always behave well because of it, to say the least.
And Axe?
Burger: Look, the show is about power and what we have to do to have that power; what's the line that you will or won't cross. And for Axe, Chuck is this guy that's actually trying to ruin your life and take down your power. They were like two animals circling each other and looking to tear into and undercut each other. It was personal, and the ethical lines got very blurry.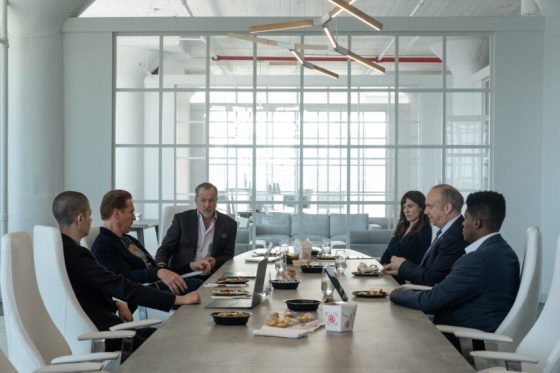 They both had demons driving them.
Burger: Definitely. Chuck's father, for one, led him to an addiction to masochism. He needed to feel pain, and that came from his relationship with his father. Axe had this hunger to prove himself because in his youth, he was ignored and humiliated and not takes taken seriously by people who considered themselves better than him.
The moral in the Prince story seems to be if you're power hungry, don't hide behind a front of goodness, but be upfront about who you are and what you want. Do you agree?
Burger: Well, he's this incredibly smart guy who knew the pitfalls of the way Axe and other billionaires behave. He has a soul, and he's going to try to use his billions for good. But underneath that is, again, a real appetite for money and power, and he became delusional. I think the real moral is just to be human with whatever amount of money you have.
How important was it to get Chuck and Axe to work together in the end to bring down a common enemy, even it's obviously, as Chuck tells Axe, a temporary thing?
Burger: I think the most important thing was to get Chuck and Axe fighting against each other in the show, and then the interesting move was when they would team up together when being allied was in their best interest. They're never going to be on the same team for very long. In the bigger game, they'll always be going head-to-head on opposite sides of the fence.
Well, Wendy won't be caught in the middle anymore between her ex-husband and her employer. She'll be CEO of a tele-mental health company. She is last seen having dinner with Chuck and their kids. What does that indicate?
Burger: They find some kind of detente, where they can coexist. Co-parent? Will they be lovers again? I don't know. They find some kind of peace — but all of them in the show find some kind of peace.
Wendy was the fulcrum for so many stories and characters, no?
Burger: In some ways, she's the most interesting character. Those guys are ferociously going head-to- head, and she's between them mediating and moderating. These guys are driven by their appetites, and though they're complicated characters, she's quadruply complicated with the pressure within as she tries to motivate both of them and work on their psyches.
So, in the end, Axe's most loyal employees leave, not just Wendy and probably Wags, but young Rian (Eva Victor) who goes off backpacking around the world, and importantly the extraordinary Taylor (Asia Kate Dillon), who starts their own Taylor Mason foundation to do good, a goal they always had — once they made a billion dollars, of course.
Burger: Taylor, in the end, Axe's most loyal employees leave, not just Wendy and probably Wags, but young Rian (Eva Victor) who goes off backpacking around the world, and importantly the extraordinary Taylor (Asia Kate Dillon), who starts their own Taylor Mason foundation to do good, a goal they always had — once they made a billion dollars, of course.
Read the rest of the original article at TV Insider