It's a Thrill Riding Shotgun With These Avaricious Characters
by Sarene Leeds | Vulture | October 27, 2023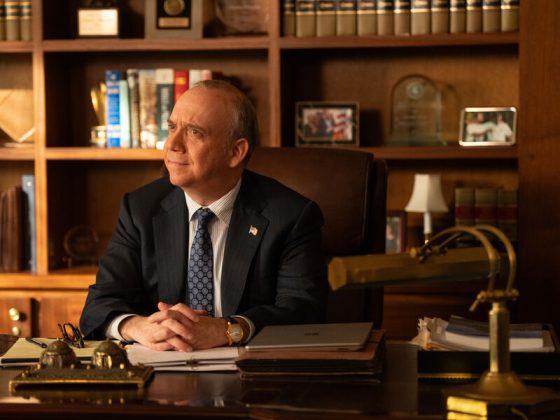 The markets have closed for Billions, the high-stakes financial drama that concluded its run after seven adrenaline-filled seasons. With one last flawlessly executed final scheme, longtime rivals Chuck Rhoades (Paul Giamatti) and Bobby "Axe" Axelrod (Damian Lewis) banded together to topple self-righteous billionaire Mike Prince (Corey Stoll). In one fell swoop, Prince turned pauper and Axe's most loyal sycophants lined their pockets. "Admirals Fund" provides the veneer of a happy ending, with Axe reclaiming his old hedge fund and career lawman Chuck reasserting his mission to bring criminals to justice, but that doesn't signify growth, co-creators and co-showrunners Brian Koppelman and David Levien tell Vulture. "They can't help themselves!" says Koppelman. "You're taking on the language of evolving, maybe, but that doesn't mean you're evolving."
How does it feel to say good-bye?
Brian Koppelman: The way the audience interacted with this show, the people who loved it, they were as obsessed as we were in the telling of it. This last season was for them. It was for people who wanted to figure out the references, who wanted to understand what the characters meant when they were saying various things — people who basically had murder boards of their own up, trying to figure out the alliances. People who love the show watch it over and over again, and that's the kind of viewer we are when it comes to the things we love. We watched the finale with an audience at the 92nd Street Y, and it was amazing because they laughed in every spot where we hoped that they would. Axe telling Prince that $100 million in Indiana is practically like being a billionaire. Or Senior telling Chuck not to slump about the shoulders. That felt really good to us.
Can you describe the writing process as you headed toward the finale?
David Levien: Every time we've done a season finale, we're dealing with a good amount of resolution on the season, but we wanted to always leave a fresh edge. If not a cliffhanger, something that was a dramatic question that was going to propel everybody into the next season. This time around it was like the season was a funnel going down to this final narrowing. There was no tomorrow. We made a list of the characters we needed to say good-bye to and the pairings that needed to have their moments of closure.
BK: We wanted to reward all the people who watch closely. The shows we kept talking about were the Mad Men final episode, and obviously The Sopranos final episode and The West Wing final episode too. Even though Aaron Sorkin didn't write it, you could feel John Wells's hand in a very direct way. That West Wing ending was satisfying because you had some good dramatic questions at the heart of it, but also got these character resolutions. We were so happy that we got Timothy Busfield in the show this season because for us, Allison Janney and Busfield's relationship in that final episode, building up to Allison Janney saying, "I don't want to stay at the White House" — we wanted to make sure we honor our characters in the way that they honored those characters.
What were your specific goals for this final episode?
DL: The goal was to find a way to balance these final moments with the characters with a plot that had to have a lot of resolution, and to find a way to not just end the story and then have a lot of good-byes.
BK: We talked about wanting the visceral reaction to moments like Axe's last words to the troops. We wanted it to feel a certain way — the way that Billions felt — but hoped that then you might say to yourself, "Wow, that's a happy ending for Axe. I'm so happy." And then you might go, "Hold on a second. So this guy, after all this desire for freedom, his last words are, 'Let's make some fucking money!'?" It's like, is that really a happy ending? But we want you to feel that. The whole time, we were trying to create the adrenaline rush of being around these kinds of avaricious characters who chase a certain kind of freedom and power. It's that thrill of riding shotgun with them. We always hope that each time the ride ends, you ask yourself why and what it means about the world you're living in — that this has become a thing we allow to thrill us. We always felt the best way to do that wasn't to satirize it, and it wasn't to talk about it, but it was to put you there with them on that rollercoaster ride. We wanted the end to do that too. But, you know, the song "Take the Money and Run" is hilarious, and it feels a certain way, but we're also telling you a story about what the fuck is going on.
I was like, "Wait a minute, Chuck and Axe are right back where they started!" They're talking about how they've grown, how they're different. No, you're not!
BK: Rian evolves. Taylor takes a big step toward evolution. But people like Dollar Bill, they're never going to evolve. Victor's never going to evolve. That's not really part of their matrix. But Axe belongs behind that desk. That's where he's supposed to be.
With Wendy, she's the main character of Billions because Wendy is the one character who is able to go beyond the hero's journey. If anyone can resist the temptation of the gods, it's Wendy. What Maggie Siff has done is given the show humanity and someone to root for throughout the entire series. We could all hope that she would pick herself up out of that morass and remember who she is.
And Jeffrey DeMunn is a national treasure; his performance has been absolutely extraordinary.
DL: In the screening, when we cut to him sitting at his desk when Chuck walks in, the room erupted. Because they knew they were going to be delighted by whatever happened. That's just what he brings.
I've lost count of how many times I've called Jeffrey DeMunn's character "loathsome" in my recaps — and he made me cry in that scene!
DL: Jeff DeMunn being a loathsome character is the height of artistry because he's a wonderful man. He's nothing like that character.
BK: The whole time you're writing the series, you're not allowing yourself to give in. But it's hard to write that final episode without feeling a lot of emotion about the characters.
Final question: Did Toby Leonard Moore have teppanyaki training?
DL: Over the course of a long-running series, you get to know a lot about the cast, and if they have special skills, we try to use them — like Condola Rashad speaking fluent Italian. But Toby did mention to us around season two that he'd worked his way through school being a teppanyaki chef. And we just had it in our heads in the final season: "We got to get this in somehow, because it'll be amazing to see him doing it." When we told him, of course, he was like, "I'm so rusty, I haven't done it for years." And we're like, "We'll send a guy — start practicing."
BK: But he's magnificent, isn't he? I think most people were not expecting to see him back at the hibachi at the end of the episode.
Read the rest of the original article at Vulture