In the US only 2 more episodes remain for season 2 of Life starring Damian Lewis; be sure to watch "Initiative 38" on Wednesday, April 1st at 9pm ET on NBC.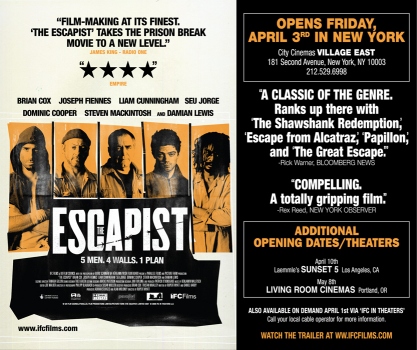 Update on The Escapist!

» Above is the flyer for the April 3rd New York City release of The Escapist at the Village East Cinema. The film will open in Los Angeles on April 10th at Laemmle's Sunset 5 theater and in Portland at the Living Room Theater on May 8th.

There is a larger version of the flyer in the Warehouse; other fan and film sites should feel free to take a copy of the flyer and use it to spread the word about the US release of this important film (or just send an email to Kathy and ask for a copy of the file.)

» Starting April 1st The Escapist will also be available to "Video On Demand" viewers under "IFC In Theaters", click here for the Comcast On Demand listing.

» Neil Pedley of IFC News wrote of The Escapist:

"Brian Cox, a titan in the annals of great supporting players, takes surprisingly few lead roles, so when he does choose one you can be sure there's something to it."

Chromophobia starring Damian Lewis will screen in Moscow on May 3rd at the London In Moscow film festival. Director Martha Fiennes will attend and take part in a discussion with filmmaker Renata Litvinova about "women in modern cinema." Onegin, Martha's debut film, will also screen at the festival.